Users can stop store app update notifications on Windows 10. You can stop anytype of notification update on your Computer. I have shared two methods to stop notification.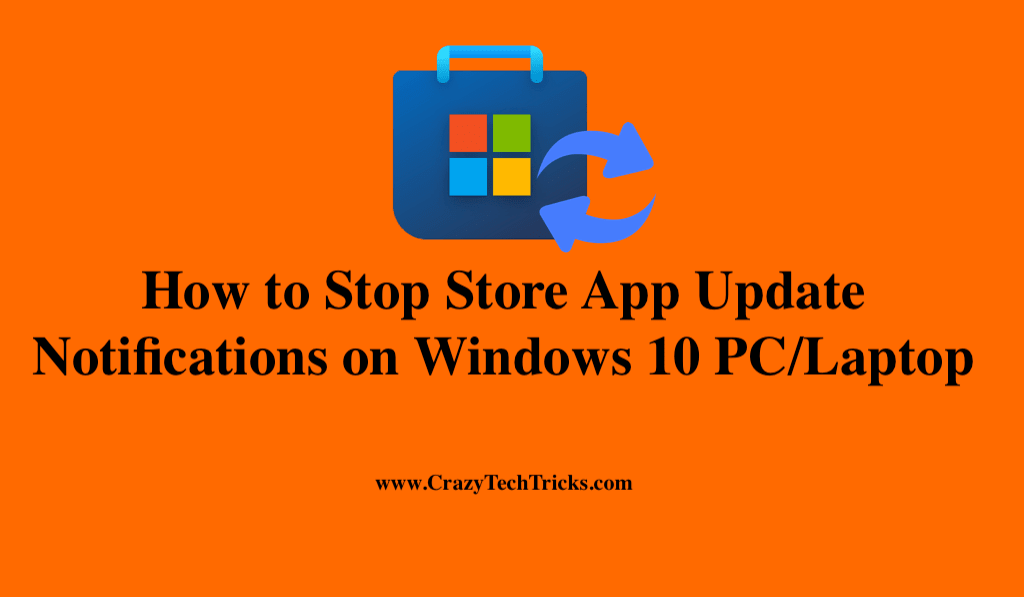 Some programs on your computer may send you unsolicited notifications if you have left certain settings active. Fortunately, blocking software from clogging your desktop with unwanted warnings is a quick process. Nowadays, it appears as though you receive notifications for nearly everything.
A fresh text message or email regarding your friends' most recent social media updates are just two of the many notifications you receive every day. However, if you need to complete work on Windows 10, you'll need to learn how to stop store app update notifications.
Read more: How to Keep Windows 10 Taskbar Always on Top
Continue reading to find out how to stop store app update notifications so you can concentrate. There is no reason why you can't respond to such messages and notifications when you're free.
How to Stop Store App Update Notifications on Windows 10 PC
Our digital lives would be completely unmanageable if we didn't have notifications. However, an overabundance of notifications can clog up the Action Center, preventing you from being aware of important notifications as soon as they arrive. So, there are two methods to stop store app update notifications.
Read more: How to Download KB4480966
Method 1. Disable Notifications by Accessing the Settings Menu
You can use setting menu to disable notifications on Windows 10.
The "Settings" app contains the Store's notifications choices. By pressing Windows Key + I, the Windows Settings menu will appear or In the Windows Search Bar, type "settings" and click on the appropriate result.
Select System from the Settings menu.
Now, choose Notifications & Actions. This will bring up a screen with all of the settings for notifications and the Action Center.
Drop down to the column under "Receive Notifications From These Senders."
Microsoft Store is shown in the drop-down menu. "Most Recent" is the order in which notifications from the Store are arranged. To stop store app update notifications, click the "On" switch. Update alerts will be disabled in the Store.
Locate the Notifications subsection, which includes a variety of settings for different types of notifications.
Read more: How to Fix Windows Update Stuck "Don't Turn Off"
Methos 2 – Disable Notifications by Clicking the Action Center
The best and easiest way is Action center.
The Action Center icon can be found in the System Tray by clicking on it.
Select a notification with the right-click menu.
Choose "Turn off notifications for this app".
That application is no longer capable of sending desktop notifications.
Read more: Best Calendar App for Windows 10
Stop Store App Update Notifications of File Sharing
Among the new features in Windows 10 is an improved update delivery system that lets you download updates remotely from other Windows 10 PCs. However, your machine is also used as a hub for other Windows 10 users to download updates. Default settings make this feature available, but you can disable it by going to Settings > Update & Security > Advanced options > Delivery optimization, and turning off Allow downloads from other computers.
Read more: How to Fix Bluetooth Icon Missing in Windows 10
Conclusion
One of the unique features of Windows 10 is the ability to display system-wide alerts via any software (even desktop apps such as Outlook 2016 or Adobe's Creative Cloud). The more programs you have installed, the more disorganized those notifications can get. Microsoft will notify you if your device requires the most recent security updates and offer to upgrade your device if you're using Windows 10 version 1507, 1511, 1607, 1703, 1709, or 1803.
The following versions of Windows 10 are no longer supported: 1507, 1511, 1607, 1703, 1709, and 1803. These devices will no longer receive monthly security and quality updates, which include protection against emerging threats.
Was this article helpful?