Post blank status, Check who unfriend you in past one year, post in all group at once and more Check Top 10 Facebook TRICKS.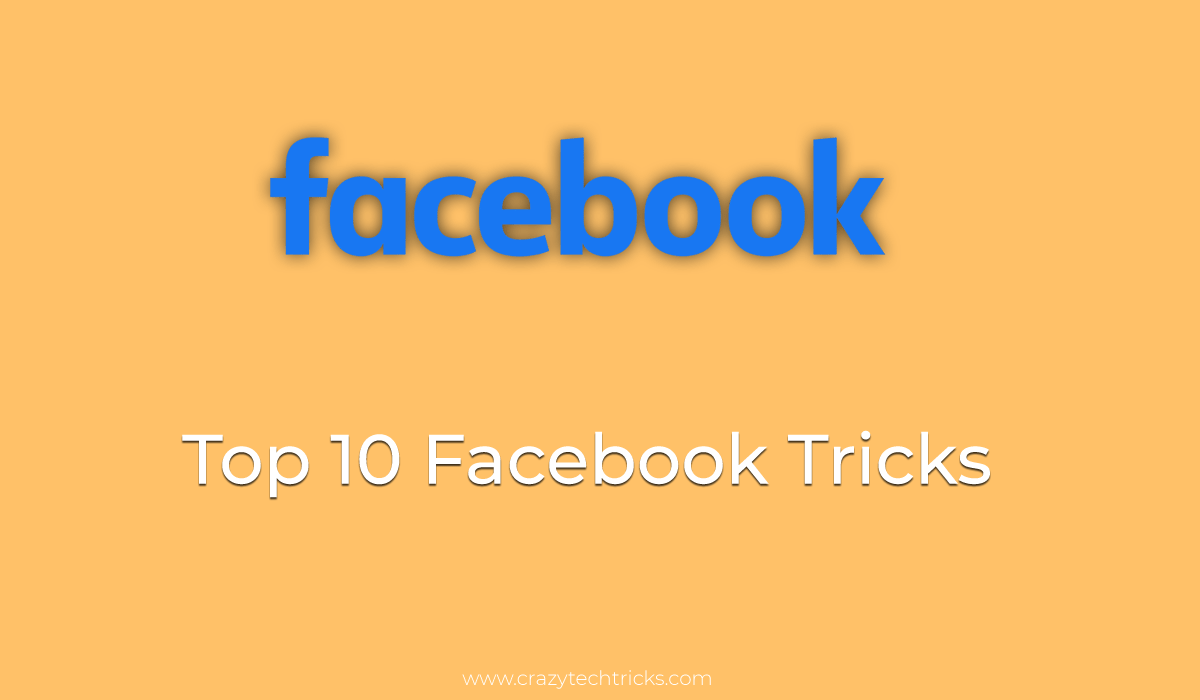 Top 10 Facebook TRICKS
Around 1 Billion people use facebook. It is currently the most used website on earth. Facebook is also known as the best time to pass. And also a free way to promote your content. People using Facebook are increasing every day. Several people want to look different. So they keep trying new tricks. Which makes their facebook account look different. Below are the top 10 Facebook tricks. Which will make you look different.
1- Restore Facebook Deleted Messages and Pictures
Log in to your Facebook account and visit setting.
Now download a copy of your Facebook Data.
Download archive files too.
Now you will receive a mail.
Mail id will same by which you made your Facebook account.
Now all your data from starting till now is in your mail.
Download the data and enjoy all your deleted messages and pictures.
2- Download Facebook Friend's Photo Album with Single Click
Just visit the application Facebook2zip.
Click on login with Facebook.
Now select the friend whose photo album you want to download.
Now choose the album.
And click on the download button.
3- Post Animated Status Image
It is the best way to make your status or picture look beautiful. It keeps sparkling and moving.
Just visit the Giphy website.
Choose the animated status or image.
Now copy the code and post on your status.
4- Post Blank Status on Facebook
Ever Experience that you can also post a blank status on your facebook. Just imagine how different you will look. When you post a blank status on facebook. So be different, follow the trick below, and post the blank status on facebook.
Open your facebook account.
Write  @[3:3: ] in your status and post.
And you will see blank status posted.
5- Post-Facebook Status with anyone Name
You can post a Facebook status with anyone name. You can post facebook status with your friend's name. User can also post facebook status or comment on Barack Obama, Bill gates, any name.
Visit The Wall Machine website.
Log in or connect with your Facebook account.
Now follow the steps and create facebook status with anyone name.
6- Post same status in all groups at once
Several people want to promote their content on Facebook. They face problems sometimes. Because they need to post their link one by one. But there is an application that will help you in posting the same status at all groups at once. There is two application which will help you. Multi-post application or Maher post.  Just log in to Facebook and post the same status at once.
7- Find who Unfriend you
Use an application, which will tell you how many people unfriend you in the past one year. Open the application  'Who deleted me'. Login with Facebook and check who removed you.
8- Accept all friend Request at once
Log in to your Facebook account.
Click on friend request and see all friend request.
Now copy the code and paste it into your browser URL.
javascript:for( i = 1;i<document.getElementsByName("actions[accept]").length;i++){document.getElementsByName("actions[accept]")[i].click();}void(0);

Press enter and all friend request are accepted.
9- Send different style Text in Facebook Chat
Send your friend a different style text. Your message is written in different fonts.
Open the website Magic Status.
Enter your status and choose a style.
You can change any font style and many more.
Then copy the text and post in a chatbox.
10- Create a Video with your Facebook Pictures
Visit Pixable.

Log in to your facebook.

And it will select all your images. You can also choose pictures by your own also.

Now create a video.
Conclusion
Above listed are the top 10 facebook tricks. Which will help you in doing all the features which you only imagine? So spread this post and help people around you. Enjoy all these features and give a shock to your friends.
Was this article helpful?