You can create your own stickers on WhatsApp. I have shared an application which will help you to make sticker of your own photo or any image.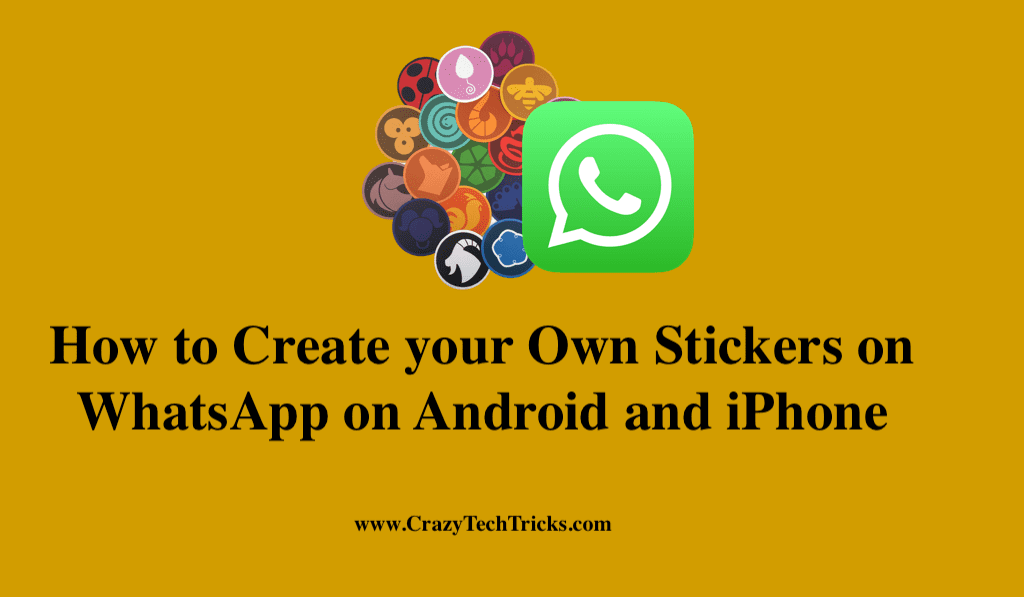 Freeware cross-platform centralized instant messaging and voice-over-IP services owned by Meta Platforms, Inc., are known as WhatsApp. Text messages, voice conversations, video calls, and other information can all be exchanged with this app. While using the desktop app, a mobile device must remain connected to the internet so that WhatsApp can be accessed from a computer or a mobile device.
Stickers
Your sticker app can be published to the Google Play Store for Android users, and they will be able to send your sticker right away from the WhatsApp app after downloading and installing it. Our advice to iOS developers is to offer more than sticker export when proposing apps to the App Store.
Read more: How to Setup WhatsApp Fingerprint Lock on Your Android Phone
This increases the likelihood of the application getting approved. In place of developing an iOS application, numerous sticker creation apps enable you to generate and create your own stickers on WhatsApp.Therefore, approved stickers are required for WhatsApp messages.
Read more: How to Block WhatsApp Group From Adding Me
How to Create your Own Stickers on WhatsApp on Android Phone
These instructions will help you create your own stickers on WhatsApp on Android.
With Sticker Maker link, you can make your own stickers right from your Android device.
Press Create a new sticker pack to create your own stickers on WhatsApp.
If you wish to give yourself credit for making these stickers, you should give them a name and author name.
After that, you'll see 30 tiles on the next page, and you can select one of these to take a photo, open a gallery, or select a file.
For example, you can take a picture, view your photo gallery, or choose images from your file manager in the first case.
As soon as you have selected Freehand, Cut Square, or Cut Circle for your cropping options, the next step is to cut out your image into the desired form from your image.
Finally, tap the Save Sticker button when you're satisfied with your design.
After you've added three stickers, select Add to WhatsApp. A message will appear confirming that it has been added to WhatsApp.
If you tap on the emoji symbol > stickers icon in WhatsApp, you will see this new sticker pack at the bottom of the sticker pack list.
You may remove stickers from a sticker pack by tapping the pack > three dots icon > Delete.
Read more: How to Send Large Video Files on WhatsApp
Create your Own Stickers on WhatsApp on iPhone
You can use these methods on your iPhone
Install the Bazaart app on your iPhone, open it, and either select Start New or Open Photo to begin.
The on-screen tools provided by Bazaart can be used to design your sticker and then cut it into different shapes, including dialogue boxes, or do any number of other things.
When you're finished, click on the Share icon and select WhatsApp as the destination.
After entering your name, the app will prompt you to add the sticker pack to WhatsApp and then you can tap the Add to WhatsApp button.
That's it! Tap the sticker icon in the upper-right corner to view your stickers when you type messages into WhatsApp.
Following the same steps 2 to 4 above, you can easily update your sticker pack within Bazaart by clicking on Update to add more stickers.
Read more: How to Add Contacts on WhatsApp
Conclusion
You can modify WhatsApp's sample apps and upload them to the App Store or Google Play to create your own stickers on Whatsapp. WhatsApp stickers can be created in a variety of methods, but the quickest and most convenient method is to use an app that allows you to quickly make stickers.
There is a web-based version of WhatsApp right now, but the desktop version will be available in a few weeks. It does not yet appear that WhatsApp will offer a unique sticker feature for mobile devices.
Was this article helpful?