You can easily delete spam calendar events on iPhone. The method I have shared will work on all iPhone versions. All spam calendar invites will be stopped and you will even secure your iPhone calendar app.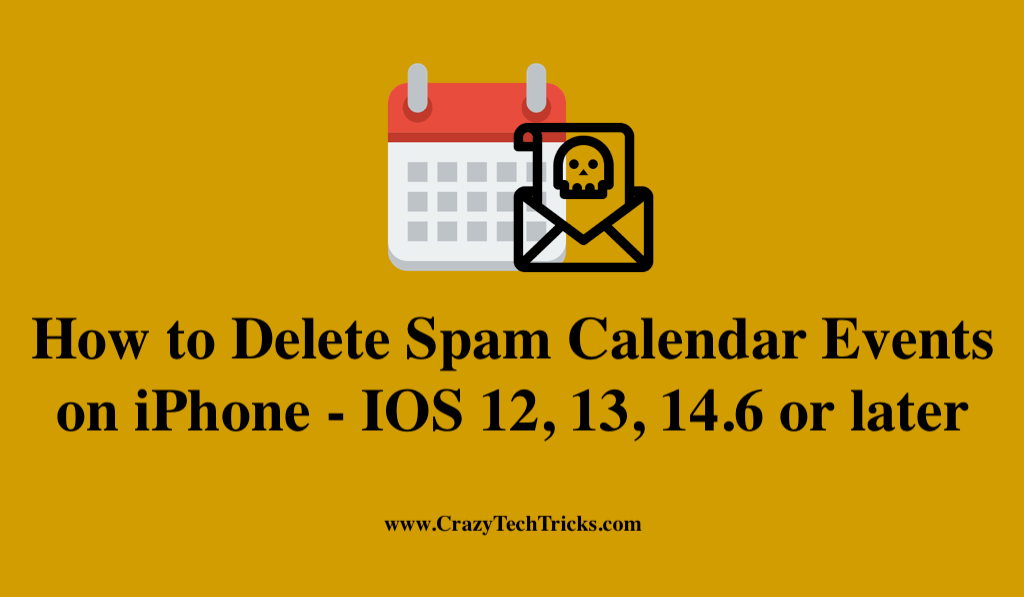 With Apple's Calendar app, which comes pre-installed on all iPhone, it's simple to stay on top of all your future events. You can effortlessly track future events, exchange calendars, subscribe to other calendars, and much more by using notifications. Even though it's a terrific app, scammers have recently taken advantage of it by pushing numerous advertisements and fraudulent sites.
Having spam in your email inbox is one thing, but having spam in your calendar is something altogether different, especially if it interferes with your view of upcoming events. So, whenever you find that random events are appearing on your iPhone Calendar app, you have been attacked by iPhone Calendar spam. Fortunately, to remove a spam calendar events on iPhone is a simple process.
Read more: How to Send a Google Hangout Calendar Invite
iPhone Calendar Spam
After a long and exhausting work week, you decide to unwind by checking your Calendar app, only to discover that it is absolutely overflowing with events. You do not know why they are there, where they are from, or how they got there. Imagine receiving a reminder every hour or perhaps every second throughout the day to make matters worse.
You may have a lot of queries, but the truth is that you've been inundated by iPhone Calendar spam. Spam is nearly always the result of an unwitting subscription to a malicious calendar. If you receive unwanted events and invitations, you may have mistakenly subscribed to a spam calendar. In addition to being annoying and annoying, spam can also damage your iPhone. Many people don't realize that spam is potentially harmful. Now that you are aware of it, you will consider how to delete spam calendar events on iPhone.
Read more: How to Export Outlook Calendar to Google, CSV File & Excel
How to Delete Spam Calendar Events on iPhone
First, be wary of spam events, since they may include links to websites that are aimed at stealing personal information, or are likely to install adware and malware on your iPhone. Regardless of whether you manually delete spam calendar events on iPhone, you will continue to receive spam events as long as you are subscribed to it. Consequently, you must completely delete spam calendar events on iPhone.
Read more: How to Sync Google Calendar with Outlook
Delete Spam Calendar Events on iPhone IOS 14.6 or later
If your iPhone is running iOS 14.6 or later, perform the following steps.
Open your calendar app on your iPhone.
Tap the spam events on your iPhone's calendar.
Unsubscribe from this calendar by clicking the Unsubscribe button at the bottom.
Tap again unsubscribe to confirm or Tap Unsubscribe and Report Junk if this calendar seems spammy to you.
Previous versions of Apple iOS
Open your calendar app on your iPhone.
Tap calendar. 
Next to the calendar, you do not recognize, tap More Info.
Then select Delete Calendar or unsubscribe.
Read more: Best Calendar App for Windows 10
Delete Subscribed Acccount on iPhone Calendar
Are you still getting spam from the Calendar? Follow these steps:
Open your calendar app.
Then go to Calendar > Accounts. Alternately, on iOS 13, go to Passwords & Accounts and then Accounts.
Choose Subscribed Calendars from the drop-down menu.
You can delete your account by selecting Delete Account after choosing a calendar you're unfamiliar with.
Read more: How to Send iPhone Health Data to Doctor
Methods for Safeguarding your iPhone
Don't go to sites you don't trust.
Never click on links in calendar events that you don't recognize.
Stream video content from trustworthy sources.
It is never a good idea to sign up for calendar events on websites you don't trust.
Read more: How to Flip Selfies on iPhone to any Angle
Conclusion
If you receive a message requesting your personal information, you should treat it the same as you would any other message. Phishing emails are a good example. The events popping on your iPhone needn't be touched, except for if you wish to delete them if needed. I have discussed how to delete spam calendar events on iPhone for this above. I truly hope you found this post to be beneficial.
Was this article helpful?