Users can send iPhone health data to doctor or to anyone. You can send any type of health data directly to your friends also. The health app also has the feature which keeps sending your iPhone health data to the desired person you selected.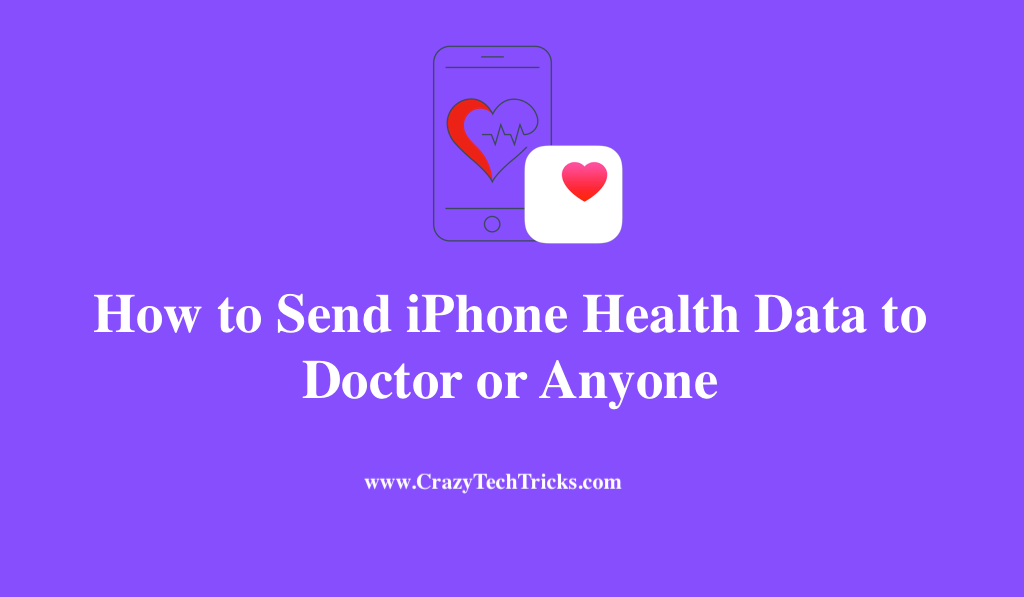 The term health data refers to information "relating to health issues, reproductive results, deaths, and standard of living." This information can pertain to individuals or groups. Health data encompasses medical performance measures as well as relevant data about the environment, socioeconomics, and behavior that affect hygiene and well-being.
Your overall health condition is frequently recorded in the medical records kept by health care professionals. When people interact with medical systems, they disclose a great deal of personal information. Your health tracking information is saved in the Health app on your iPhone when you use the Apple Watch or iPhone. The release of iOS 15 now allows you to Send iPhone Health data to Doctor, family, and friends.
Read more: How to Increase Apple Watch Heart Rate Accuracy
How to Send iPhone Health Data to Anyone
You need an iPhone running iOS 15 or higher and to be able to Send iPhone Health Data to Doctor or someone you know. Those of you who have not yet updated to iOS 15 can do so by updating your iPhones. You must also provide relevant health data to make this function more effective. Now, proceed with the procedures below to Send iPhone Health Data to Doctor or anyone is:
To share your health information, open the Health app.
Select the Sharing tab from the menu.
Click Sharing tab.
Select Share with Someone.
Health should be enabled in your iCloud account.
Locate to Send iPhone Health Data to Doctor or anyone in your contact.
A blue-outlined name indicates that the other person's device supports sharing. Grey signifies that the user's gadget isn't sharing-capable.
Select See Suggested Topics or Set Up Manually from the drop-down menu.
Select the data.
Afterward, you will be asked if you wish to share health alerts, such as a high heart rate. Select Share and after that select done.
The person you choose will get an invite to start looking at their health data, and they can accept it.
Read more: Run a Diagnostic Scan on your Chromebook
How To Send iPhone Health Data to Doctor
When you share health data with your doctor and healthcare team directly, it can facilitate richer, more informed interactions. Your healthcare team will be able to see the data you share with them if they have their own health records system. Via the Sharing tab in the iPhone's Health app, you can turn off sharing or change the types of data shared.
The steps to send iPhone Health Data to Doctor directly are as follows:
Open Health app.
Click on the Sharing tab.
Click on Share with your doctor to send a message.
Onscreen instructions will help you choose which information to send iPhone health data to doctor.
Share by pressing the Share button.
Read more: How to Sync Fitbit with iPhone
Conclusion
There is a Sharing tab in the Health app where you can share all of your Health app data with people of your choice. You have complete control over the data you share and can modify or discontinue sharing at any time. The Health app collects all of your health data from your iPhone, making it easy to keep track of your overall health status. In addition, you can use any Health-compliant app or gadget to gain access to data through a Health category.
Using iPhone Health data sharing, doctors will have access to your fitness and wellness statistics in real-time. Data from the Health app isn't instantly imported into the patient's Electronic Health Record. Doctors have the option of viewing temporary information, but it cannot be permanently added to a patient's medical record. Health data is automatically deleted in the iPhone's health record if a user decides not to share it.
Was this article helpful?