You can remove Adware from Google Chrome permanently. Users can use this method on both Windows and Mac. You don't require any Antivirus. Just follow the method and get rid of all types of spam adware from your PC/laptop.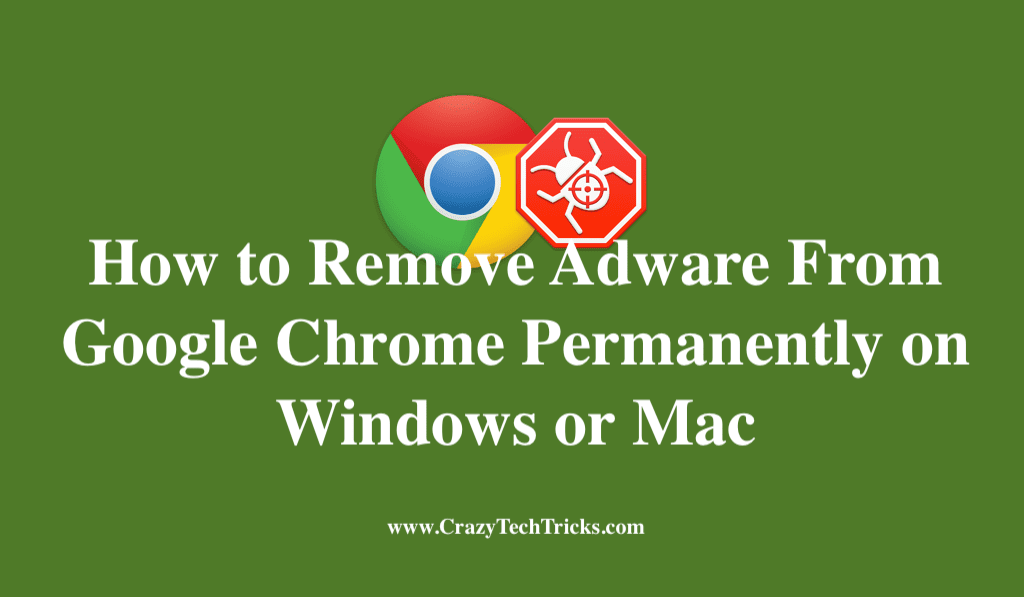 Adware is like a lusty ghost who doesn't make is presence known it will torment you, do his job and play with you until you not get scared or irritated. Adware can take birth in your computer by clicking or browsing infected and harmful websites. It will ultimately make you install it on your computer.
How Adware Get Installed on our PC/Laptops
Sometimes we have realized that when we are browsing or surfing on the net, we often found some pop-ups or hoardings like sale in clothes, shoes, or like a congratulations message that you have won some money. Youngsters or Kids usually get excited and curious, and they click on it.
This move gives the person who is living behind this world an edge to welcome him in his pond. The kids usually flow into it and elaborate their details and welcome themselves into the dangerous cocktail, but adults are much aware of that, and we often ignore it.
Read more: How to Change Language in Google Chrome
But sometimes we often get exasperated and piqued by these fake scams and these are often called Adware. It is basically an advertising software that makes money by generating these online advertisements. It makes money that how many times a person clicks on it that will be counted as one-touch and often this can be related to digital marketing that how many seconds or minutes a person goes through your content.
The person behind the wall enjoys and plays with you and often wastes your time. But sometimes when it failed to irritate it often stops for backing off the page or hangs your page, it is some kind of malware in which ignorance is the best way possible in that condition.
Read more: How to Set Parental Controls on Google Chrome
Check your PC/Laptop for Spam Software
When you see the Adware on your Google Chrome then first check your PC/Laptop. Did you install any software on your system? It will be better if you remove any third party external app or software as it can be the culprit. After removing make sure you reboot your laptop.
Read more: Why Google Chrome May Perform Slow
How to Remove Adware From Google Chrome Permanently on Windows or Mac
Anyone can use this method; it doesn't matter wheater you are using Mac or Windows. But remember this method will remove all extensions and other data from your Chrome, and it is important. This Virus can be installed in any of the files or folders of Google Chrome. This method will permanently remove Adware from Google Chrome.
Firstly you have to open Google Chrome on your computer.
At the top right corner, click on three dot line.
Now open the Settings.
After you follow all these methods just reboot your Windows PC/Laptops. And open your Google Chrome again. It will be working as it should work.
Read more: Fix Google Chrome Black Screen Issue
Conclusion
Make sure to follow this method only and don't go for removing other information. As it can be back when you sign in to Google Chrome. Don't use any other software or extension to remove Adware from Google Chrome as they can also be the virus or spam. Its better to Reset Google Chrome if you are unable to find the culprit app or extension.
Was this article helpful?