Hello friends, Today I will tell you a trick to convert the Facebook profile to page. You can convert/migrate your Facebook profile to the Facebook page without losing any friend. You can copy all your personal information and pictures to the Facebook page automatically.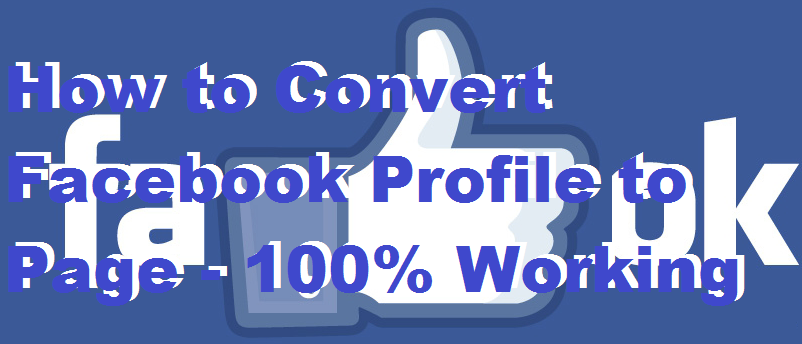 Why to Convert Facebook Profile to Page?
Today, no one is unaware of Facebook and almost every person has a Facebook account. Some of you might wanna create a page of your name to get fame or for other purposes. Another reason for migrating to the page is that you want to connect with more than 5k people on Facebook. Facebook allows users to have only 5k friends on their friend list. Once you reach the limit of 5k friends. Then, people won't be able to send you a friend request and they become your follower instead of friends.
Read more: How to Start Facebook Messenger Secret Conversations – Send Secret Messages on Facebook
How to Convert Facebook Profile to Page – 100% Working
Login from the account which you want to convert in Facebook Page.
Change the username of that account. Change Facebook Username
CLICK HERE Everything regarding the migration is explained.
Now, Click on Get Started to proceed.
Now select the category of your page such as Band, business etc.
Next step is optional, Here you will be asked whether you want to change your password or not.
After completion, your page is ready to use.
Now, You can post anything as per your choice.
Facebook Profile to Page Migration Problems
First and foremost problem that people face after completing all steps is a login error message. Well, nothing to be worried about that. It is because Facebook can take 24-48 hours to migrate your profile. Once the migration is done, you will not get any password error.
Read more: How to Chat in Facebook Without Messenger Download – Easy Method
Last Words
This is the best and easy way to convert Facebook profile to page. I have shared the best and easy way to merge your Facebook profile. If you face any problem regarding this trick. Then, do comment below and don't forget to share this article with your friends.
Was this article helpful?