Hello friends, Today I will share a method on how to schedule a Zoom meeting on Windows PC. Users can also schedule a Zoom meetup on Android or iPhone. I have shared a detailed method for every platform. You can even schedule a meeting without the Zoom app.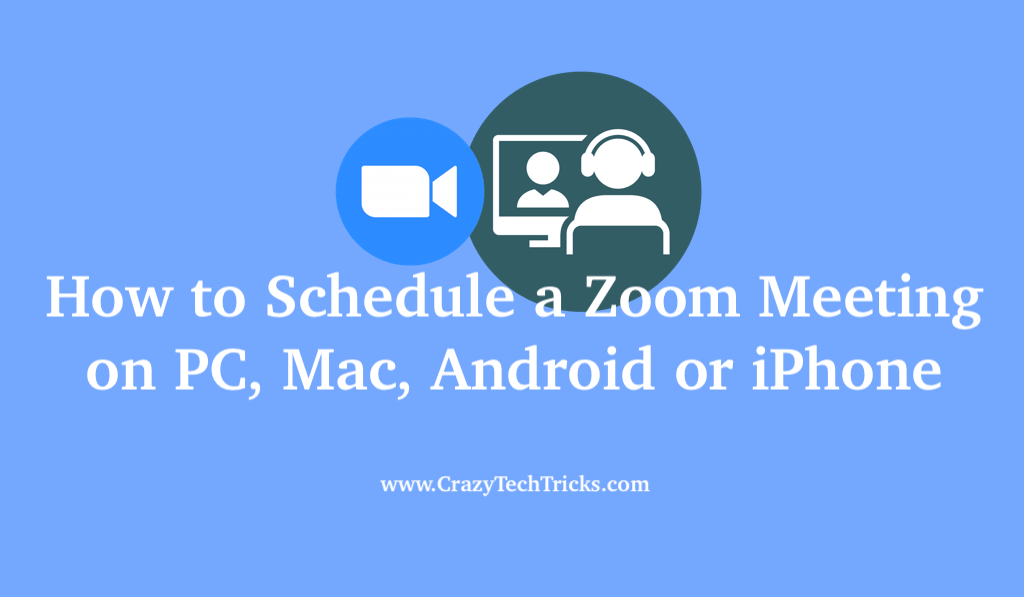 Zoom helps businesses and organizations bring their teams together to get their work done. In the modern enterprise, Zoom provides a reliable cloud platform for video and audio conferencing, collaboration, chat, and webinars.
Zoom meetings can be started on the spot, but scheduling it in advance is helpful to organize your work. If you have a scheduled meeting, it will definitely benefit you in setting your time table according to it.
How to Schedule a Zoom Meeting on PC, Mac, Android or iPhone
You can easily schedule your meetings on every platform, on iPhone, Android or on Online Browser. If you want to download the Zoom desktop app, you can easily download it, on your computer and schedule your meetings. Working from home is no longer complicated with Zoom meetings.
It allows university students as well as business employees to work from home and schedule a meeting. Both individual and team meetings can be scheduled.
Zoom offers multiple methods to schedule a meeting. The process is very simple to schedule a Zoom meeting. Beginners' may not know this, but there is nothing to worry about it. Here are some steps that surely will help you out. As you can do it on every platform, we're sharing steps that you have to follow on your desktop as well as on your mobile app to schedule a zoom meeting.
---
How to Schedule a Zoom Meeting on the Website Online Without Zoom App
Users can use this method to schedule a Zoom meeting if they do not have any app or software. You just need to visit the Zoom website directly and can schedule any meeting.
Go to the Zoom Website.
Now, click on Schedule a meeting at the top.
Click on Meetings on the left side.
Now you have to fill out your meeting details.
In this way, you can schedule a Zoom meeting on the Zoom website.
---
How to Schedule a Zoom Meeting on PC
In this method, you need to have the Zoom software installed on your Windows PC/laptops. Users can use this method on any Windows or Mac. All they need is a Zoom app.
Click on the Meetings option.
It will open a pop-up.
You have to enter your meeting details, time, description and topic to schedule a Zoom meeting.
Click on the Schedule button at the end to save your details.
---
How to Schedule a Meeting on your Android or iOS
You can use this method to schedule a meeting on a Smartphone. I am sharing a detailed method of the iPhone.
Open the Zoom app on your iPhone or Android.
Tap on the Done.
Another form will open here.
Now verify your details.
Click on Add.
It adds the event to your mobile calendar. Set alerts and send invites for the event.
A message will appear, you have successfully scheduled a zoom meeting.
Now, Go back to the Zoom homepage to check the Meeting details.
Tap on Meetings.
You can easily check all the details and send an invitation here if you forget to invite any person to the event.
---
Conclusion
Scheduling Zoom meetings are helpful for you to manage your activities. By following these specific directions to schedule a Zoom meeting, you can schedule it easily. Different ways are explained with pictures, so, there are fewer chances of you getting in trouble in scheduling your meetings.
Was this article helpful?