Adsense the dream for every website owner. Each and every website owner dream of getting approved from adsense. But, several bloggers/website owner get refused by Adsense. In this topic i will tell you how to get Adsense Approval after rejection.
Earlier few years back in 2014. I applied for Adsense for my another website. And after two days Adsense mailed me :
We did not approve your application
It just smashed all my dreams of joining adsense. But, Adsense also provide you the reason. In my case they gave me the reason of Insufficient content etc. Never ignore the reason of Adsense and do think about it. At that time my website was having bounty of articles. But, still they didnt approved me.
I searched several websites to improve my website and get Adsense Approval after Rejection. But, all websites were giving old methods. All the methods were useless even after following there each step still Adsense didnt approved me. It took a long time for me to find the correct reasons. Below are the all reasons just follow them and apply for Adsense. And you'll get Adsense Approval after Rejection.
Get Adsense Approval after rejection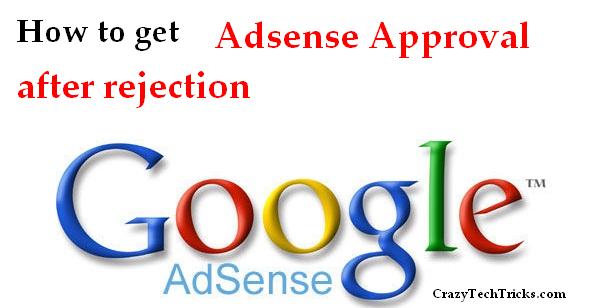 Genuine Content, Quality Articles
Adsense doesn't need hundreds of article. Adsense need all genuine article which you have never ever copied and all the articles are written by your own.
In this current website the amount of articles are less. But, none of the article is copied from anywhere. Many of the freelancer just take an article and just change the words up and down and give you the article. In reality that article is copied. I scanned each and every article by using COPYSCAPE. Yes, it helped me . Whenever i write an article, i always check on copyscape.
Length of the Articles
So, now i have genuine articles. Now i need one more thing. The length of the article. Try to write articles with minimum of 350-400 words and maximum as much as u can. Try to have atleast 2-3 articles with 700+ words on your website.
Good in SEO
Your article should be in search engines. You should be good in SEO. Each and every article should have good focus words. You should get visitors from the search engines. The more the people come from search engines more the chances are increased to get approval from adsense.
Tell everything
Write about yourself, who is behind the website. Add a page with name like *About us, Disclaimer and Privacy Policy. These are the three main pages which should be present on your website. Tell what your website will post and how you collect information.
Avoid Forum Websites
Try not to apply adsense for forum websites. Adsense usually don't approve forum website. Because it is hard to control the content posted on there website.
WordPress or Blogger
Use platforms like WordPress and Blogger. These are two most reputed and Trustworthy platform for websites. If you are using one this then you should get approve easily.
Images Copyright
Try to add images which are clicked by you means copyright. If you don't have copyright means if you don't own that images. Then do write the courtesy and provide the URL from where you have got that specific image.
More Text
If your website has text more than images and videos. Then you have good chance of getting approved from adsense. Try to have more text in your website.
Google Products
Use Google products like webmaster, Google analytics, Tag manager and many more. They are very helpful as they collect all information and increase the trust of your website in google.
 Well, if you follow all the steps. Then surely you'll get Adsense Approval after rejection. So, follow all the policy and which come under Google Adsense.
CONCLUSION
Google Adsense rocks. It provide you the most relevant advertisement on your blog. It also pay you the highest CPM and RPM as compared to other websites. Dont miss use your website after getting approved from Adsense. Because they keep reviewing your blog at regular interval of time. Now i end my article and hope you can get Adsense Approval after rejection. 🙂
Was this article helpful?