Many of you are worried that why Alexa doesn't rank your website. You can coordinate Alexa to rank your website by claiming site ownership. Claim your website on Alexa is very easy, if you follow steps one by one.
As i already said that nothing can help you more than your unique content or quality writing. Alexa will provide you site metrics. Alexa is the CPU of many fast growing websites. It calculates traffic on your website which is good to lure direct advertisers. Read how to claim your website on Alexa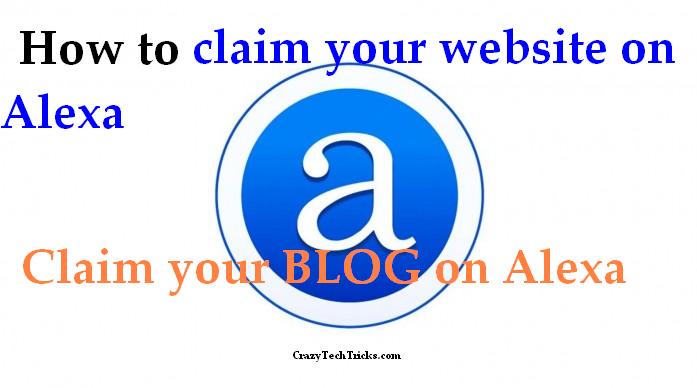 Claim your website on Alexa
Step 1: Visit to Alexa
Go to Alexa.com and create an account. Now, add all your detail in form provided by Alexa. You can directly login with Facebook.
Step 2: Go to Gmail account
Now login in to your Gmail account and you'll see verification mail there. Click on verification link and now you are done with verification.
Step 3: Further
Next thing you need to do is that go to owner Page and claim your site. On claim page, you will see a space bar just enter you blog or site URL. And click on continue.
After completing all the processes, a new page will open where you are supposed to find any three methods to claim your site ownership.
Three methods to claim your website on Alexa :
 Upload an Alexa verification file to your site's root directory.
 Add and Alexa verification ID to your home page.
Certify your site matrix.
Claim your BLOG on Alexa
Step 4: If you are a blogger
Click on second method "add extra verification Id to your homepage".  You'll get a Meta tag verification ID provided by Alexa. You need to paste this ID in the head section of your <html> tag of blog. To make it successful follow next step below.
Now follow steps given below:
Go to blogging dashboard
Login to your Blogger account in new tab and go to template to Edit HTML.

Click anywhere on HTML box.

Press Ctrl+F to get find bar. 

This will help you to find <Head> tag in HTML.

Now paste HTML code below <HEAD> tag.
Example:
<Head>
Meta tag verification ID
<Head>
Step 5: Final step
Now go back to Alexa and click on verify my ID button. In last you will get message saying "your site is successfully claimed".
Conclusion
These steps to claim your website on alexa are not tough. It requires basic technical knowledge and practice. If you are newbie still you can do easily. Now Alexa will easily rank your website.
Was this article helpful?