I will clear your doubt about whether I need a Sim card in Both Phones to use Samsung Smart Switch. And how you can quickly transfer data from one Android to another Samsung phone using Samsung Smart Switch. You can transfer files, pictures or any data from one to another Samsung phone.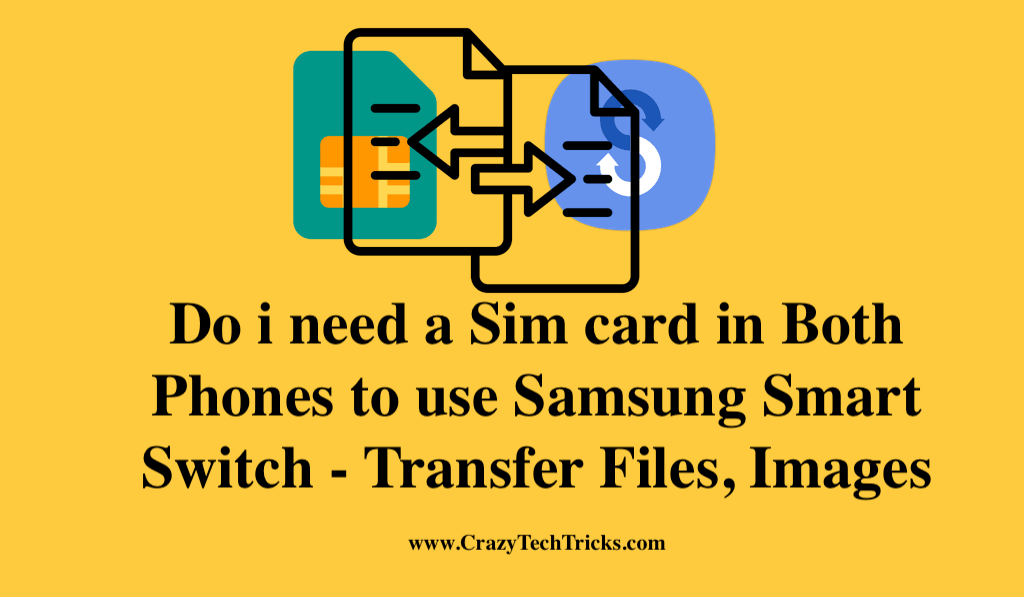 An Android or Samsung phone owner can transfer data from an older phone to a new Samsung device using Samsung Smart Switch. Transferring data from one Samsung Galaxy phone to another is how you use it the most.
It has become significantly easier to switch from one phone to another over the years. Using Samsung Smart Switch, your old phone data can be transferred to a new Samsung phone with ease.
Read more: Best WeTransfer Alternatives
Neither device needs a sim card in both phones to use Samsung Smart Switch, and as long as Android and Samsung Smart Switch report that both devices are connected to the same network (e.g., the same wifi) everything should be fine. To transfer data from a laptop to the new phone, connect the new handset via USB or WiFi, or use an external storage device.
Do I need a Sim card in Both Phones to use Samsung Smart Switch
Samsung Smart Switch does not require a sim card or even a web connection to transmit data across phones. Moreover, I can imagine that transferring all of the data on your phone, especially if you have a lot of stuff, must be exhausting.
Read more: How to Transfer Notes From iPhone to Android
The good news is that transferring data from an old device to a current model is far simpler than it used to be. Sim card in both phones to use Samsung Smart Switch allows users to move data easily between smartphones thanks to its transfer app.
Smart Switch can be downloaded and installed on your PC.
Connect the two devices using a USB connection.
Tap the Start button on your mobile device to initiate the transfer process. Here permission will be asked for every bit of your stuff for going to be copied.
Choosing Copy everything will allow you to copy all the data from your mobile device to your PC.
On your mobile device, you can keep data that isn't important for everyday life, such as pictures and videos. This way, they won't get moved to your computer.
If you would like to avoid accidentally deleting apps from both devices, you can also delete all unnecessary apps before you start this process.
The Samsung Smart Switch Mobile app can be downloaded if you don't have a USB cord and it is not already installed on your Android device.
Launch the Smart Switch app on your phone or tablet to begin the setup process. Afterwards, switch between sending and receiving devices on your previous device.
The two gadgets can be connected by clicking "Connect" on both of them.
Anything from your old phone can be transferred to your new one. The new phone comes with a memory card that can be filled with media files, programs, and alarms.
To transfer, open the menu and choose "Transfer". 
To utilize a Smart Switch, follow these instructions to the sim card in both phones.
Read more: How to Transfer Photos from iPhone to PC on Windows 10
What Types of Content do Sim Card in both phones to use Smart Switch
Depending on the type of phone you are using and the way you transfer content, a Sim card in both phones to use Smart switch can transfer a particular type of content. Among the types of content that can be transferred from an Android device are:
Free DRM-free videos can be accessed through apps and contact lists
In the app's settings
Images
Moreover, Data can be transmitted by iCloud from an iOS device in the following ways:
Contacts Alarm configurations
No-DRM videos
Configuration of the WiFi
Read more: How to Transfer Photos From Android to Mac
Conclusion
This application allows for easy transferring of contacts, music, downloaded programs, and photos from one Samsung device to another. It can be used to use Samsung smart hooked to any of the other two phones participating in the transaction even if neither phone has a SIM card. Moreover,  the internet must be connected to both phones in numerous other cases for data to be sent between them.
Was this article helpful?