You can easily cast the Oculus Quest 2 to a TV and start playing games. I have shared two methods in which you can use Chromecast or another method to cast on Samsung, LG, Sony, or any TV.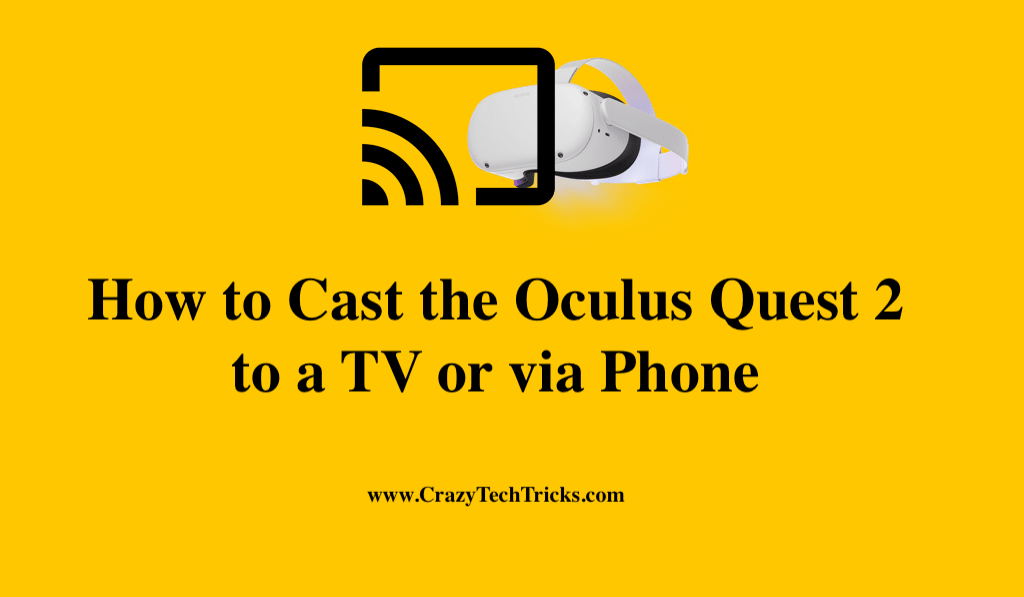 A common misconception about virtual reality is the idea that it must be experienced alone. On the other hand, VR games and workouts like Supernatural may be enjoyed by anybody who wants to watch. Nevertheless, the Oculus Quest 2 is TG's top pick for the best virtual reality headset, and you should go for it. Because of its elegant appearance, simple controllers, and high-quality audio built-in.
How to Cast the Oculus Quest 2 to a TV
However, all you have to do now is download the Oculus application and you're good to go! With the Oculus Quest 2, you can stream your games to a tv. You'll need either an external Chromecast gadget or a TV with designed Chromecast capability for this to work. A Chromecast with built-in Google TV functionality, on the other hand, is difficult to beat. Now, let's just proceed with the blog.
Read more: Best Chromecast Alternatives
Cast the Oculus Quest 2 to a TV
The simplest method of casting to your TV is from within the headset.  If your TV is equipped with built-in casting capabilities or if you have a Google Chromecast, for example, setting up the device is very simple. Just ascertain that your television or Chromecast is linked to the same Wi-Fi connection as your Oculus Quest 2. Turn on your television, insert the headset, and turn it on. However, to cast the oculus quest 2 to a TV are as follows:
When using a Chromecast device connected to your TV, ensure that the input is set correctly and that the Chromecast along with Oculus are connected to the same Wi-Fi network.
Home is viewed by pressing Oculus on your right-handed controller.
Then select "Share" from the drop-down menu.
Simply press the Cast icon.
Now, Chromecast-enabled devices can be selected in this dialogue box.
Upon confirmation, a message will appear. Now, a video stream from your Oculus Quest 2 should appear on your TV.
Read more: How to Listen to Podcasts on Android
Cast the Oculus Quest 2 to a TV via Phone
Using the Oculus software, you may control the streaming of content to multiple gadgets. People who don't know much about the headset's interface can use this method. There are two things you'll need: the Oculus app and an Oculus account to log in to the Oculus app. A Wi-Fi connection with the Quest headset is required as well.
Switch on your television and the Oculus Quest 2 headset.
Verify that the headset is connected to the same WiFi network as the phone.
The Oculus app should now be installed if it hasn't previously been.
Right-click on the Cast icon and select "Cast to my device."
Approve WiFi network connection rights from the Oculus app if necessary.
Make your choice in the 'Cast To' column, whether it's your TV or a Chromecast.
Read more: Turn Off Trophy Videos on PS5
How to Stop Casting
In the same way, you may stop casting by simply tapping Stop Casting at the bottom of the app on your phone. To exit the Oculus Quest, you will need to follow a few additional steps.
Take a step back and head back to where you came from. (Main menu).
Now click Share> cast > stop casting.
Read more: How To Watch NFL Games Without Cable TV
Conclusion
In their respective domains of competence, the Oculus Quest 2 have achieved a position of prominence. Because of this, it's fascinating to consider the possibility of bringing them all together for a single cause. However, Oculus Quest 2 is a virtual reality headset that does not generally require a computer or tracking device to operate. Meta's parent company calls it "Quest 2". Therefore, with this am concluding my blog, hope you can now cast the Oculus Quest 2 to a TV using this guide.
Was this article helpful?