Earning a fundamental level certification in Microsoft 365 is a significant stepping stone if you plan to progress towards the higher tiers of Microsoft 365 credentials. Microsoft has been continually updating and revising their previous exam certifications to meet the evolving demands in the modern organization. This continuous upgrading also helps to reflect better the work and tasks that individuals do in their daily roles and level of expertise.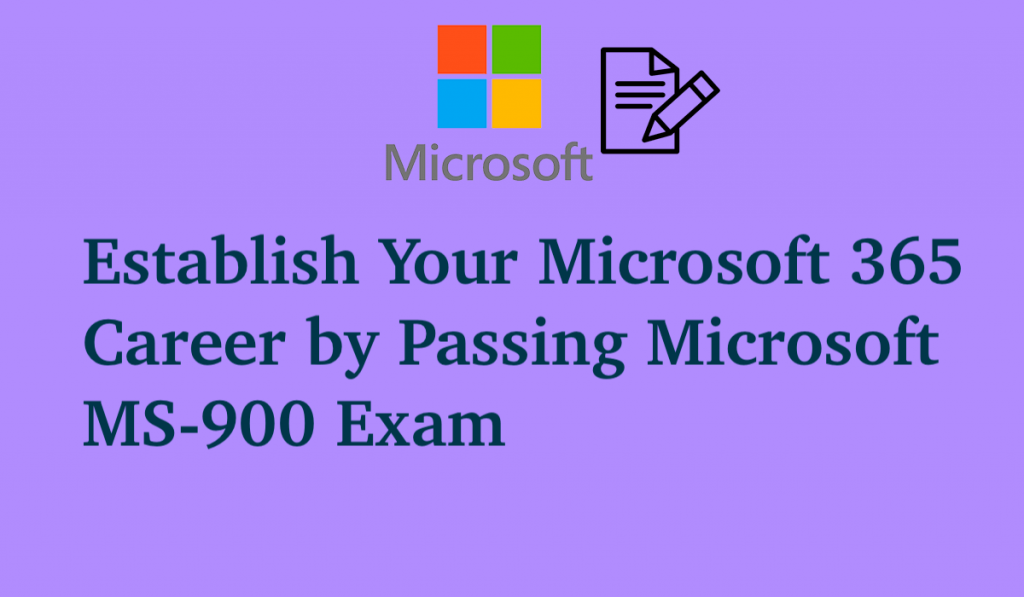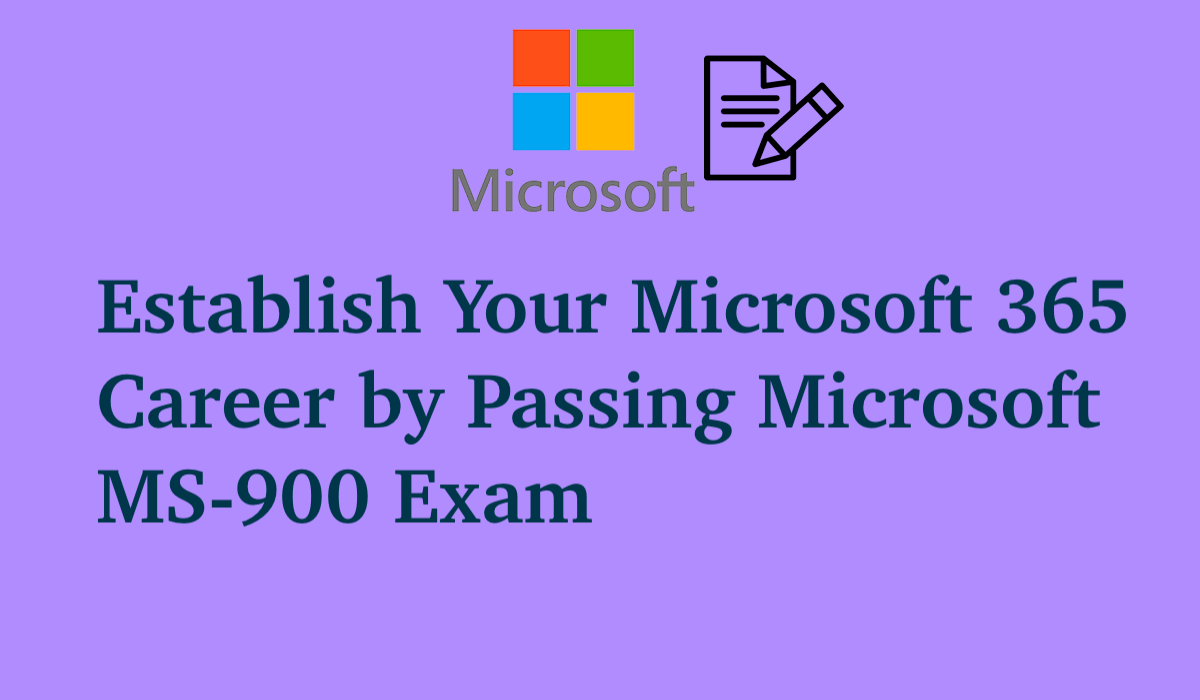 As a start, you can begin your journey by earning the Microsoft 365 Certified Fundamentals certification. This credential equips you with a profound understanding of the options of Microsoft 365 and the corresponding benefits that come along with utilizing cloud and Microsoft 365 services. In this article, we've gathered the primary information about Exam-Labs MS-900 exam, which you should pass to get a core Microsoft 365 badge.
MS-900 as an Introductory Certification Exam 
Basically, this exam hones your foundational knowledge and skills to prepare you to become a future business user and administrator. MS-900 is the only test you need to pass to earn the Microsoft 365 Fundamentals certification. This will then serve as your avenue for all the other Microsoft 365 career paths. The test will cost you $99. 
Therefore, you have to have a strong foundation to build your Microsoft 365 career. Luckily, there are several options you can choose to learn from, ranging from books to video tutorials, practice tests, and many other resources. So be ready to make your study plan and start your prep!
Next, we'll consider the topics of the exam in detail to help you better understand what you should learn mainly.
Beginning of a New Journey
Your Microsoft 365 career commences by taking MS-900 or sometimes referred to as Microsoft 365 Fundamentals Exam. This test checks your skills in understanding the following various cloud models and essential Microsoft 365 concepts & functions, including its security and compliance features. Lastly, the exam will pave the way for you to comprehend more on Microsoft 365 valuing and support. Let's try to describe what is included in each of these bulleted topics.
Important cloud models and features
This is about 15%-20% of the exam coverage. For this portion, think about the most basic questions that you need to know for you to understand the fundamental topics. For instance, what cloud computing is, or which are the types of cloud services, and what are they. Such simple questions can open up to more detailed information once you dissect each of these cloud concepts. 
Key Microsoft 365 components and services
Taking up almost the bulk of the test, 30-35% of the exam questions delve into the different essential services and modules of Microsoft 365. You must be able to describe the various components, which include but are not confined to Windows 10 Enterprise, SharePoint Online, and others. Moreover, you must be knowledgeable about Enterprise Mobility, Teams, and essential solutions and products related to security. Be sure to understand each component so you can easily compare and comprehend one from the other.
You can also study the core services of Microsoft 365 and the appropriate on-premises technologies. Aside from that, you have to understand how Modern Management works, along with Office 365 ProPlus and its analytic capabilities.
Microsoft 365 trust, security compliance, and such 
Information shared online can be confidential, and so it must be safely secured. With that, the MS-900 exam also prepares you for the key components needed to protect a cloud infrastructure belonged to a certain organization and its on-premise set-up. 
This topic is about 30-35% covered in the exam so you must look into the important concepts of security and compliance surrounding Microsoft 365. Fully familiarize yourself with topics like identity protection and management, different security usage situations, data protection, and various services addresses. Learn more about Godaddy Office 365 Migration and Azure Migration Services.
Microsoft 365 valuing and maintenance
Lastly, 25-30% of the exam caters to various licensing options of Microsoft 365. You have to learn the Windows CSP pricing model (which stands for Cloud Solution Provider), together with cloud services used in Microsoft to help you easily strategize and compare pricing. You must also know the service lifecycle in Microsoft 365 so that you will understand creating support requests. 
Resources Available 
There are books available on Amazon that you can avail of to supplement your study. You may purchase the official study guide for the new Microsoft MS-900 Microsoft 365 Fundamentals. This includes Exam Ref MS-900, which is direct material from Microsoft and is designed to help you maximize your test performance and, at the same time, cultivate your technical skills.
If you want to see the actual exam questions, you can also visit Exam-labs.com and acquire reliable practice tests. You can either download those free files or purchase the MS-900 premium bundle for $34,99 that includes 121 questions and answers in it as well as 21 lectures for the training course. The reason for Exam-Labs' popularity is that their practice tests are regularly updated, and premium bundles are checked and compiled by IT experts. Hence, you get the prep material of the top quality. In addition, all the files are opened with the VCE Exam Simulator – a special software that helps you to put away the panic at the real exam and be confident to tackle different types of exam questions within the allocated time.
Lastly, video training is also accessible in various sites such as Microsoft Virtual Academy and ExamSnap.This training may be offered free or paid, depending on which resource you avail. Nevertheless, video training also provides high-yield lectures from the best instructors in the industry to better prepare you for the exam. You can also enroll in the instructor-led training from the Microsoft Official Courses.
What are You Waiting for?
The ever-updating pace of certification exams should develop you to have an adaptable attitude. With the retirement of older certification exams, new technical tests have been introduced as a replacement. These role-based credentials are meant to conveniently assist you not just with skills development but also with professional advancement.
Definitely, your choices for pursuing further certifications depend entirely on what interests you and what you want to do next. After earning the fundamental-level badge, you can proceed to the intermediate level or you can choose among the other certification types that suit you.
Conclusion
Microsoft 365 is a serious, promising and ever-developing project, and you can become a part of it. The company itself offers a basic certification Microsoft 365 Fundamentals, which is the first step to grow into professional.
You want to receive current information, prove your skills, and find an exciting and well-paid job? Then get prepared using better materials mentioned in this article and include the most actual and updated practice tests by Exam-Labs on your list, then pass the MS-900 exam smoothly and start your new career with Microsoft 365 Certified Fundamentals badge!
Was this article helpful?