Users can extract table from PDF files correctly. I have shared four methods, and you can use an inbuilt method or even third-party free softwares to extract tables from PDF. You can even extract multiple tables from PDF and paste them to MS Word, text, or any format.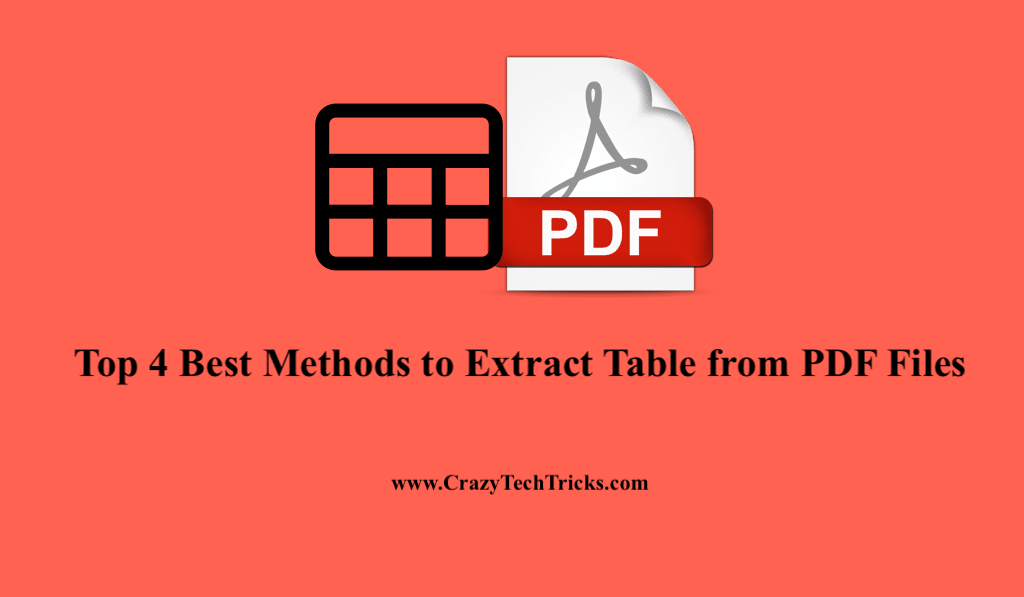 Time is very much a constraint in people's lives, and thus their retention capacity is somewhere truncated. So, you have to come with convenient plans to present your thoughts to the other person so that the person could retain your thought and respond accordingly to them.
While presenting your data to other people, you have to make sure that they could efficiently understand these data within a short period. To do so, using a table is one of the most convenient and simple ways to arrange the data. It is very easy to understand by anyone easily. However, we have come across some issues while using the tables.
Read more: How to Save a PDF as a JPEG on Windows
How to Extract Table from PDF Files – Top 4 Ways
Users have widely admired PDF document formats for convenient sharing and writing data. But, we have come across times when we need to extract data, say tables, from PDF files. Now, when we have to extract tables from PDF files, this sometimes creates difficulty for the user in doing so. But, we have come with the best easy ways for you to extract tables from PDF files.
Copy-paste option.

Tabula software.

Acrobat Reader DC.

DocAquire.
Read more: How to Sign a PDF on iPhone
1. Extract Table from PDF Files Using Copy-Paste Option
It is one of the easiest methods, but sometimes this method is limited. For example, in some cases, by using this method, the content is not extracted correctly. This method may take some time, and you need to be more focused while doing so.
Open the required PDF file to extract the table.
Now, use the cursor to copy all the stuff which you select for the table.
Paste it anywhere we want.
Read more: How to Delete Pages From PDF File on PC
2. Extract Table from PDF Files Using Tabula software
Tabula software extracts the required table and shows a preview. Check the table to make sure it looks correct. If data is missing, you can go back to correct it down. But the only disadvantage this Tabula software has is that it only works for PDF files and scanned files.
Install the Tabula software in your PC.
Open the PDF file containing the required data table.
Then, select the table by clicking and dragging to draw a box around the table.
Click the "Preview & Export Extracted Data" option.
Read more: How to Rotate a PDF on Windows
3. Extract Tables from PDF Files Using Acrobat Reader DC
This is one of the finest apps we have in our market to read and make necessary changes in the PDF file without harming it in any way. This is however a paid app but the free version is also available. The free version also has some amazing features like edit, copy, paste, etc.
Download the Acrobat Reader Link set up to your PC.
Open the PDF with Acrobat Reader.
Go through the table portion and just select the table and paste it where you want.
Read more: How to Add Watermark in PDF Online
4. Extract Table from PDF Files Using DocAquire
DocAquire is also one of the most efficient software we have in the market. However, the drawback is, it is a paid app, and we can only use it for free by taking a demo. However, if we save the file in this software, we can get direct access to extract the data from the PDF files.
Download the DocAcquire to your PC using its official site Link.
Now, add the required PDF to the option of "add document".
Go to the Fields tab in the side navigation bar and start creating fields by clicking the "+" sign. We can also create tables and define rows for them.
Now, you can easily select the table and click on the Extract button.
Read more: How to Fix Chrome PDF Viewer Not Working
Conclusion
From this article, we are helping you extract table from pdf files by using any of the above-mentioned methods. We have come across how remarkably tables could enhance the presentation of your data, making the data easy to digest and understanding for the other person. Using tables also represents your data in an attractive and more structured manner, thus making the presentation of your data to the next level.
Was this article helpful?