I have shared two separate methods to Fix the File or Directory is Corrupted and Unreadable Error on your Windows 10 or 8.1 PC/Laptop. You can use any of the methods and none of your data will get deleted. You can use the small command or run format the drive on your computer.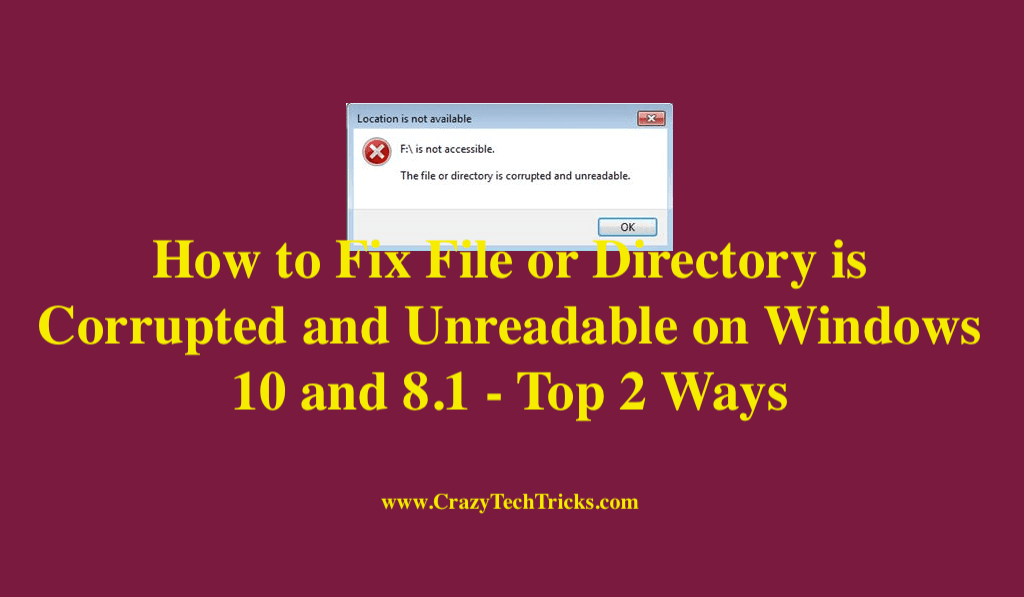 How to Fix the File or Directory is Corrupted and Unreadable Error – Top 2 Methods
The best part of both these methods is that you won't lose any data. Users can fix the file or directory is corrupted and unreadable. You can either use command prompt or format data. Both methods are safe. Make sure you follow all the steps carefully.
---
How to Fix the File or Directory is Corrupted and Unreadable Error using Command Prompt
It is one of the easiest ways, and the majority of the users are also aware of the command prompt. So it will be easy for you to fix the file or any corrupted error from your Windows 10 or 8.1 computer.
Go to the search option on the Right side of the home screen of your personal computer.
Write cmd there, and your pc will start searching for it.
Now Click on the search result of cmd then right click on cmd option to choose run as administrator option.
The command prompt will open in front of you then type chkdsk (give space) /f (give space), then you have to write the name by which the drive is being displayed on your computer. Suppose, it is drive G than white g: that is (chkdsk /f g:).
Now the process will start working.
Slowly, you will get the results, and your error will be fixed automatically.
In this way, you will not need to format your drive and your data will be saved back through cmd.
Read more: How to Fix Apple Watch Activity App Not Sharing with Friends
---
2. Using Format the Drive without losing Data
Before using this method, make sure you move your data to another driver. You can use this method to format the C drive of your compute. So make sure you copy or cut your files and then paste it to another drive as formatting will delete them.
Read more: How to Fix Ethernet Port Not Working
Steps for formatting
Formatting is a simple step that can be performed easily on your own PC without using and any particular software.
Open My Computer on your PC.
Select the drive that you want to format.
Right-click on it and choose quick format option.
The formatting process will start automatically within a second.
Read more: How to Fix Too Large For The Destination File System
---
What is the file or directory is corrupted and unreadable error?
Normally, what we do is, we attach an external drive (for example- a pen drive or USB) to our personal computer in order to transfer the data stored in the drive to the computer. But sometimes the hardware may contain some virus or other issues that can stop it from working properly and start showing an error on a computer screen that usually displays these words 'the file or directory is corrupted and unreadable'.
These words mean that your window is not able to read or write the external hard device attached to your computer. Additionally, whenever this error occurs, there is always a fear of losing data stored in it. However, there are numerous ways of recovering lost data once again.
Read more: How to Fix VPN Error 609
Why does this Error Occur?
This error usually appears on the computer screen when you attach hard-drive suffering from physical damage to the computer.
Physical damage of hard-drive includes
There can be a problem with the physical hardware of your Windows PC/Laptops
Damage of the head component of the hard drive.
This component helps to read or write the data stored in the hard drive. If it stops working, nothing can help you in reading or writing the data on a hard drive.
Damage of electronic circuit board:
This term refers to the short-circuit faced by the circuit line present in the electronic circuit board. It creates hindrance in the working of a hard-drive.
Read more: How to Fix a Disk Read Error Occurred on Windows
Damage due to wear and tear:
Whenever you purchase a hard drive, it's your responsibility to keep it in good condition and not to let it damaged by the following reasons:
*Using a hard drive for continuous hours raises the temperature of the hard drive that actually causes the degradation of its functionality.
*Don't shake it with a jerk, as it can cause replacement of some tinny parts inside the drive.
Improper removal of the hard drive from the computer after usage also give birth to this error
After working on the plugged-in hard drive on the computer, people usually plug it out randomly without choosing an eject option on the computer. This sometimes causes damage to the internal data and work efficiency of the hard drive.
When the hard drive is infected with some harmful viruses or malware
The virus attacks directly on the data being stored in the hard drive and even sometimes erase it entirely from the drive.
A USB port is not working properly
This is another reason for this error to occur on the computer screen. When the USB port is not in good condition, then the hard drive also starts experiencing some problems in reading and writing data on the computer.
---
Conclusion
There are plenty of Softwares available but the majority of them are not working. And some of which works, are paid. So I will suggest you use these inbuilt methods only as they are safe and free to use. By using this method, the file or directory is corrupted and unreadable error will get wiped out from your PC/Laptop.
Was this article helpful?