Hello friends, Today I will share a method on how to fix VPN error 609,633, 789 and 800. Users can fix or bypass these VPN errors to visit any website or URL on their Windows 10. You don't need any external software or website to bypass these errors. We have shared all internal code to fix VPN error.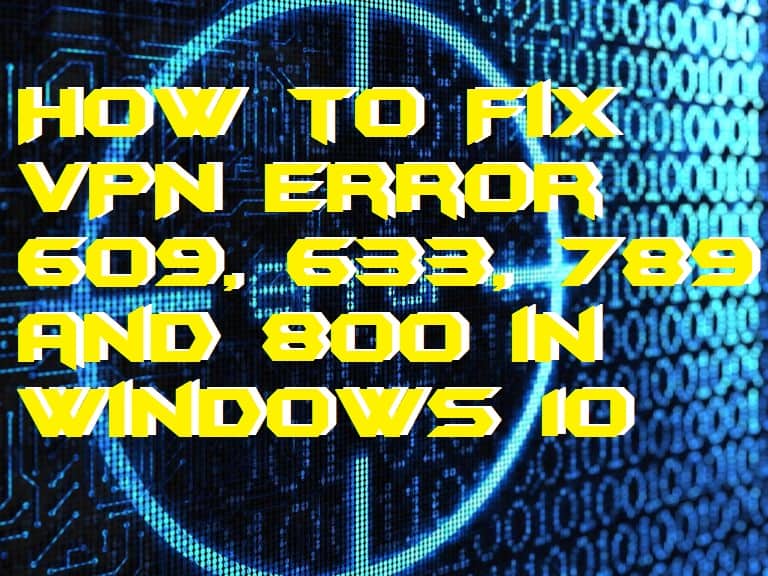 VPN stands for Virtual Private Network. We all know that VPN is used to create a layer in front of our original IP address. In some conditions, we have to use a VPN. For example, if a website is blocked in your country, then you will definitely be using any kind VPN to access that website. If you are here, then it means that you are having an error regarding the VPN you are using. The error can be either 609, 633, 789 or 800.
How to Fix VPN Error 609, 633, 789 and 800 in Windows 10 PC/Laptops
We are going to discuss the top four most famous VPN errors individually, which are VPN error 609, 633, 789 and 800. I will be explaining to you that what is the reason behind their appearance and how you can sort it out by yourself. If you look up to the internet for getting solutions regarding these errors. Then, I am sure that you will not get the exact way to solve them. Basically, this article is a kind of error code guide that is going to help you a lot of VPN error.
The VPN error code 609 means that the device type which is specified does not exist. This error is obviously generated by the VPN software on your PC or laptop. This clearly indicates that the VPN software is unable to get the port or the device is not configured correctly. Users can check that the device is connected correctly or not using this command: netcfg.exe -q < miniport name > follow the below name as the Miniport. Once check then do a restart on your PC or laptop to fix it.
PPTP : MS_PPTP
L2TP: MS_L2TP
IKEv2: MS_AGILEVPN
SSTP: MS_SSTP
---
Fix VPN Error 633:
The VPN error code 633 means that the connecting device (eg; modem, router) is already in use or is not configured properly. Basically, this error arises because the TCP (Transmission Control Protocol) is already being used by another program where VPN wants to use it. To solve this simple VPN error is that reboot your Pc or laptop. Why? Because rebooting will clear all ports of the Remote Access Manager. Moreover, if you would like to get help from the diagnostic centre then don't go there because it can not help you with that.
Read more: How to Setup VPN on Mac – Free VPN for MacBook
---
Fix VPN Error 789
The VPN error code 789 means that the security layer has encountered a processing error while the initial negotiation with a remote PC or laptop. Basically, this error wants to say that the VPN software has found the absentee of the security certificates either from the client or the server. However, if the PC or laptop is being used by a pre-shared key. Then make sure that the key is the same as the client and the server both.
---
Fix VPN Error 800
The VPN error code 800 means that the VPN is unable to establish a VPN connection because the tunnel can't be set up. If you have set up the VPN type to automatic then it is obvious that you will get this error. IF you know the protocol from where you are connecting your PC or laptop then go to the settings of VPN software and change the type. Somehow, if this didn't work then turn off your firewall and reboot your PC or laptop.
Try this for video: How to watch 'This Video is Not Available in Your Country'
---
Conclusion
We have seen how we can fix VPN error 609, 633, 789, and 800. There are more ways in order to solve these VPN errors. But trust me guys this is the best VPN error code guide for these top four errors. However, if you need more help regarding the same then you can visit the Microsoft website where these errors are mentioned very clearly. I hope using this article your issue has been solved. If it helped you then do share it with other guys and girls so that they can also fix VPN error 609, 633, 789 or 800 very easily by themselves.
Was this article helpful?