Users can fix slow WiFi and increase the range and internet speed. You can use 8 easy hacks on Windows, Mac, Android or iPhone. It will boost the WiFi signal, and create much stronger signal. You can download big size file in few minutes or seconds.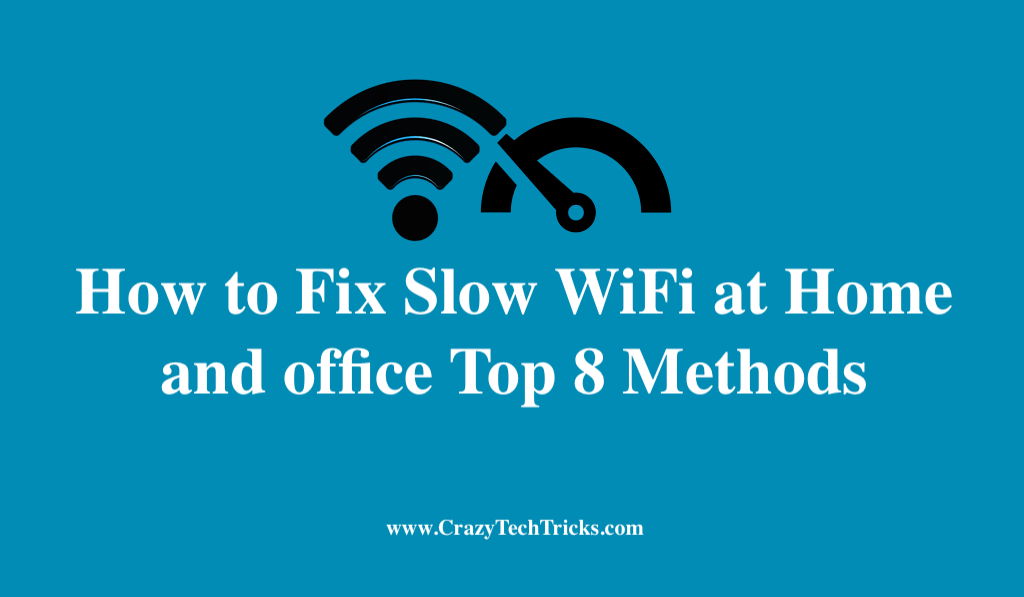 Are you experiencing slow internet and looking for how to fix slow WiFi? Well, since the Covid-19 outbreak, we are all asked to work while staying at our homes to stop the further outspread. And we need a good internet connection to complete the tasks assigned to us.
Well, it might have sounded a big relief to many employees as now they don't need to wake up early and rush to their offices. They can now sit back in their homes and can do the tasks. But everyone needs to make sure that they have faster internet speed.
How to Fix Slow WiFi
Stay Close to your Router
Placement of your Router
Set your Router Free
Increase the Range
Secure your Router
Upgrade your Router
Try Mesh WiFi
Contact your Internet Service Provider
We will read about every method in detail.
Stay Close to your Router
Well, sometimes you might be just far away from your router, which results in a weak WiFi signal. This is a simple one to fix slow WiFi. Moving closer to your Router while you work is all that you have to do to fix slow WiFi.
Placement of your Router
You can fix slow WiFi by placing your Router in the right place. The speed of your internet depends a lot on the area you keep it. It would be best to place your Router in a centralized position where the Router can get a good signal. Usually all the offices keep the Routers in the ceiling so that the Router receives a good signal.
Read more: How to Fix PS4 Not Connecting to WiFi
Set your Router Free
Well, some of us just don't like the way the Routers look. You might look at a Router like a disgusting thing with a lot of wires and a horn-like stick attached, which the tech guys call it as Antenna. You might not have made up your mind while buying it, but eventually, you had to make up your mind to get one in order to get a good internet connection.
Now you end up hiding it behind your TV or just put it in the box it came with. When you cover your Router, you are obstructing its range. All you have to do is to keep your Router free in a place where you can get a good signal.
Increase the Range
Sometimes your WiFi cannot reach all the corners of your house. You can either add more antennas to your Router to increase the range or buy a WiFi extender to increase the range.
Read more: How to Create WiFi Hotspot in Windows 7 Laptop Without any Software
By adding more antennas, you are improving the coverage and strength of your WiFi. You can also add a WiFi range extender to make your Router reach all the corners of your office or home.
Secure your Router
You can fix slow WiFi by setting a strong password or by using WPA. Now that you have placed your Router in a place where it gets the best signal, you are also in proximity to the router, but still, your WiFi is slow? You might have some notorious free loading neighbours who just use your WiFi for free.
You can check if someone is using your WiFi. Disconnect all of your devices that are using WiFi and check if the wireless light is still blinking. I suggest you use WPA as it is much harder to hack and when your Router is secure, you easily get to fix slow WiFi.
Upgrade your Router
This might be the absolute fix. With the consistent improvement in technology advancements, we get more efficient devices. Currently, WiFi 6 is the latest and fastest wireless standard. But you must also make sure that your devices support it. Else it will just be a waste of money.
You can also upgrade to a MIMO Router. Multi-Input Multi-Output Router communicates simultaneously with various multiple devices and also decreases the lag time on the devices and speeds up the network.
Try Mesh WiFi
If you have a large home or a large family with many devices, Mesh WiFi can be the best solution for you. Mesh WiFi consists of multiple wireless access points that act as a single access point. You can move around your house while staying connected to the same network. Many small businesses have adopted Mesh WiFi as it is a great business solution.
You can choose Google Nest as it the best Mesh WiFi.
You can either choose Netgear Orbi, which costs way lower than Google Nest but the range is also lower than Google Nest.
Contact your Internet Service Provider
The last option you have is to call up your ISP and ask them to increase your internet speed. It might cost you a bit, but it is worth it. You don't want that buffering circle to pop up in the climax while you are watching your favorite show, or you don't want to see Failed due to Network Error while you are downloading any file.
Read more: How to Create Windows 10 WiFi Hotspot on PC
So talk to your service providers and get a plan which most suits you.
Conclusion
I have shared some of the many possible solutions to try out when your WiFi is slow. There are indeed many solutions out there but these are the ones which are to be most focused on in my point of view. I hope you can fix the slow WiFi that you are currently experiencing.
Was this article helpful?