Hello friends, Today I will tell you few methods to hide drive in Windows 8, 8.1, 10 and 7. You can hide drives and keep all your personal data hidden from others. Hidden drives will never be shown on your computer. You can also access hidden partition on Windows PC.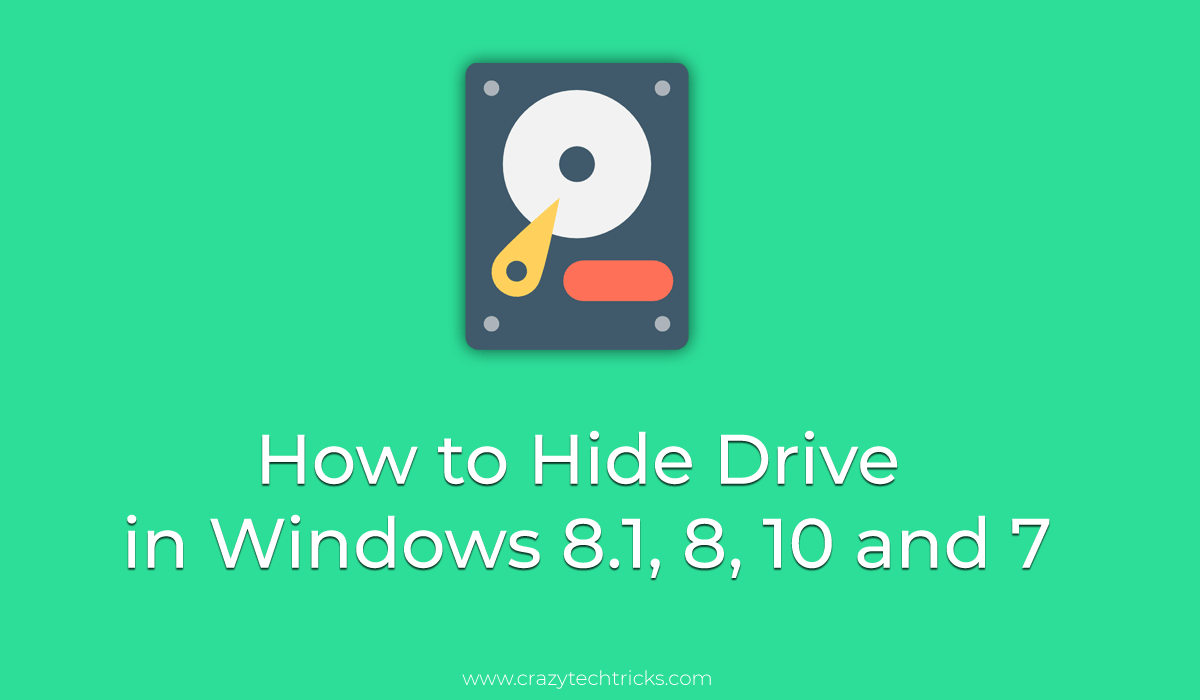 Hide Drive Software
In this modern era, all of us have some data viz pictures, videos, movies or anything that we don't want to share with anyone. For this, we can either hide each and every folder/file or just lock them. But what if someone has a disk or drive full of such stuff.
Read more:How to Increase Laptop Battery Life of laptop
How to Hide Drive in Windows 8.1, 10 and 7 – [100% Working]
Then, we have an alternative for you i.e. to hide the entire drive so that it is not visible to anyone and you can access it later on when you need it. To hide these drives, you can choose to use any downloaded software, but that might be not a very good idea to put your confidential and important files at stake. For this, we'll be presenting a simple and tested trick to hide your drives manually. You will be pleased to know that it will guide you through the steps that you need to follow for Windows 10/8/8.1/7.
Read more: How to Download windows 7, 8, 8.1, 10 and Vista
How to Hide Drive in Windows 8, 8.1 and 10
Hiding drive in Windows 10 and Windows 8 is done via 'Disk Management' or 'gpdeit.msc' and we will explain both the methods as follows:
1. Hide Drive in Windows 8, 8.1 and 10 using Disk Management
Just follows these simple steps for hiding your drive in Windows 10/8/8.1 through Disk Management.
Hidden Partition Windows 8, 8.1 and 10
Right-click on My Computer >
It will open the Computer Management tab, In this, open Storage.
Then, click twice on Disk Management Snap-in.
Under this, all the drives of your PC will appear.
Right-click on the drive you wish to hide.
'Change Letter and Paths' >Remove >OK!
If any dialog box appears, just press OK.
2. Hide Drive in Windows 8, 8.1 and 10 using 'gpedit.msc':
Press Win+R and type msc >OK.
After this, User Configuration>Administrative Templates>Windows Components>File Explorer
Here, by enabling the option of 'Hide these specified drives in My Computer,' you can hide your drives.
Choose the Drive you want to hide from the menu.
Just Save and Exit.
Note: It's always 'necessary' to hide a specific drive only and retain full access to others. One can add such restrictions by modifying a file called 'System.adm' for the currently working or set policy.
It is recommended to create a new '.adm.' file instead of making changes to the System.adm file, as these modifications might get back to the original after the new version released by Microsoft. Additionally, local drives are even safeguarded by hiding them through 'Regedit,' i.e. Registry edit, but it can be a little complicated process for non-advanced users.
How to Hide drive in Windows 7
Windows 7 users should first try the methods mentioned above and if it doesn't work for your system. Then they can check out our other trick, which lets you hide your local drives. This trick is performed by using 'Diskpart' command in 'cmd' prompt. Just follow these steps:
How to Hide Hard Disk Partition in Windows 7
Press Win+R and open command prompt by typing 'cmd' >OK.
Type 'Diskpart' >Enter.
Type 'list volume' >Enter.
Then the names your system's storage drives will appear in the command prompt.
Now type 'Select <space> volume number' that represents the drive you want to hide. Press Enter. (For e.g. 'Select Volume 4')
At last, type 'remove letter F' and give the 'Enter' (Make sure to check which Volume  is mention against which Drive in your system)
 "Diskpart successfully removed the drive letter."– This text will appear!
'You will find that your selected drive has disappeared from your system.'
How to Access Hidden Partition in Windows 8, 8.1, 10 and 7
Repeat steps 1, 2, and 3, as mentioned above.
Then you just have to type 'Assign Letter D' instead of the command mentioned above. Press the 'Enter key' and 'Whoosh' it's back.
Last Words on how to Hide Drive in Windows 8.1, 10 and 7
These are the best methods to hide a drive in Windows 8, 8.1, and 10. You can hide your hard drives in Windows PC/Laptops. If you face any problem regarding this trick. Then, do comment below and don't forget to share this article with your friends.
Was this article helpful?