These are the top 5 best free floor plan software for home and office. You can use them free on your PC/Laptop and do any type of architecture edit. Users can do a lot more things from creating a floor plan to other designing work. You can even download the created design and share it with others.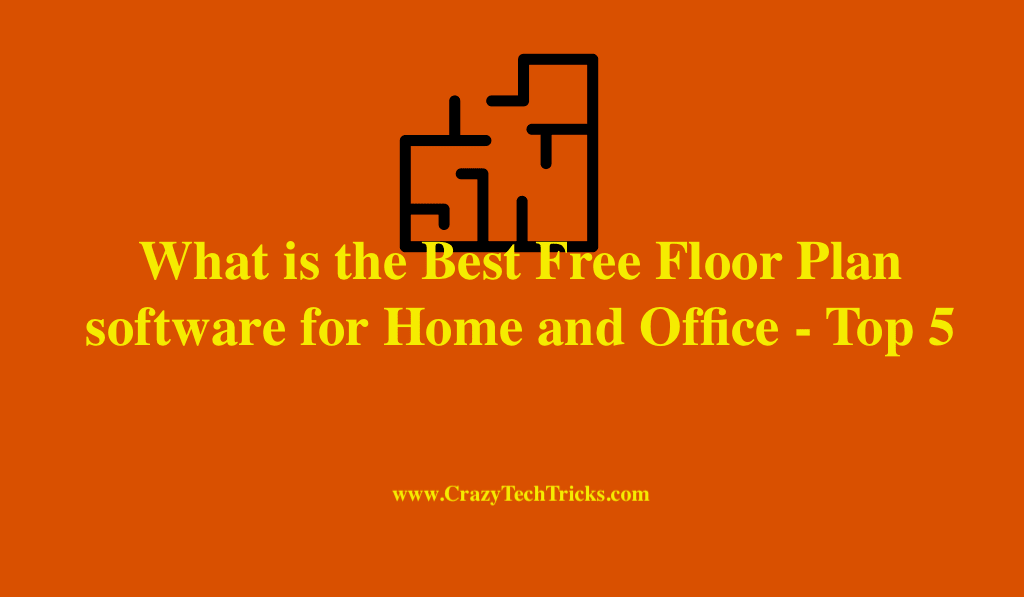 Although, there have been plenty of free floor plan software and apps are available that can make the task of creating a rough structure of an office or house building very simple and easy. But, here the following article will shed light over the top 5 software that can provide you everything that you need to create an illustration or blueprint of your dream house, work office, or an apartment.
Top 5 Best Free Floor Plan Software for Home and Office
Users can use this software on their smartphones or Windows devices. All these Softwares are free up to a limit and then there will be a charge. But the free version is more than enough for you to edit or create any small floor plan for your home or office.
RoomSketcher
RoomSketcher is not completely a free floor plan software as you can be a free subscriber and have access over its all features, but to receive premium quality services, you need to pay some money for it. Room sketcher's rating on google play store is least that is 2/5 stars that make it stand on number 5 in the list of top 5 free floor plan software.
Features of RoomSketcher
It shows the definite angles of the walls for showing in which direction they are standing exactly.
To make walls, you are provided with two options that is a thick wall for the thin walls.
You get the option to work in inches or centimeters.
There is a variety of doors, windows, and appliances that you can use easily by dragging them with the mouse.
Along with furnishing items, some other items are also available that actually enhance the beauty of the structure.
Read more: Depixelate an Image
Floor Planner
Floor planner is another software that provides the offer of using it free as a basic level but to avail of its premium features. You need to pay some money. But, you will hardly need to go to its premium services; instead, you will get satisfied with its basic level services. On google play store, it has earned 2.6/5 stars with approximately 764 reviews.
Features of Floor Planner
In this, you can draw walls in two ways: first, to bring a full room together with particular specifications.
Second, you can draw all walls one by one.
You are provided with additional features of creating room in Polygon shape as you are allowed to change the placements of the conners.
You can quickly re-adjust the specifications and directions of windows, doors, and stairs as well.
Along with furnishing items and plants, you are provided with some accessory items like sanitary wares etcetera.
The software shows the final look of the building so structured in a very neat, clean, and smooth manner.
You can take your plan out of the computer in a printed form through a print option.
Read more: How to Flip an Image in Photoshop CS6
Roomle
Roomle is basically a floor planning software, and it has the least rating on google play store that is 3/5 stars merely that actually pushes it down to stand on number 3. in the catalog of free floor plan software. This software assists in creating a rough 2D structure or 3D building accompanied by the advantages of augmented and virtual reality technology. In addition to this, the Roomle software is completely free and even is available online to work.
Features of Roomle software
Very simple to use as you can add walls on a simple click and can simply move the cursor of your mouse to set them in a particular direction.
You can add furniture to your plan by a simple click and drag.
Many electronic items like television can also be added to the beauty of the outline of the house.
In views, three options are given to you that is the top view (bird view), human view (to see the 3d view from close), inside view (to look inside a room).
You can export your so created design in the form of a jpg format.
Read more: How to Convert JPG to PNG
SketchUp
Sketch-up is a free 3d modeling software. It can be regarded as the best option for them who can't afford to purchase a 3d model but wish to work on them. This designing tool has garnered 3.8/5 stars with about 10,000 reviews on google play store, which is really a humongous number. That is why it is surviving on number 2 of the list of top 5 free floor plan software.
Features of SketchUp
The most prominent feature of SketchUp is the possibility to create curved walls.
A large variety of furniture is available in the 3D warehouse. But, the most appreciable thing about the software is, you can not only change the color and texture of the furniture but can also change its size and can even break it into smaller parts or delete some unnecessary parts from it.
Different types of attractive material is available for decorating rooms such as colorful carpet, tiles, and wooden board etcetera.
You can view the plans from different angles.
The other important factor that makes it the best among the free floor planning software is the basic difference between the SketchUp and the other software.
In other software, you initiate your project as a simple design plan, and then to review its 3D view, you go to the 3D option. But, in SketchUp, you give practical shape to your plan in 3D view itself, and your design is built up within the 3d view.
Sweet Home 3D
It is another software that is available free of cost in the world of floor plan software. In this, you develop a plan of your house and then preview a 3D look of it precisely. This software gets you a wide range of furniture and home appliances that are a glory to the alluring look of your house. Moreover, many sites have given 4/5 stars to Sweet home 3d in every aspect.
Features of Sweet Home 3D
The various items for the beautification of the house and are available in a catalog and even are placed under different categories such as bedrooms, kitchen, living area etcetera.
You can add items from your personal computer also instead of relying only on the material available in the software.
Under sweet home 3D, while designing the layout of your plan in 2D, you can view every action you are performing in 3D as well. This is the interesting factor involved in the sweet home 3D.
There is an option named as sunlight that offers you the view of the sunny day.
Read more: How to Reverse Image Search on iPhone
Conclusion
Last but not least, it can be drawn out that all top 5 free floor plan software discussed here possess distinct features from each other. However, SketchUp has been reviewed as best out of them after sweet home 3D. It is free and has more features as compared to other softwares.
Was this article helpful?