Increase laptop battery life by following these methods. Increase your laptop battery life and increase the timing of battery backup of your laptop. Best tips and tricks to increase laptop battery life of Dell, HP, Lenovo, Asus and all other laptops.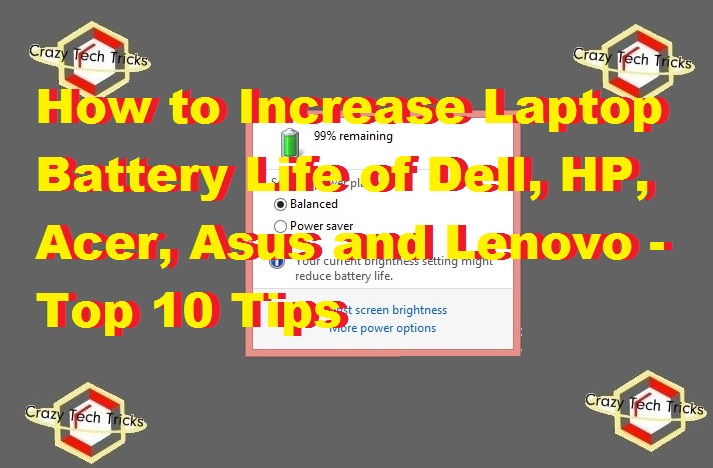 How to Increase Laptop Battery Life of Dell
We all are aware of the situation when we are in a serious meeting or doing any important project and suddenly your laptop screen flashes with low battery warning which is really something everyone hates to notices after their low battery warning flash on their mobile phone. Do you think there are any special tips or tricks which can prevent your laptop's battery life? Yes, we do have some amazing tips which can help you in preventing your laptop's battery life. And today in this post we will share some amazing tricks to increase laptop battery life.
Read more: Restart Hanged Android or iPhone without removing Battery – Easy Method
Charge up to expected battery level
Sometimes, you must have notice that your laptop constantly demands plug in the charger. This may be due to insufficient charge level when the last time you plugged in the charger or you this may be due to bad battery condition. In this case, you need to replace your battery with lithium ion battery for long lasting and better performance. You can plug in the charger for 12 hours before unplugging it.
Read more: Lenovo P70 has world's largest battery life, Lenovo P70 specifications
Reduce the number of open tasks – laptop battery life expectancy
Try going for the single task at a time. As more tasks at a time utilizes more memory, processing, and also puts power on hold directly resulting in the laptop battery draining. In this case, instead of leaving the windows and multiple applications open try using just the useful applications at a time. Try using a simple application that doesn't impact much on RAM as this can be hard on the battery.
Power management – laptop battery life test
Power management is very useful and the battery itself consumes power and here we are talking about saving power. When you are not using the network or say your WIFI and if you find your wireless device on, switch it off and again you can turn it on when needed. Similarly, you need to take care of Bluetooth too.
When you are not accessing your laptop shut it down or keep it in the hibernation mode rather than using standby.
Lower your laptop lights
The LCD or say the screen lights plays a major role in the battery life. You can lower the screen light of your screen or LCD when much of the light is not required as this can be helpful in saving the battery life of your laptop.
Read more: Lenovo P70 has world's largest battery life, Lenovo P70 specifications
Remove your laptop's battery and clean it wisely
Maintenance is always good. A perfect laptop is said to be in a perfect condition when it is maintained perfectly. Once in every two months remove the battery of your laptop and clean it in order to ensure that there is perfect power transfer between the battery and the laptop as efficient as possible. As I said perfection is always good.
Muting your sound
Lower down the sound level of your system or keep it in the mute mode whenever you are not using the sound feature. So, indirectly saying kill the sound when not in use as this will maximize your battery life.
Read more: How to Boost your Internet Speed with Google DNS
Play with environment
You might not be aware of the fact that environment plays a key role in the battery life of a laptop. Yes, you read it right, environment plays important role in the battery life of a laptop as at extreme temperature laptop batteries dies faster. Try using the battery and charging it at the room temperature. Using a cooling pad is also an amazing solution for cooling down the temperature.
Read more: How to Increase Download Speed in Utorrent- Boost Utorrent Speed
How to make laptop battery last longer – Keep the battery fresh
As I mentioned above maintain the battery. You must be aware that batteries leak their power even when they are unused. Battery power starts getting drained soon after charging. So if you try using the laptop after 2 weeks of charge you will notice that you are left with nothing but a laptop with no charge.
Last Words
So now you are aware of some amazing tips and tricks which can help you keep your laptop battery life to the maximum and save it at the same time. So maintain your battery life and if you find any complication do let us know and we are always there to help our readers out there.
Was this article helpful?