Hello friends, Today I will share five ways on how do I know if My Phone has a Virus. Users can find the real cause of virus on their Android or iPhone and later eliminate it. All these ways are easy to trace any virus or error on your phone which makes it laggy.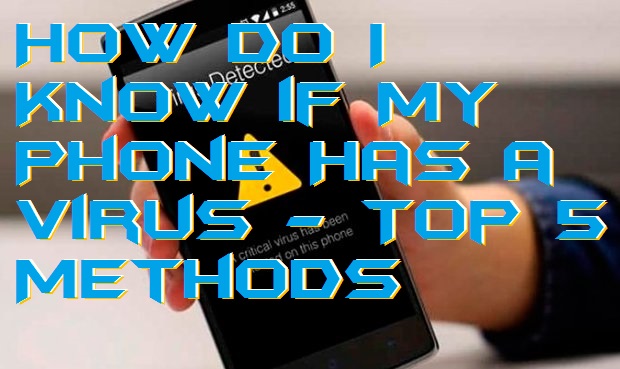 Smartphones are available everywhere in the world. Almost every person uses a smartphone is his or her daily life. Smartphones are used to do a lot of works such as text messaging, making calls, using the internet, playing games, listen to music and much more. Nowadays, there are many manufacturing companies which offer the best smartphones at budgeted amount. Such that a person can buy it at a very cheap rate. But, wait. What about the viruses which can enter in our mobile phone via the internet, WiFi, Bluetooth, etc? Don't panic, we are going to figure out the same.
How Do I Know if My Phone Has a Virus – Top 5 Methods
If you are using a mobile phone, then it is evident that you might be asking yourself how do I know if my phone has a virus. There are some symptoms which you can observe while using your phone. These signs will show you that it is your phone having a virus or not. Obviously, after reading these indications your query which is "how do I know if my phone has a virus?" will be solved.
---
Method 1 – An unexpected appearance of pop-ups
While using your phone, you will notice that your phone shows you unnecessary popups. These popups may be of advertisement services such as AdChoices, AdSense, or any other. Otherwise, these popups will be of some specific app or website. Using these popups the virus would like to you that you should click on that popup. This indication is found on many mobile phones. When you were using the internet on your phone, it is sure that you have clicked on any popup ads within a web browser. After that, these viruses got a chance to enter on your phone and causes a sudden appearance of popups. You can remove the pop-up ads from your phone as well.
Read more: How to Remove AdChoices from Chrome Windows PC/Laptops 
---
Method 2 – 
Increase in the storage memory
This sign is very common that the storage memory of the phone gets increased day by day. It may be also possible that the storage memory is full suddenly even you remember that you have not done something wrong. As well as you have not used too much storage of your phone. This indicates that your phone is having a virus which leads to an increase in the storage memory of your phone.
---
Method 3 – 
Fast drainage of the battery
Draining the battery very fastly is a significant indication which shows that your phone is having a virus. If you know very well that your phone's battery does not drain very fastly and no such unwanted apps are installed on your phone. Then, it is the job of the virus which is present in your phone. These types of virus lead to drain the battery very fastly so that you think that your phone's battery is got damaged.
---
Method 4 – 
Overheating of the phone
Sometimes it seems that the phone is overheating. We remember that the phone was not heating like that from previous days. You may be thinking that what happened to my phone that suddenly it starts overheating. These kinds of viruses used to do a lot of works in the background of the phone and consume a lot of energy. So, the phone starts overheating. These viruses also involve damaging the battery of the phone.
Read more: Top 20 Types of Computer Viruses – Names of Computer Viruses
---
Method 5 – 
RAM memory not clearing
RAM is used to store the cache memory of the apps which you use daily on your phone. The viruses used to hold the memory which is stored in the RAM. So, the memory will not be free and you can not open new apps to use. The RAM functionality got restricted by the virus. You can say that the function of the RAM is set to NULL. Though the memory or cache is not cleared and no other apps can be open meanwhile on the phone.
---
Conclusion
This was all about how you identify that did your phone is having a virus or not. There are some more indications which will help you to get a better idea about your the presence of the virus on your phone. However, if you need to get an antivirus for your phone to remove viruses, then you can get free AVG antivirus for your phone. I hope using this article your frequently asked question "how do I know if my phone has a virus" is now solved. Share this article with your loving one so that he or she can also learn about the same.
Was this article helpful?