Users can fix This Build Of Windows Will Expire Soon on their Windows 8, 8.1 or 10. You can fix on almost any Windows PC/Laptops. I have shared all the easy methods to fix this issue permanently and remove this error from your computer forever.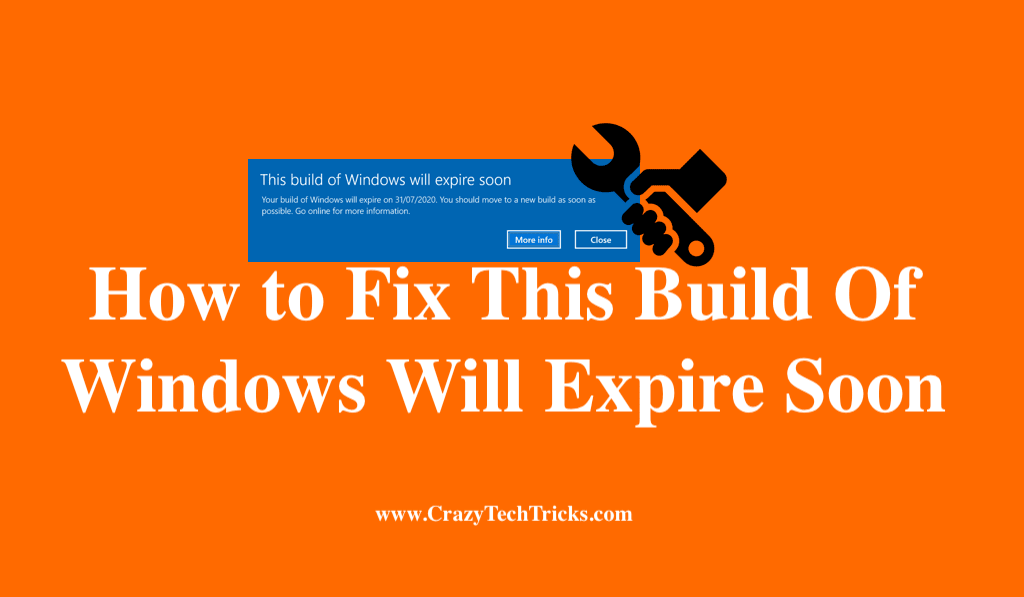 Have you got "This Build of Windows will Expire Soon" error popping up? This pop-up error is very annoying when it shows up while we are working or watching something. Why do we get this error?
How to Fix This Build Of Windows Will Expire Soon – Top 7 Methods
This error is common to those who have installed the Insider Build of Windows. For those who have no idea what this Insider build of Windows is, let me first explain it to you. There is a program called "Windows Insider Preview" program. If you get enlisted to this program and install an Insider Build of Windows, you will stay right ahead of the standard users with respect to the latest releases.
The main perk of having an Insider Build of Windows is that you will get updates much earlier in advance to that of standard users with minimal bugs. Now, you may think that if having an Insider Build of Windows keeps you updated with the latest releases, then why does this error "This Build Of Windows Will Expire Soon" show up? Well, the problem lies right here.
To stay updated, a user has to Update his build to the latest version, else the Windows keeps restarting often. So, to put it simply, You will have to update your build to stop this error showing up. But the real problem arises when you can't find any update. Now let's learn how to fix it.
I have listed out some ways which will help you to stop that error "This Build Of Windows Will Expire Soon" to show up. I have sorted out the possible solutions according to the number of steps we need to take in the ascending order. I don't want you to dive into the longest process in the first itself.
Windows Insider program account checkup
Sometimes, in rare cases your account might get unlinked with the Windows Insider Program. So I would recommend you to check it first before you move on to other solutions. Follow these steps in order to check if the account is linked or not.
Click on start > Settings > Update and Security > Windows Insider Programme.
Check if your account is still linked.
If your account is not linked, click on the Add button.
Change the Preview Path and Install Updates
The error "This Build Of Windows Will Expire Soon" will show up when your build is outdated. In layman's words, it needs your system to be updated. You will check for the updates but you may not find the update for your preview. Here you have an option to change to another preview. There are three previews available.
Dev Channel
Beta Channel
Release Preview Channel
Windows has explained the difference between these channels briefly on their site. You might see that the Beta channel will be recommended to use by Windows because it has more reliable which builds taken from Dev Channel. At the same time, Dev channel might not be very stable. Release Preview Channel lets you install the new update of Windows before release.
So you can change from a Channel to another channel.
Go to Update and Security and Check for Updates.
If you don't want to change your channel, you can skip this method.
Read more: How to Fix VPN Error 609
Check if your Windows is Activated
The error can also show up when you do not have a license key. It will automatically cause the build to expire. Follow these steps to check the account.
Go to Settings and click on Update and security.
Click on Activation in the left navigation tab.
If your Windows is not activated, You will get a message like "Your Windows is not Activated" message beside Activation.
Activate your Windows if it's not activated.
Read more: How to Fix a Disk Read Error Occurred on Windows
Date and Time Checkup
You might wonder why do we need to check Date and Time? Let's give it a deep thinking on why "This Build Of Windows Will Expire Soon" error pops up. It shows up because your build has been outdated. Outdated, that clearly explains that your build of Windows was meant only till a certain date, and you have already surpassed it. And how will it check if the build is outdated? By comparing your System's time and date.
Under some circumstances, some third party software might have affected your System's date and time. You might not have noticed the change. Well, many people don't because we mostly depend on our watches or wall clocks. The probability of us checking time from our system in a day might be below 10%. So the build will tell you "Hey you are still accessing me? My expiry date is long gone." and pops up the error.
To check the time:
Right-click on the time and date part in the taskbar.
Click on Adjust date/time.
You will land up in the Date & time Settings page.
Uncheck Set the time automatically and Set the time zone automatically.
Click on Change to manually change the system's Date and time.
Set the date and time correctly.
Click on the Change button.
Your system date and time will be changed.
Now check if the pop up still comes up with the error "This Build Of Windows Will Expire Soon".
If it still shows up, then give it a try checking for Updates.
If you still can't find any updates, then move on to the next method.
Read more: How to Fix LogiLDA.dll Error Permanently
Running Automatic Repair
Sometimes, there might be some internal issues. A file may be corrupted and you don't know what else to do and the system keeps showing you "This Build Of Windows Will Expire Soon" error. Trying to run Automatic repair might help. To run an automatic repair, follow these steps:
First, you must have your Windows installation files in a CD ROM or a USB.
Insert the installation media.
Change your boot device preference. So your system checks for Windows installation files in the specified drive.
When the system detects a Windows installation file, it shows a prompt message "Press any key to boot from CD or DVD" if your installation files are in CD or DVD.
Press any key. [ENTER Recommended]
After the files are processed, a blue screen appears with Windows on top. Install now in the centre and Repair your computer in the end.
Click on Repair your computer. You will be taken to Option Screen.
Click on Troubleshoot > Advanced Options > Automatic Repair.
Wait till Windows complete the process and restart your computer.
Check if the error "This Build Of Windows Will Expire Soon" pops up again. If it does, try another method.
Read more: How to Fix Your Connection is Not Private Error
Disabling the error "This Build Of Windows Will Expire Soon" from popping up
I would not recommend this method personally. But people might need it in some circumstances. To disable the error from popping up follow these steps:
Go to C:\Windows\System32. You can just copy and paste this root, instead of manually going to Windows and then search for System32.
Press Ctrl+F on your keyboard and paste

LicensingUI.exe in the Search bar

.

Right-click on the file.
Go to Properties > Security > Advanced.
Click on Change beside the Owner name.
Select User or Group dialog opens.
Click on Advanced > Object Types from the top.
Uncheck everything except Users. Click Ok.
Click on Find Now.
You can see the list of Users.
Double click on your name from it.
Your name will be shown in the text area in Select User or Group dialog.
Click Ok.
Click Apply.
Now you have taken ownership of the file.
Make sure you have all the permission to modify the file.
You can change permissions after taking ownership of the file.
Rename the file to anything else. Windows can't show the "This Build Of Windows Will Expire Soon" error as it cannot fetch LicensingUI.exe to show the error.
Read more: How to Fix Driver_Power_State_Failure Blue Screen Error on Windows 10
Install the build again
This method comes in the last because you need to do more work in this method. If you cannot find the update and no other method is working, the last hope is to find the latest version of build for yourself and install it. You can go to this page.
Scroll down to the bottom of the page.
Select the latest channel edition of your preferred choice.
Choose if you need a 32 bit or 64 bit Windows.
Download the build and start the installation.
Read more: What is Error 651
Conclusion
The last method is the ultimate solution if any of the solutions mentioned above doesn't resolve the "This Build Of Windows Will Expire Soon" error from showing up. There are so many ways to make Windows stop showing the error message. But it will not do any good for your system. The system needs to get updated every now and then. The last-second method was only for specific circumstances where you feel like the Windows is just showing the error for no reason Only. Else I recommend you follow other methods. Hope this article helped you.
Was this article helpful?