Users can post multiple pictures on Instagram story. I have shared three different ways to post photo from library, Same Screen or collage.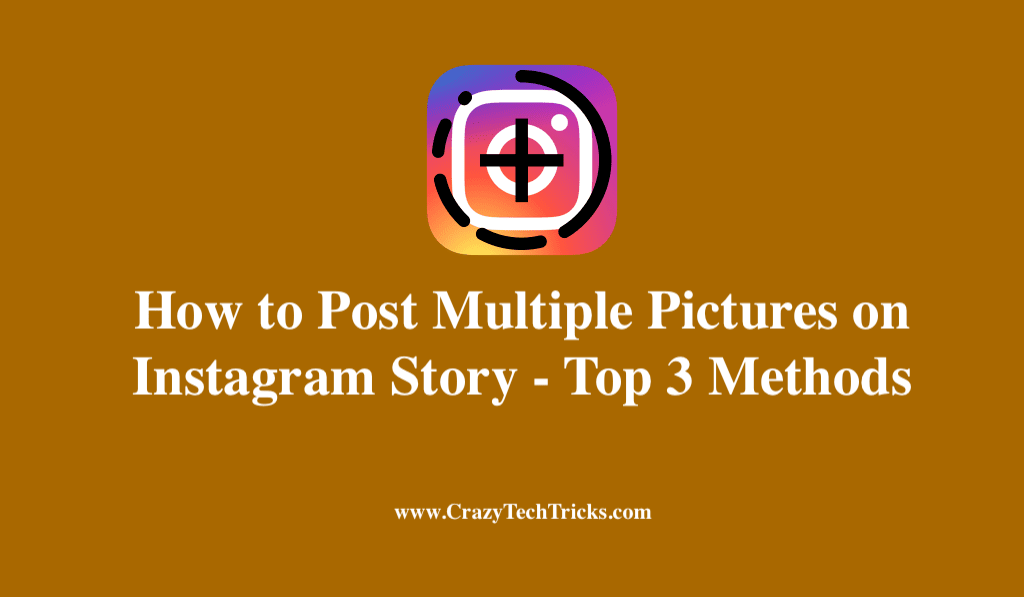 Read more: How to Turn On or Off Business Account on Instagram
When you Post Multiple Pictures on Instagram Story or posts. It saves your time and allow you to increase interaction through your content. Adding multiple photographs to your Instagram Stories or posts may be done in various ways. Step-by-step, hereby we'll show you how each one works, so you can pick the one that works best for you.
Read more: How to Block someone on Instagram
Post Multiple Pictures on Instagram Story
Instagram Stories are excellent since they are more temporary and informal than regular Instagram postings. In order to post multiple pictures on Instagram Story at once, there are a variety of options.
Photo library
Same Screen
Collage
Method 1. Post Multiple Pictures on Instagram Story from the Photo library
We will use the Photo library to post multiple pictures on Instagram in this method.
To access your Stories, tap the camera symbol.
To take a picture, press and hold the picture icon at the bottom of the screen.
Select the multiple photo icon situated directly above your image gallery.
Put the photographs in the order you want to appear in your Stories after selecting the ones you want to include.
Each photo will have a number to indicate its sequence, and you can add up to ten photos at a time into your Stories.
Select Next to begin customizing your images with stickers, text, and music.
Once you've finished editing your photographs, hit Next.
To share your images in chronological sequence, tap Your Story.
Read more: How to Change Instagram Name
Method 2: To Post Multiple Pictures on Instagram Story on the Same Screen
You can post multiple picture directly from the same screen.
Launch the Instagram application.
Stories can be accessed by tapping the (+) sign above Your Story or by swiping right on the home screen.
Tap the photo icon at the bottom-left of the screen to choose a photo from your Camera Roll.
Using the top-right corner icon, select "Sticker" from the menu.
Drag the image sticker at the bottom of the page.
Once you have selected all photos you wish to include, repeat this step until you've included every single photo.
You can resize or reposition any photo by tapping, dragging, or pinching it to adjust its shape.
Share the post by tapping either Your Story or Close Friends when you've completed it. You can also enhance your story by adding music or stickers.
Read more: How to Delete a Comment on Instagram Post
Method 3. Post Multiple Pictures on Instagram Story as a Collage
In this method you can post several picture at once.
The camera icon is located in the upper left-hand corner of your screen. Tap it to view the Instagram story.
Double-click on the layout icon which is located on the left-hand side.
To have desired layout collage on the Change grid option.
Simply tap the camera symbol at the bottom of the screen to access your Camera Roll > Click to add a photo.
Once you've created a collage, you can add stickers, text, music, and effects using the icons at the top.
You can share what you've made among your friends or audience using Your Stories.
Read more: How to Get Instagram Dark Mode
Conclusion
On Instagram, users can post photos and videos to their Stories, which are viewable by followers of the user's account. So whether you're sharing your stories through a brand account or your personal one, Instagram Stories can generate a lot of engagement and value.
Was this article helpful?