Users can easily save video to Google Drive. You can save video using your Smartphone or even PC/Laptops. Upload any format video. Upload your big size video to Google Drive and share it with anyone around the world.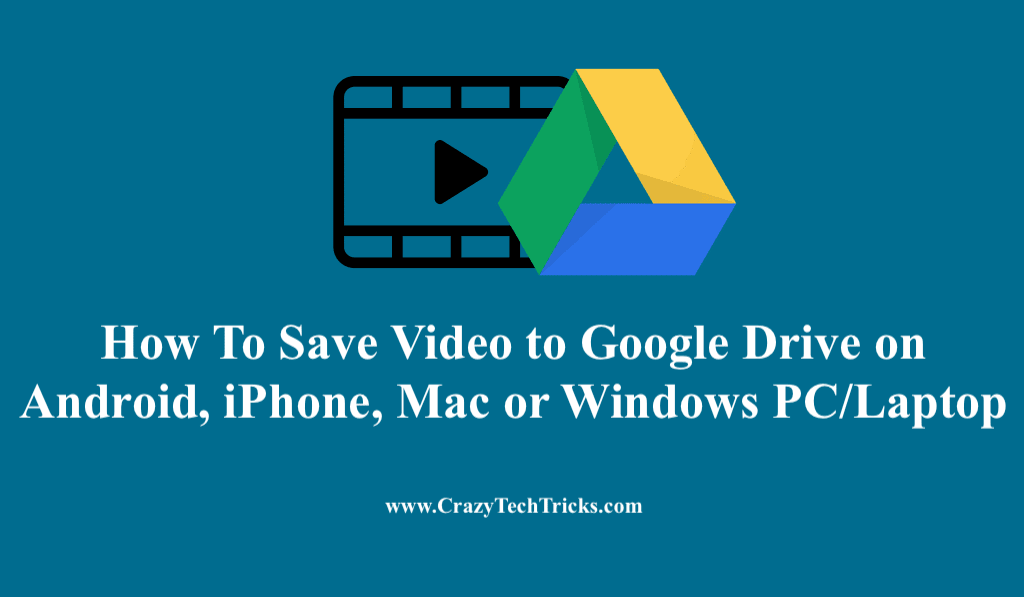 Save memories for lifetime on Google Drive
Google Drive is the permanent virtual locker for our memory, consisting of photos, videos, and even documents. These features of Google make sure that our personal items are secured in our space. It is one of the most used features in today's world where no-one wants to carry bags to take their documents.
By using these features, the load of our hands decreases, and our workload also becomes much less and faster. In addition, in offices, companies provide them with their own made Google accounts to use their drive to store their data, such as a file, important document, power-point presentation, Videos, etc.
Read more: How to Remove Duplicate Photos From Google Drive
Google Drive Advantages for Video Upload
It provides us 15 GB free space, which is expandable after giving some charge.
It provides your different and efficient functions in the drive, which help you so much.
You get simply distribute your data by share the links of your drive
You get the security of Google for free.
It provides great mobility with data, so you don't have to take the trouble of maintaining of data.
You can upload image, video and document.
Read more: How to Save Gmail Attachments to Google Drive
How To Save Video to Google Drive – Two Methods
I will be sharing two methods to save Video to Google drive. In the first method, we will be using Android or iPhone, and in the second method, we will use the Online method. Both methods are different from each other.
How to Save Video to Google Drive on Android or iPhone
In this method I will share method to upload Video to Google Drive using your Android or iPhone. First, make sure you have the Google Drive app installed. The method is the same for both Android and iPhone.
Click on the option to upload.
You also can create a folder to separate it out if the data want to get separate space.
Then you get to open the file manager of your phone >Select the file > and it will automatically upload to drive.
Now you can see the file in your Google drive.
Read more: How to Remove Duplicate Photos From Google Drive
Upload Video to Google Drive Online on Windows or Mac PC/Laptops
You can use this method from your Windows or Mac. In addition, users can use the online version to open the website directly on their Chrome, Safari, or any other browser.
Open your browser and search "Google Drive" link.
Enter your Google account details.
Now click on the " My Drive".
Click on the Upload option and upload video to Google Drive (you also can make a different folder to separate the things out).
You will see the Video uploading bar on right side below of Google Drive.
Read more:  How to Backup Contacts to Google Drive
Conclusion
It is the best way to upload your Video on Google Drive. Users can even share the video with anyone around the world just by sharing the link. There is one more option where you can even watch the Video online using the Google Drive link. It is very helpful if you want to share a video with anyone.
Video saved in Google Drive can be sent through your email and it is safe and easy to share. There are several Google Drive alternatives. But still, the trust in Google drive is amazing and its safe to save a video in Google Drive.
Was this article helpful?