Hello friends, Today I will share steps on how to set up a Firestick with Kodi. Users can also set up set up IPVanish and other apps required to connect Firestick with Kodi. We have shared details methods with each and everything. You can run Kodi on your TV or Firestick supported device.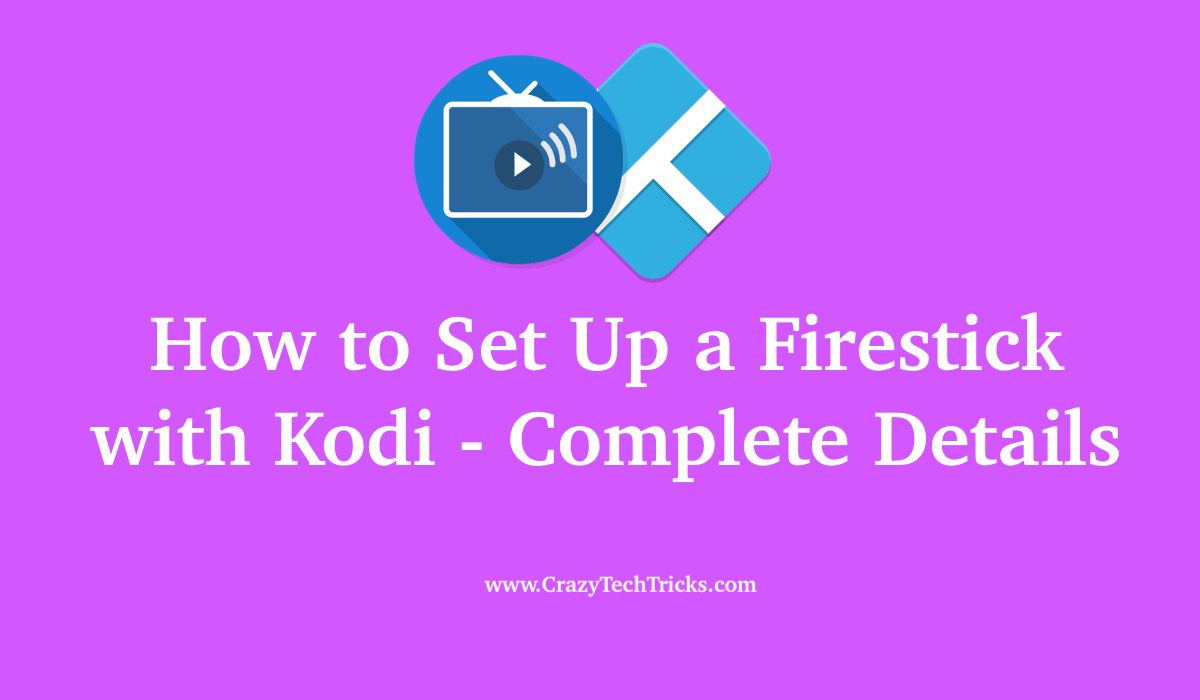 ---
Why do you need VPN with Kodi
Note: Its for education purpose only. Dont misuse as you can get in legal trouble.
You should know that while you are streaming or using Kodi to access media over the internet, the government and your Internet Service Provider or ISP will be able to track the content that you will be watching. And if unfortunately, you get caught watching content that is geographically not available or copyrighted then you may face legal issues in the situation. That is why a VPN connection is a must while surfing content on the Kodi application.
To have a safe aspect while using Kodi to watch content, use a VPN service as it is an important tool for surfing the internet safely. In the next section, you will learn how you can set up ExpressVPN and IPVanish for Kodi.
Read more: How to Set Up Kodi on Windows
---
How to set up ExpressVPN for Kodi on Firestick
To set up a Firestick with Kodi, you need to have a VPN setup done for your device. Follow the steps to set up ExpressVPN on your Firestick for Kodi.
Go to expressvpn.com and choose a plan which is most convenient to you.
Enter your email address and choose a method of payment.
After getting the subscription and creating an account on ExpressVPN, switch ON your Firestick.
Locate the Search option and type "Express Vpn" using the search bar.
Navigate and then click on the button of "Get" This will download and install the VPN application for your platform.
Launch the application of ExpressVPN and login with the credentials that you used to make your account with.
Click on the icon of "Power" to start your connection with the VPN server. You can also choose the location of the server for browsing.
Follow this process to successfully set up a secure browsing tunnel using the ExpressVPN. In addition to this, the next section will cover how you can use another really cheap and reliable VPN known as IPVanish.
Must Read: How to Watch UFC Fights Live Stream for Free
---
How to set up IPVanish with Kodi on Firestick
IPVanish is one of the best VPN service for Kodi. It provides multiple location selection and provides better customization. Make sure that you are using the Gen2 Firestick for ipvanish to work on your device as the IPVanish VPN does not work with the older version of the Firestick device. Follow the steps given to set up IPVanish with Kodi.
Go to ipvanish.com and buy the VPN subscription package from the website.
Start the Firestick and search for the application for "ipvanish".
Download and install the application on Firestick.
Launch the application of ipvanish.
Enter the credentials of the account that you used to buy the subscription from.
Click "Login".
Click "Connect" to connect to a VPN server hosted by IPVanish.
---
How to set up a Firestick with Kodi
Now that you have a VPN service in place to work while you use Kodi, this section will help you to guide the process to set up a Firestick with Kodi. The process to set up a Firestick with Kodi will be comprising of two parts: Prerequisites and Process. In the prerequisite process we will look into the prerequisites required to set up a Firestick on Kodi. And in the process the installation of Kodi on Firestick.
Prerequisite: There are four things that are needed to be taken care of. They are listed down:
Start the ADB debugging feature.
Turn off the option for "Collect App Usage Data".
Turn off option of "Device Usage Data".
Turn on the "Apps from Unknown Sources".
Follow the steps to finish the prerequisite process for setting up Kodi.
Use your Firestick and go to Settings.
Select the option of My Fire TV and select "Developer Options".
After this enable the option for "ADB debugging" and turn on the option for "Apps from Unknown Sources".
Go to Settings and navigate to the option of "Preferences". Navigate to "Privacy Settings". And then turn off the following options: "Device Data Usage", "Collect Usage Data".
This section covered how you can complete the prerequisite to set up a Firestick with Kodi. The next section will have the steps to set up a Firestick with Kodi.
Read more: Best Free Chromecast Streaming Apps for Android
---
Set up a Firestick with Kodi
Download the "Downloader" application, this application will help you to easily and efficiently install Kodi on your Firestick. To do so, go to Search menu and search for "Downloader" and download and install it. Now that you have downloaded the Downloader application follow the steps listed below to complete the process.
Open the Downloader application.
In the URL section, enter http://www.kodi.tv/download.
A screen will open up with different downloading options. Select the Android option.
Use the 32-bit option from the downloadable files.
Download the file.
Install the application by click on the install button.
This section covered the prerequisites that you need to clear before installing or setting up Firestick for the Kodi application.
---
Conclusion
Kodi is a really versatile application that is smartly developed to be used in different platforms and supports different formats. Setting your Firestick for Kodi is a relatively simple process and thus can be followed through the guide given above. This tutorial guides you in setting up a VPN for safer internet access and surfing and also guides you through the process to set up a Firestick with Kodi.
Was this article helpful?