Hello friends, Today I will share two methods on how to uninstall apps on Mac. Users can delete any application/program from their MacOS. You will be able to remove the app permanently from your Mac storage.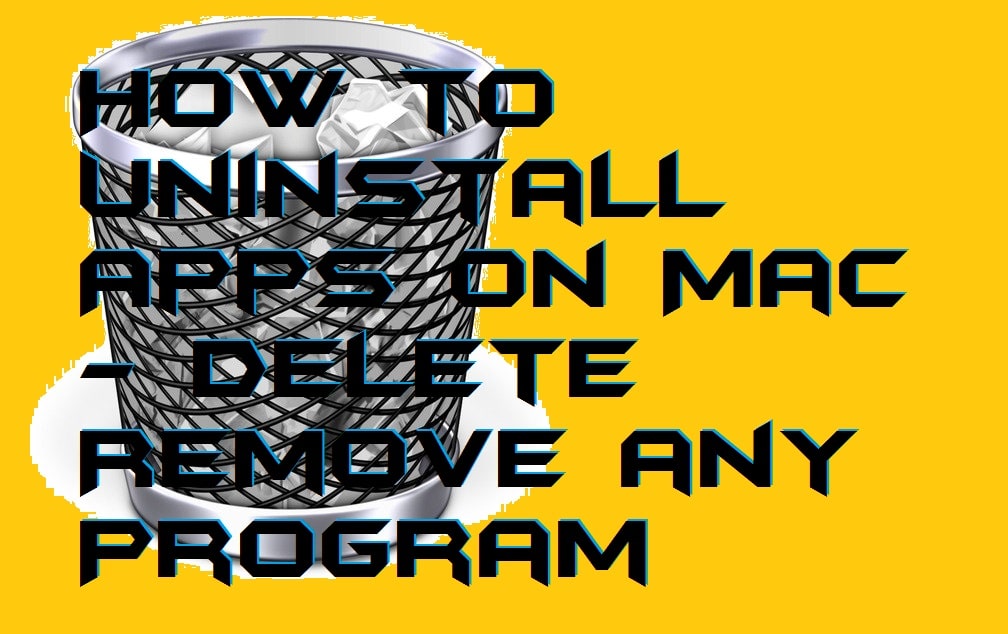 Unwanted apps consumed much power, data, and memory on our Macbook. It is a great idea if you wish to delete or uninstall apps that you don't use in your daily life on your Macbook. However, uninstalling apps on Mac is very different than uninstalling apps on Windows PC. But, some fabulous Mac programs or applications did it for us in a straightforward way. There is a successful way available to delete or uninstall apps on Macbook. Not even that, but a user can also delete large files on Mac as well by using some simple methods.
How to Uninstall Apps on Mac – Delete/Remove any Program – Top 2 Methods
To start uninstalling the apps on Mac make sure that you have the access of the administrator account of the Macbook. Once you have it, then you can move forward to uninstall the apps on Mac. Here I have shared two different ways by which you can delete or uninstall apps on Mac very easily. Both the methods depends on the pre-installed Macbook programs which you use them daily. Alright, let us head up to the guide of how to uninstall apps on Mac to do so.
Read more: What is Other on Mac Storage and How to Delete it
---
Method 01: How to Uninstall Apps on Mac using Finder
We all know that the Finder application helps us to reach to the applications which we have installed on our Macbook. Though, we can take the help of the Finder application to delete or uninstall apps on Mac. The detailed method on how to uninstall apps on Mac using Finder app is given right below.
On your Macbook, open the Finder app.
Now, click on Applications.
Then, scroll down to the application.
After that, drag and drop the application to Trash.
Once you have drag and drop it to the Trash, then empty the Trash.
That's it. You have successfully uninstalled the app from Mac.
---
Method 02: How to Uninstall Apps on Mac using Launchpad
We used to access the apps on our Macbook using the Launchpad sometimes. However, the applications folder is also available on the Macbook if one wishes to access the apps. Such that, uninstalling the apps on Macbook can also be done by the Launchpad as well. The step by step guide on how to uninstall apps on Mac via the Launchpad is mentioned here.
Open Launchpad on your Macbook or click F4 to do the same via the keyboard.
Locate the app which you want to delete or uninstall.
Now, press the Option or Alt key.
Then, the system will ask you to the confirmation, click Delete.
Done! This is who you have to delete or uninstall apps on Macbook.
---
How to Delete Apps on Mac that won't delete
If may be possible that you have tried both the given methods and the apps are not deleted on your Macbook. You may be used the internet to find out some other methods. But, you have not got any appropriate result. Don't worry. I want to help you with that. Well, it is very common that you are trying to uninstall or delete an app from your Macbook but, facing error while doing that. Let me tell you that maybe you are trying to uninstall any system application such that it will so you some error while deleting it from Mac. But, if you are removing some installed apps which you have installed ownself, then it's huge trouble. You can use some third party applications like MacKeep LINK or TunesBro LINK .
---
Conclusion
We have seen how to uninstall apps on Mac using the pre-installed app of the Mac PC. There may be some more methods available to do so. But, the methods which I have listed here are the best methods if someone wishes to delete an app on Mac. Also, if you want to get free VPN for Macbook then do read our article. I hope you guys have learned how to uninstall apps on Mac. If this article has helped you then make sure that you share it with your friends and family member so that they can learn about how to uninstall apps on Mac.
Was this article helpful?