Hello friends, Today I will tell you a method on how to delete large files on Mac. Users can delete any file from their MacOS. Users can clear all junk files from their MacOS. I have shared a total of 10 ways to clear files on Mac. You can use any method to increase space in your MacBook.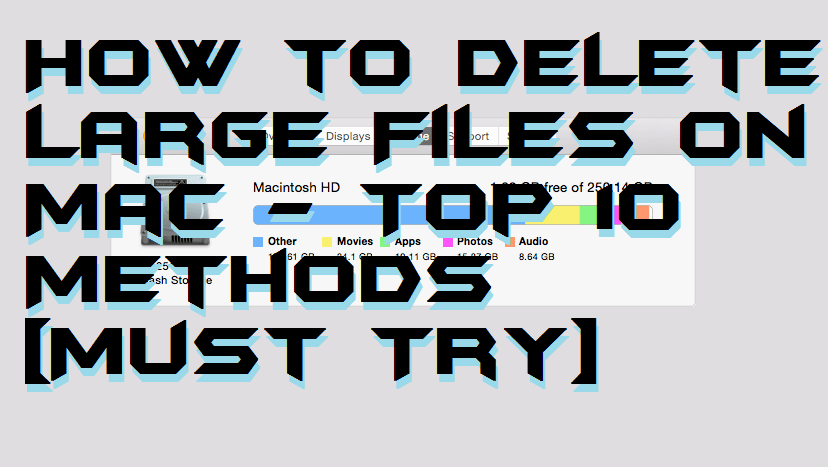 Large Files on Mac consumes a lot of space
There are enormous benefits that you get with a Mac device, but using it is not a cake walk all the time. For Windows users it is easy to store as many files as they want, is it the same with Mac users? Not at all, you get limited space in MacBooks. Nowadays it is possible to purchase a MacBook with the more GB hard disk, but that is also not enough for many of us.
For example being a TV series fan you might think of downloading your favorite series and that might engage almost 100 GB of your Macbook. Lack of space on your device can be a reason of many hampered works. Now, there must be a thought going on mind that, How to Delete Large Files on Mac? The best way to have enough space on your device is to delete large scrap files from your Macbook.
Read more: How to Export Chrome Bookmarks from PC/Laptops, Mac, Android
How to Delete Large Files on Mac – Top 10 Tips
When you have a huge amount of scrap files on your MacOS, try to remove them so that you can utilize your device storage for your important tasks. With Mac, you have an option of iCloud also, but that is not enough to provide you rid of the storage issue. While being stuck in how to get rid of this let me walk you through some tips which will be helpful for you in terms of deleting large files on Mac. You can easily delete large files on Mac. I will share 10 detailed tips on how to delete large files on Mac. You can use even use any single method to delete larges files on Mac.
Read more: How to Enable Full Screen Chrome without any Software on Windows & Mac
---
Empty Application Caches and Preferences
There are applications that use caches, but over time these files grow very large and consume your disk space. The best example of such is SAFARI. Everytime you open safari to search for something you need, it saves the caches and that grabs a huge space on your hard disk. All such applications stores caches in:
// Macintosh HD / Library / Caches
<Your Home Folder> / Library / Caches
Caches can easily be deleted by clicking on SAFARI and then on EMPTY CACHES.
Read more: How to Delete Songs from iTunes on iPhone or Mac
---
Uninstall Unused Applications on MacBook
Applications involve a huge hard disk space. So the application you think is taking up a huge space just uninstall it. Uninstallation is one of the easiest methods you can find in a MacOS. You can easily delete the unwanted application just by moving it to trash.
Read more: How to Transfer Photos From Android to Mac – Top 3 Methods
---
Empty the Trash on MacBook
The easiest way to get rid of the storage issue is to empty trash of your device. The iMovie, iPhoto, and Mail have their own trash and so it is really important to delete those trash too. In the mail, you can easily delete the trash and Junk Emails. It is one of the most recommended methods on how to delete large files on Mac.
Read more: How to Open RAR Files on Mac 2018 – Top 2 Methods
---
How to Find and Remove Files from Mac
When you see the frequent message of low space on your device, try to free as much space as you can. Removing the larger files is one of the great ways to free space on your Macbook and to do so follow:
Open Finder window
Go to the search field and enter a space asterisk to ensure that all items are included
Now, click on the +icon you can see just below the search field
Change filter #1 to File Size
Now, click on the drop-down menu you see and choose Other
Locate "File Size" option and click on OK, 
Now, change filter #2 to is greater than
Enter the size to search for in the adjacent text field
Then, change the filter #3 to either MB or GB as per your need.
Read more: How to Save a PDF as a JPEG on Windows/Mac/Online/PC/Laptop – Top 5 Best Methods
---
Delete Old and Unwanted Media Files
While clicking pictures we click many pictures you can delete the unwanted files and delete the music files you don't listen anymore. These sort of files acquire a huge amount of space on Hard disk. It is one of the easiest ways to free space in no time.
Read more: How to Force Quit on Mac 100% Working – Top 5 Methods
---
Archive Emails and Remove Attachments
With the increasing number of emails in your mailbox, the amount of space covered also increases. There must be many emails which are of no use to you. So, the emails you think are not important. You can archive them and remove attachments to free some space on your device:
Select the emails you want to archive,
Now, right-click on them and choose Archive.
How To remove attachments from Mac
Select the emails you want to remove attachments from
And from the Message menu, choose the option Remove Attachments
Read more: How to Right Click on Mac Without Mouse – 3 Best Ways
---
Try to clear old junk on a regular basis – How to get Rid of Junk Files
Keep on cleaning up all the junk and unwanted files you store on your Macbook. Whether it is your photos, music or any TV series cleaning them all will increase a huge space on your device. This practice will keep you away from the low space messages you come crossways all the time on your Macbook.
---
Delete Duplicate Files
Many a time it so happens that you end up saving a file twice or thrice and in such situations. You should delete the duplicate files. You can find and delete duplicate files with the help of the third-party app available in the Mac App Store. There are many apps available you can choose any one of those and follow instructions to remove duplicate files.
---
Delete iTunes Album Artwork
There are many ways that can save space on your MacBook but, which one would be better for you? One amazing way to save some space on your Hard Disk is to delete iTunes Album Artwork and to do so, follow the steps given below:
Go to the Library section you see on the left, select  Music or Films, TV Programmes and etc or you can select all items hitting CMD + A                         
Now, select Get Info from the File menu, or you can press CMD + I and then choose Yes.       
A window comes up with various options. Just under the main Info tab, click on the Artwork box you get to see in the lower right corner.
Tick the unlabelled checkbox next to it.
Now hit OK, and all album artwork on your device will be removed.
Read more: How to Password Protect Folder on Mac Without any Software
---
Compress and Archive Old Files
When you see a file that is large in size and you cannot delete it, in such situations you can compress the files and save them. Compressing reduce the amount of space the previous file was holding. The best part with Mac OS X is it comes up with the Zip built-in file compression utility:
Select the folders you want to compress
Now, right-click and choose the Compress Items
This will create a Zip file archive
Now, you can delete the uncompressed file from your device.
---
Last Words on 
How to Delete Large Files on Mac
On the personal front, I prefer going with regular cleaning of Old Junk as this practice keeps my device clean as well as I don't get confused about the files I need. Apart from all these ten ways, there are many other ways to get this task done, but I have mentioned the most reliable ones for you. You can also share your method on how to delete large files on Mac and free up space in the comments section below.
Trending: How to Secure Your Mac OS – Top 4 Best Methods [Updated 2018]
Was this article helpful?