Hello friends, Today I will share a method on how to upload resume on LinkedIn. Users can easily change their existing resumes and modify with a new one. You can use this method on your Windows PC/laptops.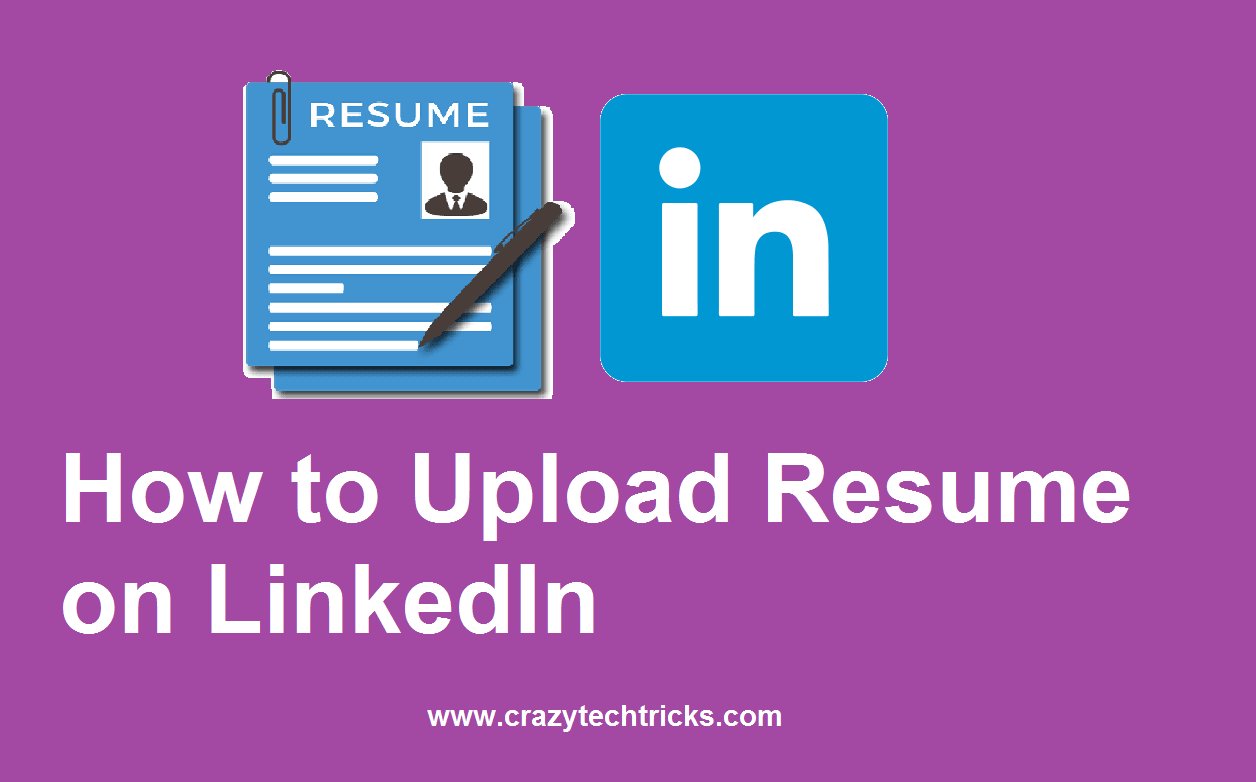 LinkedIn provides a platform for communication between professionals and job seekers. Housing over 500 million members from over 200 countries. It is the perfect place to plunge into the market of professionalism with your skills where you can seek job opportunities and make a better professional connections.
Uploading your resume on LinkedIn is an important aspect of your whole professional identity as it increases transparency between your skills and the job opportunities that you may be looking for.
Benefit of Resume on LinkedIn
There are several benefits of uploading your resume on LinkedIn. Better job offers, good first impressions, and much more. Having a resume on your profile instantly provides company executives with relevant information about your skillset and qualifications. This paves a clear way of relevancy for executives while looking for professional individuals.
Without any doubt, LinkedIn is a crucial part of a professional's life where they can increase their network and introduce themselves to the major market of professionalism and make a brand value of themselves. Another aspect of association is the resume of an individual that helps them to define a persons' skillset and qualification. This tutorial thus provides the necessary steps that are required to upload a resume on LinkedIn helping individuals plunge into the world of taking challenges, making connections and improving themselves.
Read more: Best Free Resume Builder Sites
A professionally written profile and resume increase your brand value among your colleagues, which further helps you to gain more opportunities and networks from the platform which is professionally beneficial.
How to Upload Resume on LinkedIn
LinkedIn provides a logical place for a user to upload their resume. The place is located on the front page beneath your name and description and as a part of your summary. It helps the readers to comprehend your professional prowess after going through your summary and resume. Follow every step to upload resume on LinkedIn.
Navigate to your profile page.
Open your profile page and if you don't have an account, set up your account. It will take approximately 10 minutes.
Click on the "pencil edit" icon on the top right corner of the about(summary) section.
Now, while you're here, why don't you update your summary.
A summary can be used to describe how professionally skilled or proficient you are and in what field of work you are proficient. It can also include the experiences you have had in the past while working professionally.
Scroll down to the media tab and click on the "Upload" button.
Select your resume file from your system.
Add a title and description to your uploaded resume.
This step is crucial as you may be equipped with knowledge of the different professions. Therefore, you can upload different resumes for different job roles following the same steps defined in this tutorial. Adding a title and description for the resume helps in localizing your different skillset.
Click "Apply" and "Save" to exit to the profile page.
Must Read: How to Cancel LinkedIn Premium
---
Conclusion
The resume is one of the most important thing for a working professional. If you have no Resume, Then none knows about your qualification and most important your working experience. I will suggest you to use these ways to upload resume on LinkedIn. Users can use these methods and upload their resume. Make sure you are uploading your resume in the given format. Users can even upload more resume as mentioned in step 5. I will also suggest you not to use any external app or software for uploading your resume on LinkedIn. Use these official ways only.
Was this article helpful?