Hello friends, Today I will share methods on how to cancel LinkedIn premium on Windows PC/Laptop/Android or iPhone. Users can remove their payment details method from the linked profile. You will get rid of your monthly subscription from LinkedIn.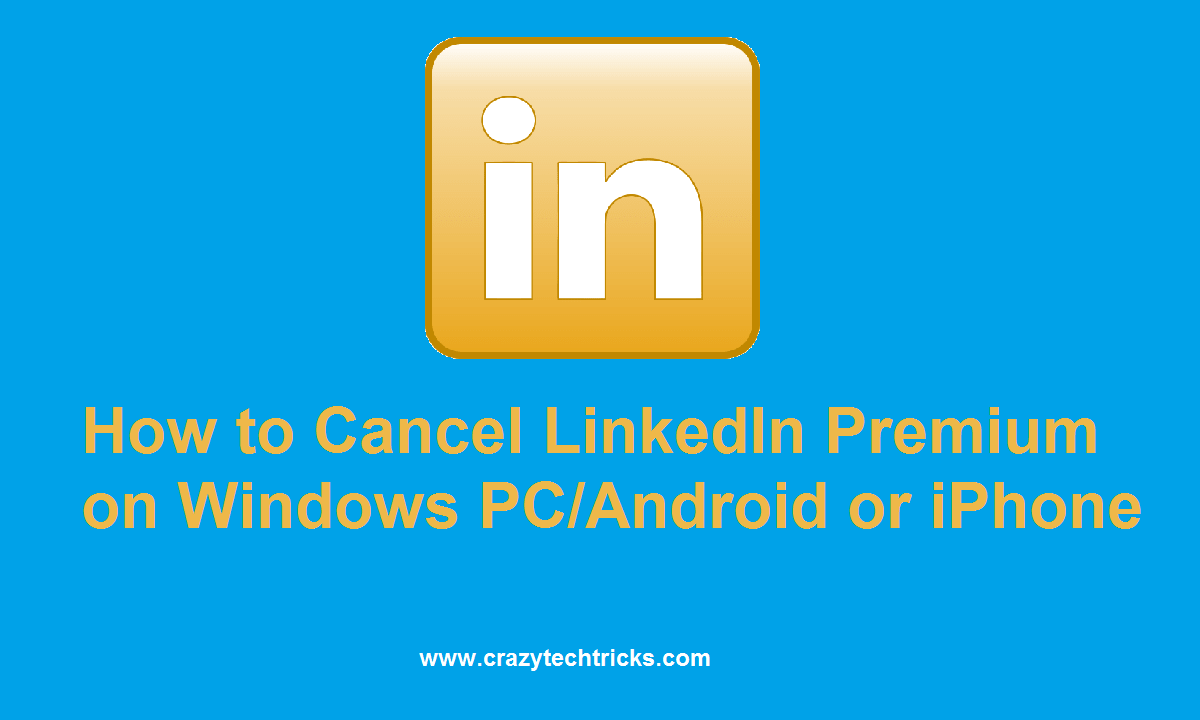 LinkedIn is like a social media platform which is used by professionals. It is used to share your professional experiences and all things related to your Jobs. I mean companies post there about jobs and professionals apply for them. LinkedIn has several registered professionals. It is vastly used by companies to hire people. It also used by Tech giants like Google and other top most companies. The best part of LinkedIn is users can apply the job using their LinkedIn profile. Yes! its possible to apply for the job while staying in LinkedIn portal. All you need to click on easy apply and it will automatically share your profile with the company.
Read more: Best Free Resume Builder Sites
It is one of the easiest ways to apply for any job. As users need to click once and all is done. Now imagine thousands are applying for the job and you want your application to be highlighted. Or you want to contact the company with a private message directly. Then, these features come under the LinkedIn premium feature. There are a lot more premium feature which gives you additional power. Its premium feature is widely used by companies and employees.
---
How to Cancel LinkedIn Premium – Remove Payment Method
You must be using the LinkedIn premium to increase your chances for a job. And luckily you even got the job. So now, no need to keep paying LinkedIn premium monthly charges. You can cancel Linked premium any time and remove your card details. It is not only for users who got the job. It can be for companies or several users who want to remove their card details as these days lots of hackers trying to steal your money.
How to Cancel LinkedIn Premium on Windows PC/Laptop
I will be sharing the Windows method to cancel LinkedIn premium on Windows PC/Laptops. You can use this method if you have bought a LinkedIn premium subscription using this method. You can cancel and remove your payment details.
Login to your LinkedIn account and on the top right side click on ME.
Under Account click on Premium subscription settings
Now click on Manage Premium account and then Cancel Subscription.
You will see two options Stay Premium and Continue to Cancel.
You can select any reason to cancel LinkedIn premium subscription or you can even write your own reason.
Read more: How to Cancel Spotify Premium Trial
---
How to Cancel LinkedIn Premium on iPhone or iPad
If you are using an iOS device like an iPhone or iPad. Then you need to follow a few different settings to cancel LinkedIn premium. Because it is attached to your Apple ID.
Open the Settings and under your name select iTunes & App Store.
Now Tap on Apple ID > View Apple ID.
If it asks you to authenticate. Then please do.
Tap on Subscriptions and select the subscriptions you want to cancel.
Now Tap on Cancel Subscriptions.
Must Read: Best Video Sharing Sites
---
Conclusion
Users can use these methods to cancel LinkedIn premium feature. You can cancel any type of your monthly subscription. Once you remove your payment method from LinkedIn it will stop your automatic monthly billing. These methods will work on immediate effect, and your account will be back to normal. So I will also suggest you enjoy the premium feature and cancel your subscription in the last few days when it's going to end.
Was this article helpful?