Hello friends, Today I will tell you iPhone X Pros & Cons. We will share iPhone 10 Advantages and disadvantages. Some interesting new features of iPhone X with a massive price tag. Read this article to know more about iPhone X.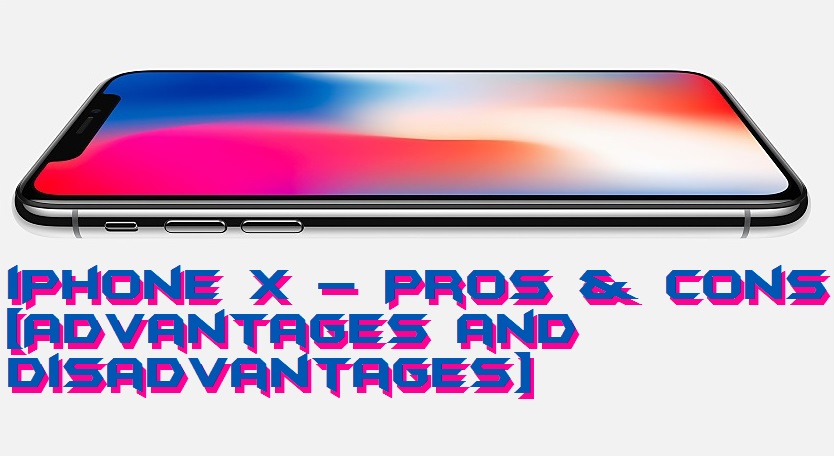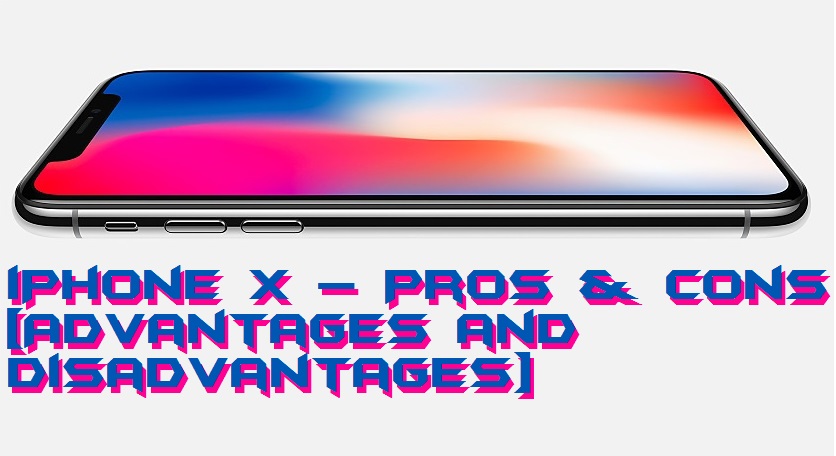 Apple's latest iPhone X has shaken up the smartphone market in many unforeseen ways since its launch on November 3rd, 2017. It is a smartphone that will test the value one puts on smartphones and the willingness to pay for brand name. In fact, it has already started dividing the longtime iOS fans over the point of a smartphone costing $999.
iPhone X Pros & Cons [Advantages and Disadvantages]
So the question is, is iPhone X a really a smartphone worth four digits? And the easiest way to answer this question is? You guessed it right. A pros and cons list. After long and thorough research we have come up with top reasons why you should, and why you shouldn't, buy iPhone X.
Read more: iOS 11 – Advantages and Disadvantages [iOS 11 vs iOS 10]
iPhone X Pros
iPhone X is a great phone to buy. It has become a status symbol to buy an iPhone X. Several people around the world have bought this amazing Smartphone. iPhone X has several new features. Let us have a look at iPhone X Pros.
Magnificent Edge-to-Edge OLED Screen of iPhone X
The most standout feature of the new version is the edge-to-edge OLED screen which according to the fans is "most stunning screen ever seen." The idea of an edge to edge display has been copied from previous Android devices like Mi Mix, but the lack of originality didn't stop Apple from creating a piece of beauty again.
Animoji Face Mapping of iPhone X
Animoji is animated animals that copy your words, expressions, and face movements using 3D mapping sensors in the front camera. These novel concepts prove why Apple is still on top of its industry. It uses DeepTech technology that scans your face and creates accurate Animojis simultaneously. Animoji can be saved and used just like emoji in Android. So basically, you get to create your own set of emojis.
Read more: Advantages and Disadvantages of Android Operating System
The Future of Screen Lock of iPhone X
Face ID. Your smartphone unlocks at the touch of a finger? Cool. The new iPhone X can do that with a glance of user's face. Apple's unique Face ID uses the same DeepTech technology used for Animoji and is another example of Apple's hardware & software matchmaking. The feature is yet to be adequately tested, but an ability to map the face of an individual is something we cannot resist.
iPhone X Cons
iPhone X has a lot of amazing new features. But don't forget each and everything has disadvantages. We will share few iPhone X cons.
Read more: Top 10 iPhone SE Advantages and Disadvantages
An Over the Odds Price of iPhone X
The only other aspect of iPhone X more striking than its display is its price tag. Apple has set the price for its new product at a whopping $1000. And it becomes even expensive outside the US; customers in Russia or Australia, for instance, will have to pay $1,600 for the 256GB variant of iPhone X, which is too much for a smartphone.
iOS 11 UI
Since iPhone X does not contain any home button, real or virtual, the entire user interface of iOS has changed. The users now have to learn new swipe gestures which make the new device difficult to use with one hand. For instance, swiping down from left opens notification list, swiping down from right opens control center, and swiping up from center bottom closes apps. After all, a flashy UI does not always guarantee a friendly UI.
Read more: Microsoft Windows 10 Advantages Disadvantages
Increased Cost of AppleCare and Insurance Plan
Apple has also increased the charges for AppleCare and Insurance from $129 for iPhone 7 and iPhone 8 to $199 for iPhone X. So an extra cost on top of $1000 makes sticking to Android smartphones more evident now.
Last Words on iPhone X Pros & Cons [Advantages and Disadvantages]
So all in all, the new smartphone just like its previous versions, has some advantages and some disadvantages. If you don't mind spending a thousand bucks extra for latest features. Then iPhone X is as always the most recommended option. We hope you liked iPhone X Pros & Cons. Tell us your views about Apple's new iPhone X in the comments below.
Was this article helpful?