Hello friends, Today I will tell you 5 different softwares for twitter bot detection tool. Users can detect any fake twitter account and remove it from following. This method will work both online and offline, and you can block fake twiiter accounts.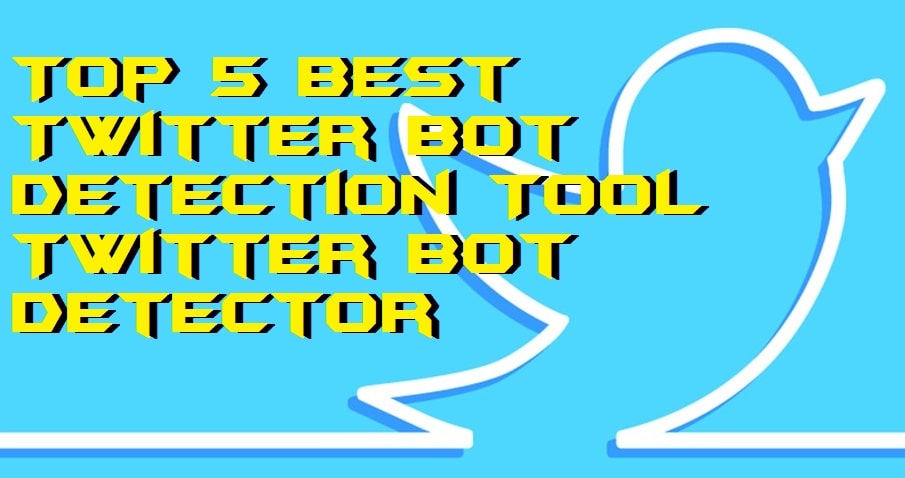 Today we will be discussing twitter bot detection tool. If you are a Twitter user, then you might be interacting, tweeting, following, unfollowing people every day. There are many benefits to having a twitter account. As many people get into a brawl or an argument with other users while tweeting. Unfortunately, most of them don't know whether they are interacting with a genuine tweeter user or a robot. Most of the people use twitter bot app to do an auto-tweet to their followers and other Twitter users.
Read more: Where is Account Settings on Twitter – Edit Twitter Settings
These users give authorisations to twitter bot auto tweet applications to tweet after a certain period. Therefore you might never know you are wasting your time while. So, today I'm going to tell you how can you detect whether n account on Twitter is a twitter bot or not. I will list some best twitter bot detection tool that helps to recognize a twitter bot account or the bot on Twitter.
Read more: How to Delete a Twitter Account Permanently 2018
What is a Twitter Bot Accounts
Twitter bot accounts use Twitter bot which is a software that uses Twitter API to control the accounts. This software does whatever a normal user does. But after a particular time limit like tweeting, re-tweeting, liking, following, sending direct messages. However, this software also has some rules and regulations. Which takes care of other users privacy and spams. So today, I will enlist some twitter bot detection tool that will help you to detect who is using the Twitter account.
Read more: Complete List of Google Home Commands – Top 100+ Commands
Top 5 Best Twitter Bot Detection Tool
Here is some best twitter bot detection tool. You can use any of them. All these five tools are working and free to use. You don't have to pay to use these twiiter bot detection tool. They will automatically find and remove all fake twitter bot from your account.
Botometer

Botometer is best Twitter bot detection tool. This can perform the required task within seconds. This twitter bot checker just asks you to enter the name of the concerned account. After that, you will have to log in and then it will show you the scores of the account. Remember, more the scores means a robot is possibly using the account. Also, Botometer lets you use their Bot or API. Must pay a visit to that site.

Hoaxy

Hoaxy does more than just checking the account. It also checks whether any article or any information posted on Twitter is correct or not. It also detects the wrong facts which are tweeted on the social media. This twitter bot detector allows you to search by two options. First, you can detect the contents and second the articles. It also provides the filters of popular, recent and mixed posted posts. It is very simple to use and gives you more information about the bot account and other incorrect information.

Botcheck.me

Another twitter bot detection tool that provides the facility of bot detection. You will have to log in first in order to use its service. This Twitter bot detector side by side gives the details of trending hashtags and other popular accounts. The unique thing about this is that it also facilitates you to use their extension. So that in future you won't have to visit the site. Using their extension for Chrome you can easily perform the similar task.

Bot sentinel

Bot detection is just another amenity of this twitter bot detector. Alongside this twitter, bot detection tool gives full detail of fake news, inactive accounts, suspended posts and troll bots. When you visit the site, you will see different charts explaining the information. On the right side " Check user" helps you detect the bot account. Bot sentinel makes it easy to recognise the fake accounts because it also lists the top 100 bot accounts. Perhaps the account you are looking might be on the list.

Manual method

All the above-given ways use score system. Which tells the possibility of the bot account. But what happens when the score is average. Then it is difficult to tell about the bot account. This method is not a twitter bot detection tool. But you can check manually whether the account is Bot or not. You will have to take care of several things.
Read more: How to Receive SMS Online for Free – Bypass SMS Verification [15 Websites]
You need to take care of the following things.
Date of joining: If the date of joining is recent and the account starts tweeting about previous news, spams. Then it is possible that account could be a bot. Because most of the accounts are bots to spread false information and spams.
Followers: If the account immediately follows back its new followers. Then it is probably bot account. Because a normal user does not do this.
Tweet timing: This is the best trick you can do. If an account is tweeting after a regular time interval, then there are 100% chances of an account being the bolt. Remember that a bot account can tweet up to 300 tweets an hour.
Messaging: When you follow back someone if you get a long message immediately then mark that account as a bolt. Because this is one of the best facility that bolt account provides. So, when you get these type if messages then make sure that you are not interacting with robots.
Read more: How to Open Facebook When it is Blocked by Server – Open Facebook in School and Colleges
Last words on
Twitter Bot Detection Tool
To recapitulate, I can say that since these APIs use score method to detect bot accounts. There is still 1% possibility that account could not be a bot. But it is detected to be a bot account and vice versa. That is why I have also explained a manual method to do so. There may be other twitter bot detection tool to check the bot accounts. But we strongly recommend you to use only these services. Because of the sake of your privacy. Because we have fully tested them and put them on the list. Always feel free to ask any question.
Read more: How to Use 2 WhatsApp in Dual SIM Phone – [LEGAL WAY] Updated 2018
Was this article helpful?