Hello Friends, Today we will compare KitKat vs Lollipop. We will compare both the Android version on the basis of features, performance, speed, battery life and much more. I will analyze each and every pros and corn of Kitkat or lollipop. I will also tell you the best Android version from KitKat and Lollipop.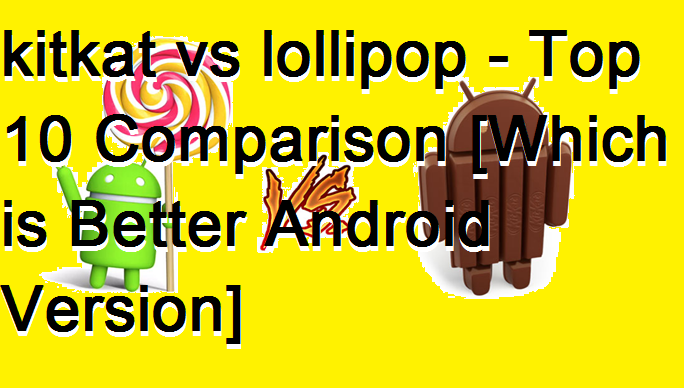 KitKat or lollipop
If you are an Android users. Then, you must have heard Android versions like Kitkat and lollipop. These are one of the longest running Android version in the history of Android version. Both of these versions have amazing features. Today we will analyze each and every feature of these versions and find the best Android version.
KitKat vs lollipop
We have done a lot of research on both of these Android versions.  Our CTT team has done complete analyze on these applications. We have tested both the Android version. So, check below and find the best Android version.
Design
Lollipop has better design and unique user interference. The Lollipop version has new themes and text styles. It also has animated theme as compared to older Kitkat version. The design appears bright, colorful and animated compared to Kitkat. The size of icons and effects has been upgraded to have a more realistic feel. The background colors of a lot of applications and menus have changed. For example, the color of the settings menu has changed in Lollipop and its design, animation, and effects have also updated from Kitkat
Performance
Lollipop has better performance as compared to KitKat version. It has updated software files which increase the ability of RAM. Lollipop Android version decreases the apps opening time. It has new mobile Softwares which increase the ability of Android Phone. A user can use multiple apps at same time.
Battery life
Lollipop has presented the Project Volta which helps users keep track of the applications that drain their battery. It has been developed to optimize battery usage. It shows a graph which shows detailed usage of battery. The design and feel of the battery setting have also changed giving the battery statistics page an upgraded look.
There is a major problem of Battery drain in the lollipop version as compared to older Kitkat. The new version lollipop has several new features which take a large chunk of battery.
F
eatures
Lollipop has made the notification panel easily. Users can easily see the notifications on the lock screen even before opening your phone. This was not available in KitKat. Notifications can also be viewed without having to quit applications. Calls can easily be rejected as it appears on the top of the screen. In Kitkat only the camera button was available on the lock screen. On the other hand, Lollipop has added the phone option on the left bottom of the screen.
FLASHLIGHT
In the Kitkat version, Flashlight option was not available in the notification panel. Lollipop gives the option to users to utilize flashlight. Users don't need to install any Flashlight Softwares. The flashlight option is found on the notification menu
Priority Mode
Another feature offered by Lollipop is to prioritize applications and receive notifications from these apps. It is useful when users want to do important work or sleep. Users can get notifications from the apps. Which they consider important and users can also disable options from the ones not considered important.
Silent Mode
Kitkat offered an easy or shortcut way for keeping the phone in silent mode or mute by long pressing the power button. This feature for shortcut has been removed in Lollipop. Although, You can still mute in Lollipop. But, this shortcut is no longer available.
Lockscreen app
Kitkat allows users to put widgets in their phone to lock screens. However, Lollipop no longer supports lock screen widgets and instead has the feature for notifications in lock screens. So, notifications are easily available. Hence depending upon the compatibility with users, they can choose which one suits them better.
Speed
The 'Recent Apps' option allows users to do multitask. Users can also open the recently closed apps. It is available in both Lollipop as well as KitKat, however, the layout has changed in Lollipop. In Kitkat the apps are displayed as window panes one next to each other. However, in Lollipop the design has given a 3D feel and users can scroll it easier. The display also looks like cards decked on top of one another.
This multitasking feature helps users to open apps faster. Users can open closed apps in few second. Users only need to tap on the single button to open all closed apps.
Navigation bar icons
The navigation buttons present on the home screen for Lollipop has now changed to the triangle for back, circle for home and square for recent apps. You also see changes in icons. In lollipop Android version many apps icon has changed.
Security
Lollipop and Kitkat both offers security for your phones. Kitkat basically had a pattern lock, passwords, and facial recognition. While Lollipop has added one new feature Smart Lock.  The Smart Lock feature allows a user to unlock phones or disable the lock codes when the user is present at certain locations where they feel safe like at home. It provides options to choose like 'Trusted Face', 'Trusted Devices', 'Trusted Places', 'Trusted Voice' and 'On-body detection'. These trusted things later help in unlocking the smartphone easily.
Advantages Disadvantages
I think it depends on a user if they would like to choose KitKat or Lollipop as their OS. Most of the features from KitKat are available in Lollipop as an upgraded feature with additional changes. For some, the simpler KitKat might be more convenient to use and for some, the advanced and upgraded Lollipop might be more convenient.
Conclusion
If you ask me personally that which one is better KitKat or Lollipop? Then, I will go for KitKat. Yes! KitKat is best Android version. The KitKat version will not affect your Smartphone speed. It will not drain your battery fasters as it does in Lollipop. But, You will not get mouthwatering features which are available under Lollipop.
Each and everything has pro and corns. We have discussed each and every advantage and disadvantage of KitKat and Lollipop. So, was this article helpful? If you face any problem related this article. Then, do comment below and don't forget to share this article with your friends.
Was this article helpful?