I have shared complete details about these amazing best portable speakers under $50. You can check the pricing details of these speakers on Amazon. We have shared speaker from $20 to $49. Check the pro and cons of all the speakers and buy them now.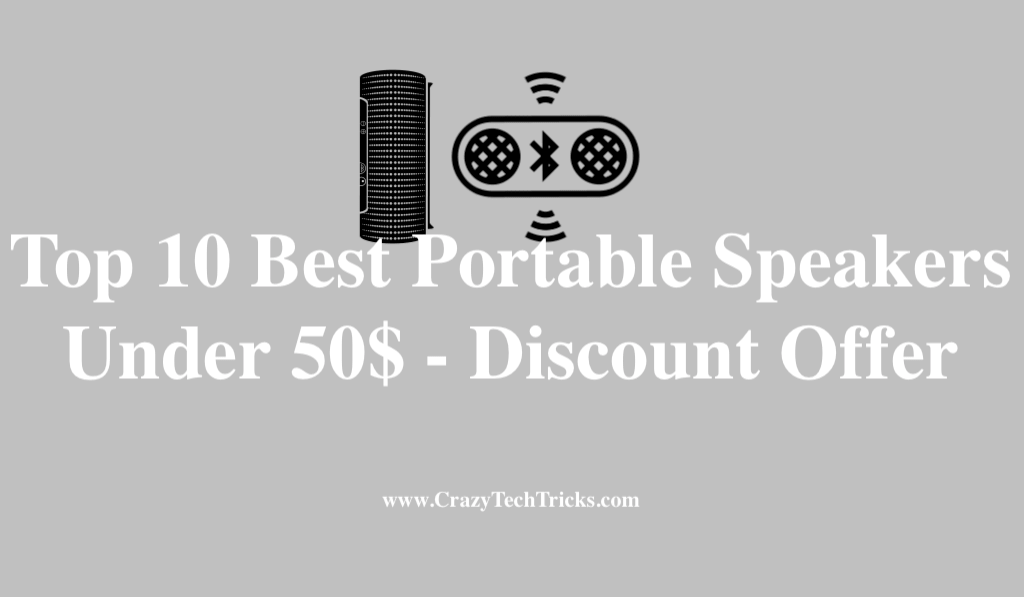 Nowadays, it's very hard to move on without music. It's not possible to carry wired speakers to parties, journeys, and places we go. Here come portable speakers that are very easy to carry and connect. Users can connect to their portable speakers easily through Bluetooth or Audio input jack. These are very easy to connect as earplugs but sound brings a great difference here.
These portable speakers come with surprisingly big sounds where a group of people can enjoy together. There are many portable speakers in the market some are good at the quality of sound, some are good at design and some are very small to carry easily. Not only this nowadays these portable speakers are also available with waterproof resistance and also allow users to connect USBs and SD cards by providing dedicated slots.
Now picking up the best and desired portable speaker that suits our budget and specifications became too hard. Here in this article, we are suggesting some best portable speakers under $50 that are with some good specifications.
10 Best Portable Speakers Under $50
Amazon Basics
OontZ Angle3
DOSS SoundBox
Vanzon X5

AOMAIS Sport II

JBL CLIP2
JBL GO2
COMISO
Sbode
JBL Clip3
Check all these best portable speakers and select the best speaker suits your work.
---
Amazon Basics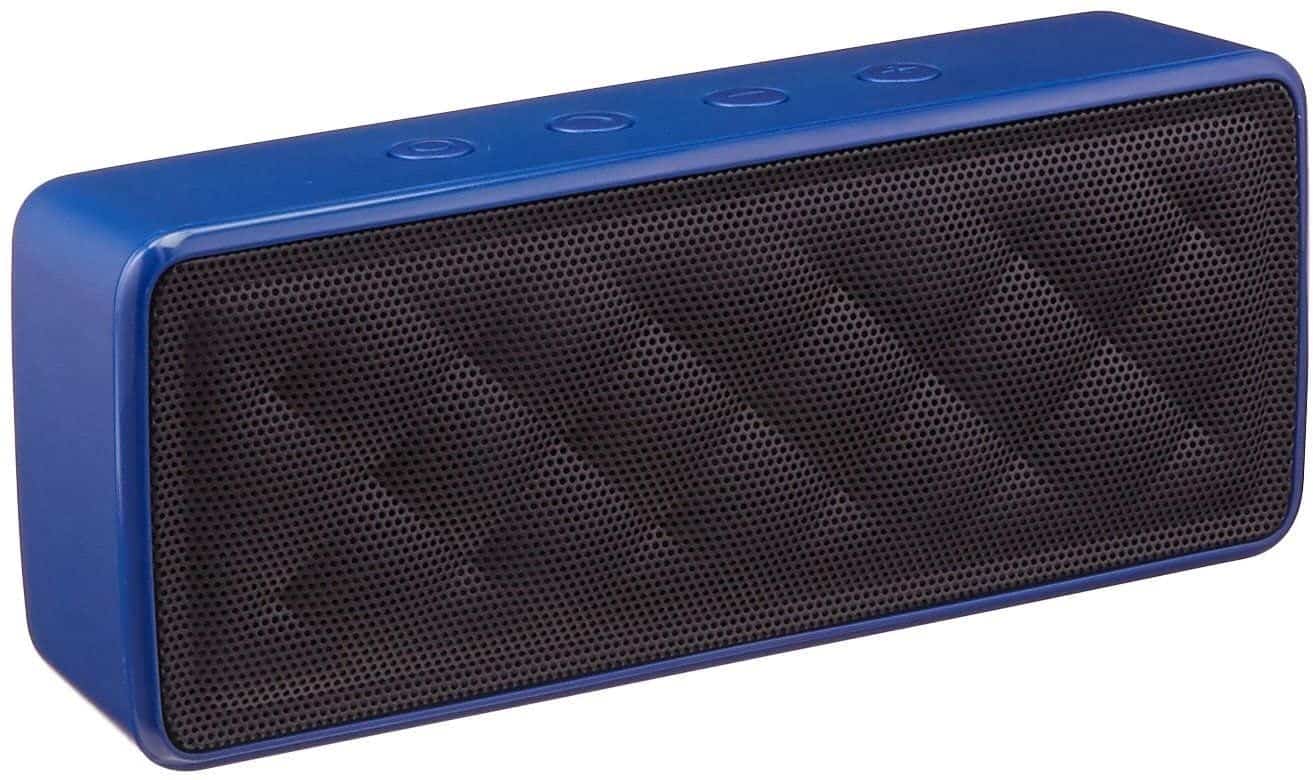 This portable Bluetooth speaker has wireless connectivity with a range approximately up to 33 feet for streaming music, podcasts. It is embedded with 2 internal speakers each of 2.5W with full-range drivers for high-quality sound. This provides rich bass even at the highest volume without distortion. It also provides a 3.5mm audio jack to connect with the non-Bluetooth devices. This speaker has an inbuilt rechargeable battery which allows up to 8hours of playback.
Pros:
High-quality sound
Easy to carry
Cons:
Less connectivity range
Low playtime
Ratings:4.2
Price:$20.99
---
OontZ Angle3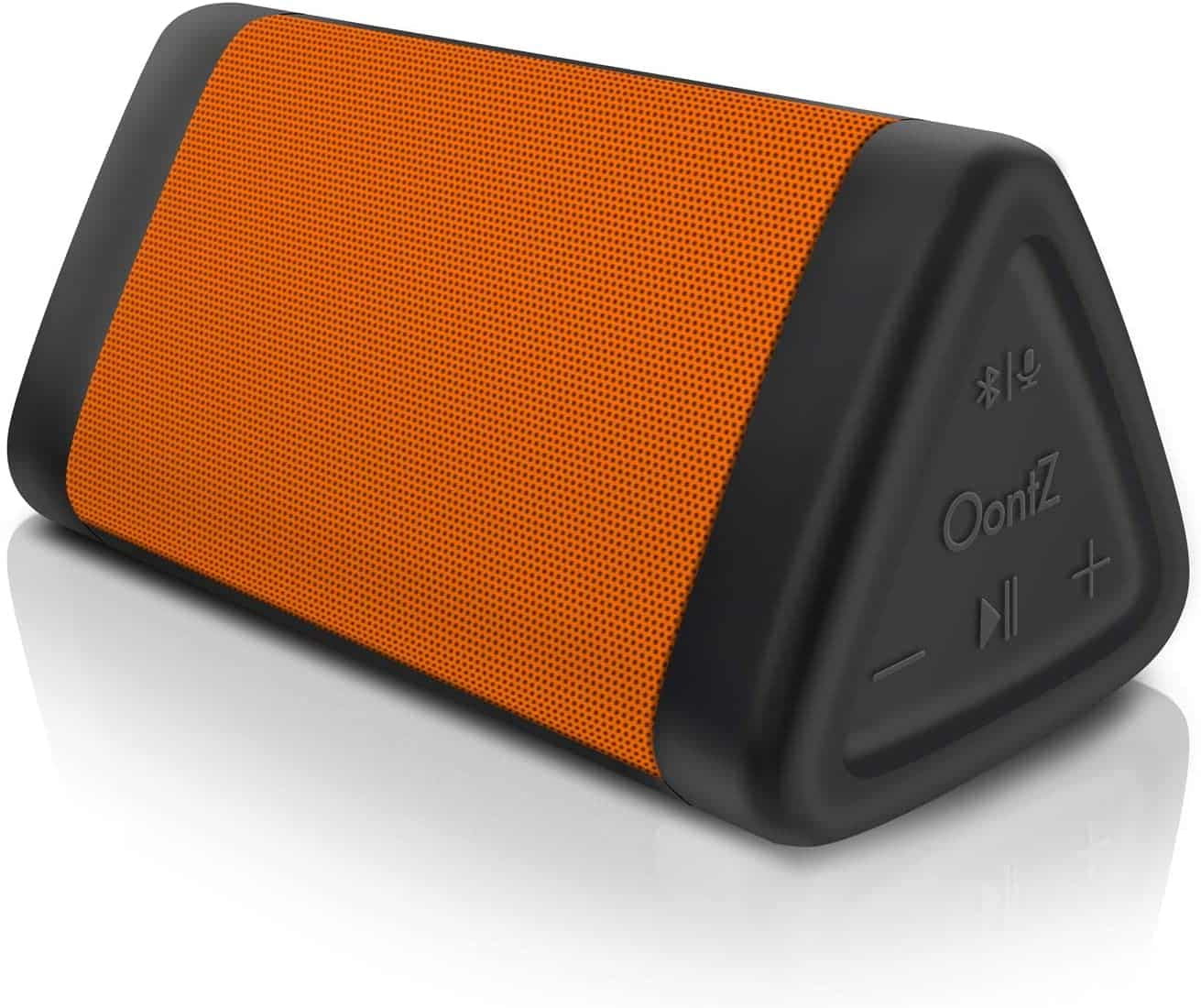 OontZ Angle3 comes with a new shape rather than having the same old designs like a cylinder, box, or round-shaped one. The triangular design which can cover as much area as possible makes it unique from all other portable speakers. It also comes with IPX5 water-resistant which is totally Rainproof, splashproof speaker but this cannot be fully or partially submerged. This has a connectivity range of approximately 100 feet to serve its users. It also has a long-lasting playback time up to approximately 14 hours.
Pros:
Clear and crystalline sound.
High connectivity range
20 hours playtime
Robust build
Unique designed body shape
Cons:
 Not a waterproof resistive
A bit bulky in size
Ratings:4.4
Price:$25.99
---
DOSS SoundBox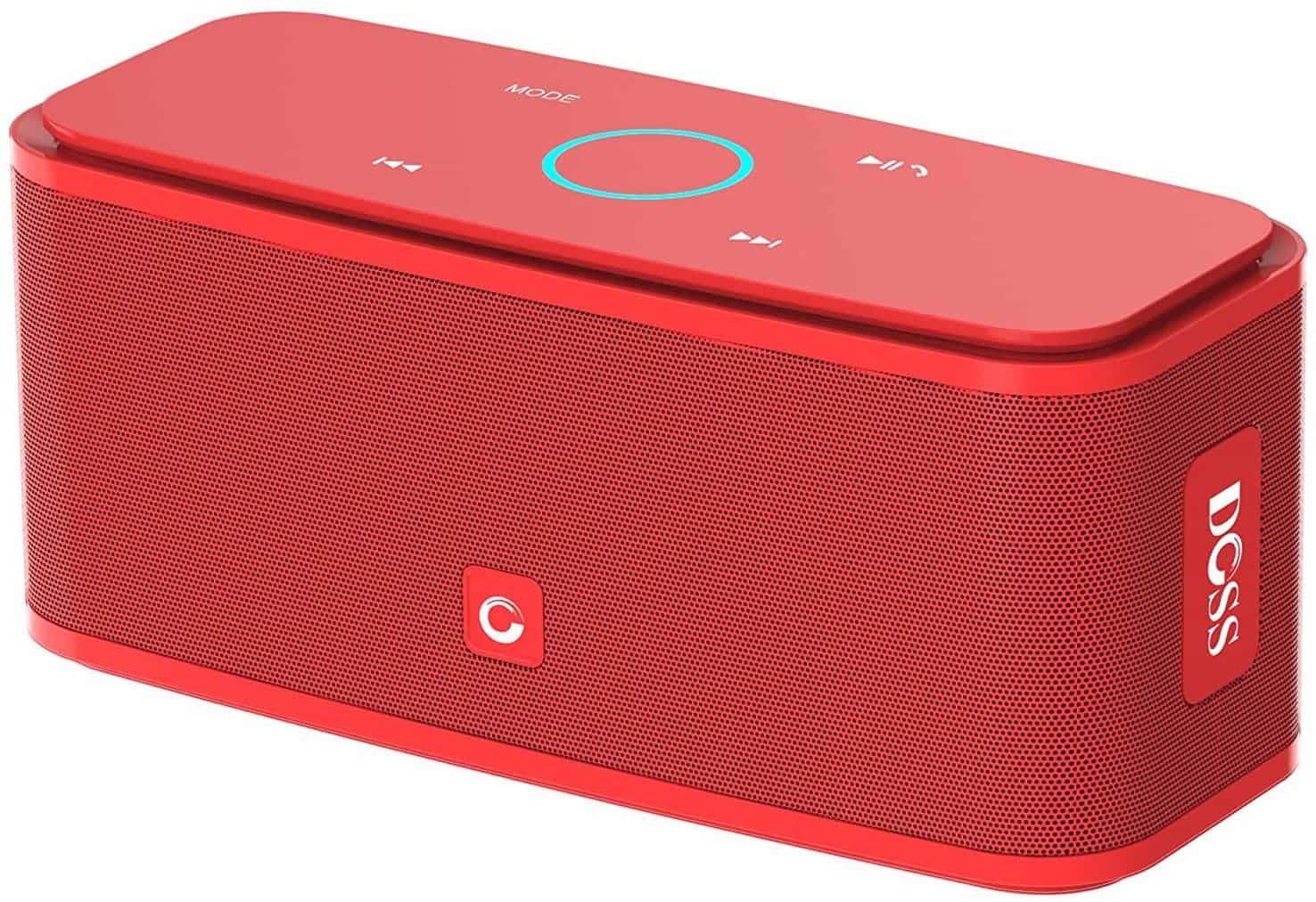 DOSS soundbox comes with a capacitive touch control which is very easy to control just by a simple touch that allows users to amplify their mood and energy. It comes with two separate 6W drivers which can provide a high-quality bass. Users can connect using Bluetooth 4.O technology which can even remember the last connected device to connect back effortlessly. This powers up to 20 long-lasting hours to entertain users. This also has an IPX4 waterproof shield that can uphold sprinkles and showers but cannot be submerged totally or partially.
Pros:
Good battery life
Waterproof resistivity with an IPX4 rating
powerful and solid sound
Compact and lightweight
Cons:
Controlling system is a bit slow
Overcompensating of LED functionality
Ratings:4.4
Price:$27.95
---
Vanzon X5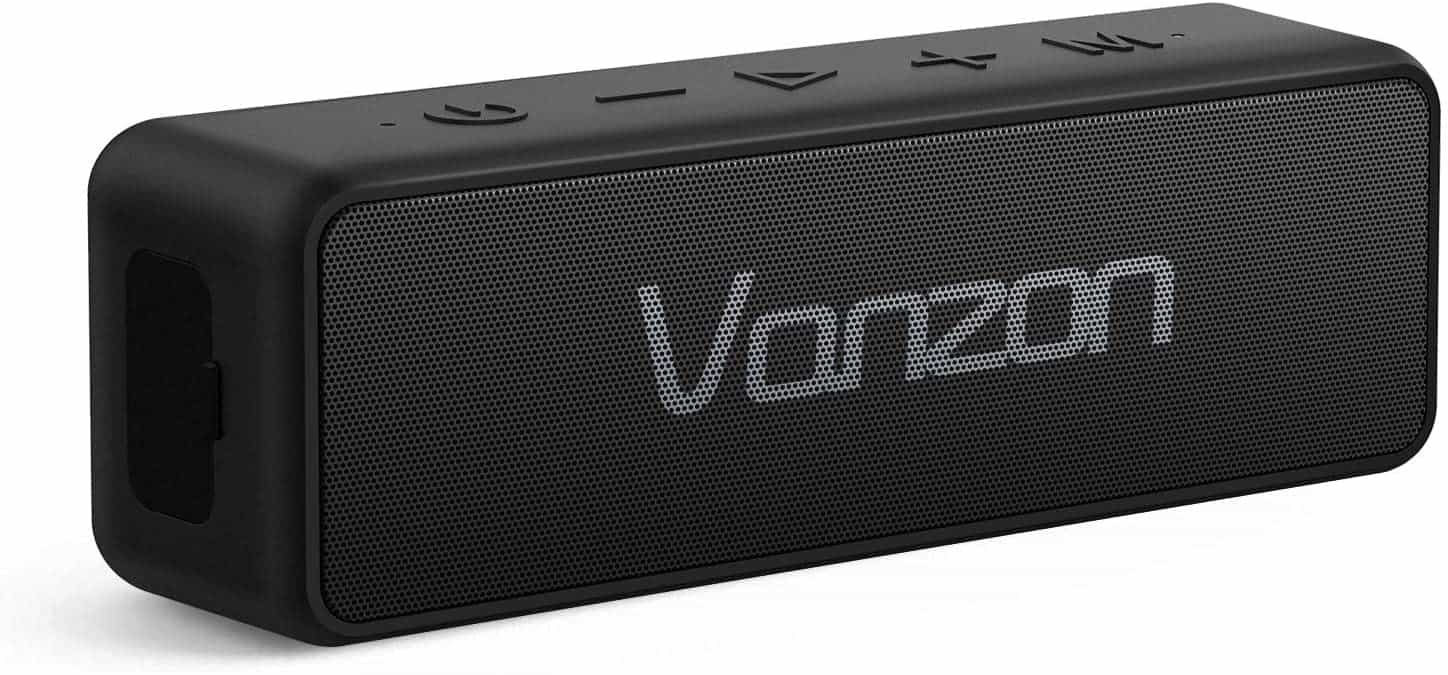 This Portable Bluetooth speaker has strong waterproof protection. Vanzon X5 provides a wonderful feature where users can connect to 2 speakers with a single phone at a time for experiencing true dual enhanced stereo sound. This is a lightweight and small size portable speaker but may not fit into your pockets. It comes with a 3600mAh lithium-ion battery. It also has an extended wireless range of approximately 65feet. This can also be interfaced with practical carabiner, TF, Type-c, and AUX input ports. The built-in microphone helps in maintaining a clear sound quality which is more suitable for iPad,iPhone, and Android.
Pros:
Affordable price
Build with Waterproof Resistance
Embedded with dual charging ports
Lightweight and compact speaker
Cons:
Unattractive Body design
Limited volume with a single speaker
Unimpressive flat-out Bass quality
Rating: 4.8
Price: $27.97
---
AOMAIS Sport II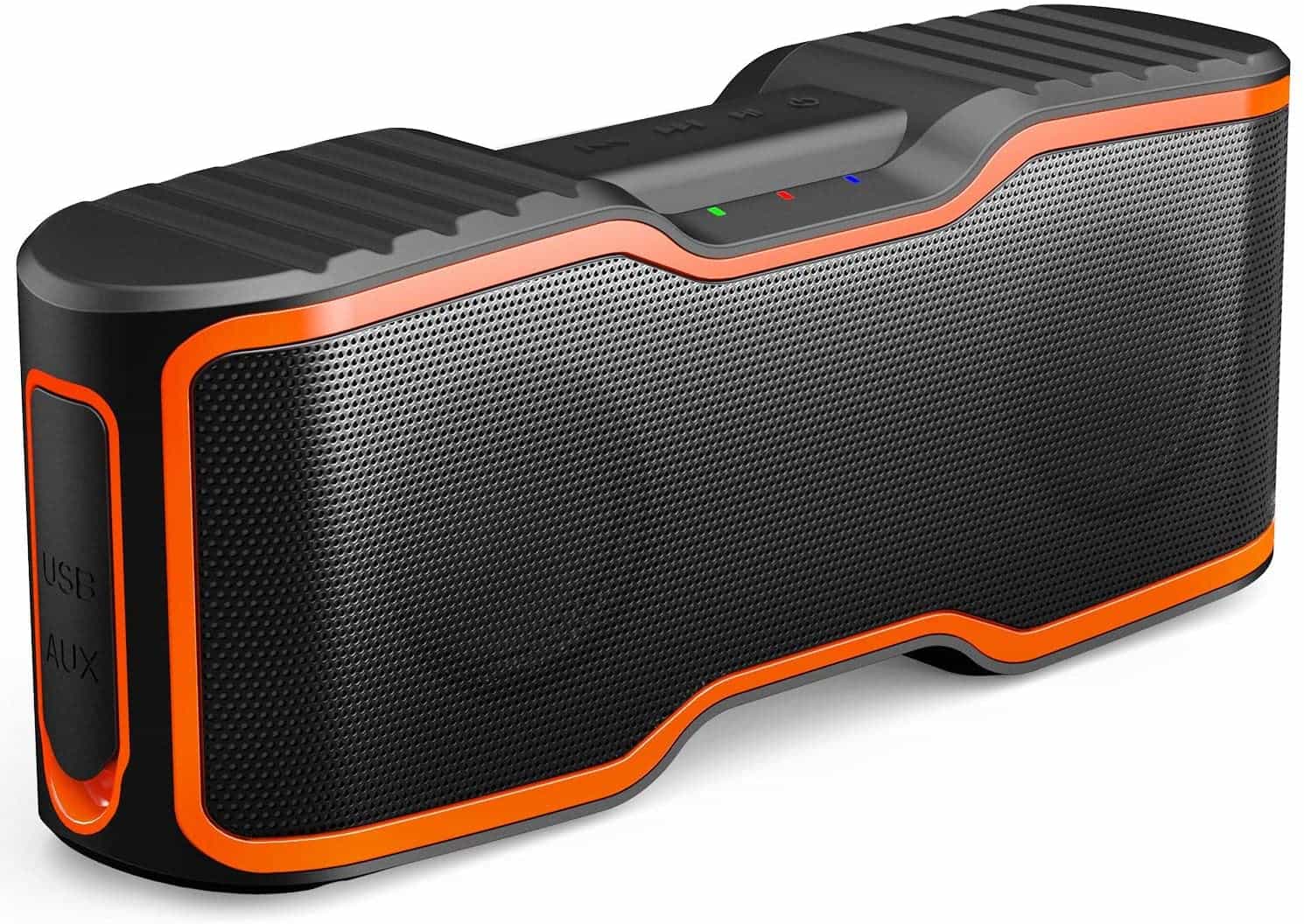 The AOMAIS Sport II designed with waterproof of highest protection degree of IPX7 which is capable of being underwater up to 1 meter for 30 minutes. Users can connect two AOMAIS Sports II to enjoy 40W powerful crystal clear, balanced bass sound. This can be also connected via aux line-in along with Bluetooth. It is the toughest Bluetooth speaker designed with a smooth rubber exterior. This has connectivity range up to 99 feet with a 10hours playtime. It has Built-in mic helps you in handsfree speakerphone calls from your phones.
Pros:
Large durability
Waterproof design with IPX7
Good sound balancing
Hands-free calling
Cons:
A bit bulky in size
bad low-end responses
Rating: 4.5
Price: $35.99
---
JBL CLIP2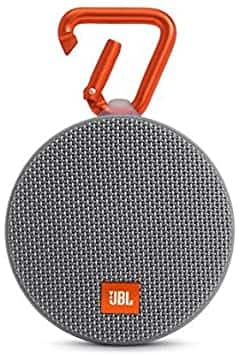 JBL CLIP2 is an ultra-light and ultra-powerful portable speaker with wireless Bluetooth connectivity. This comes with completely waterproof with IPX7 where you can even submerge the speaker. CLIP2 provides you a playtime of 8hours and allowing to carry your speaker with you, whether it may be land or water. Users can stream music wirelessly via Bluetooth or can plugin with an audio cable. Users can wirelessly connect two CLIP2 speakers together and enjoy the high crystalline and solid sound. This serves users with built-in rechargeable Li-ion batteries.
Pros:
High-quality sound
Compactable Size
Waterproof design
Audio cable input
Cons:
Low base quality
Low connectivity range
Ratings:4.5
Price:$36.74
---
JBL GO2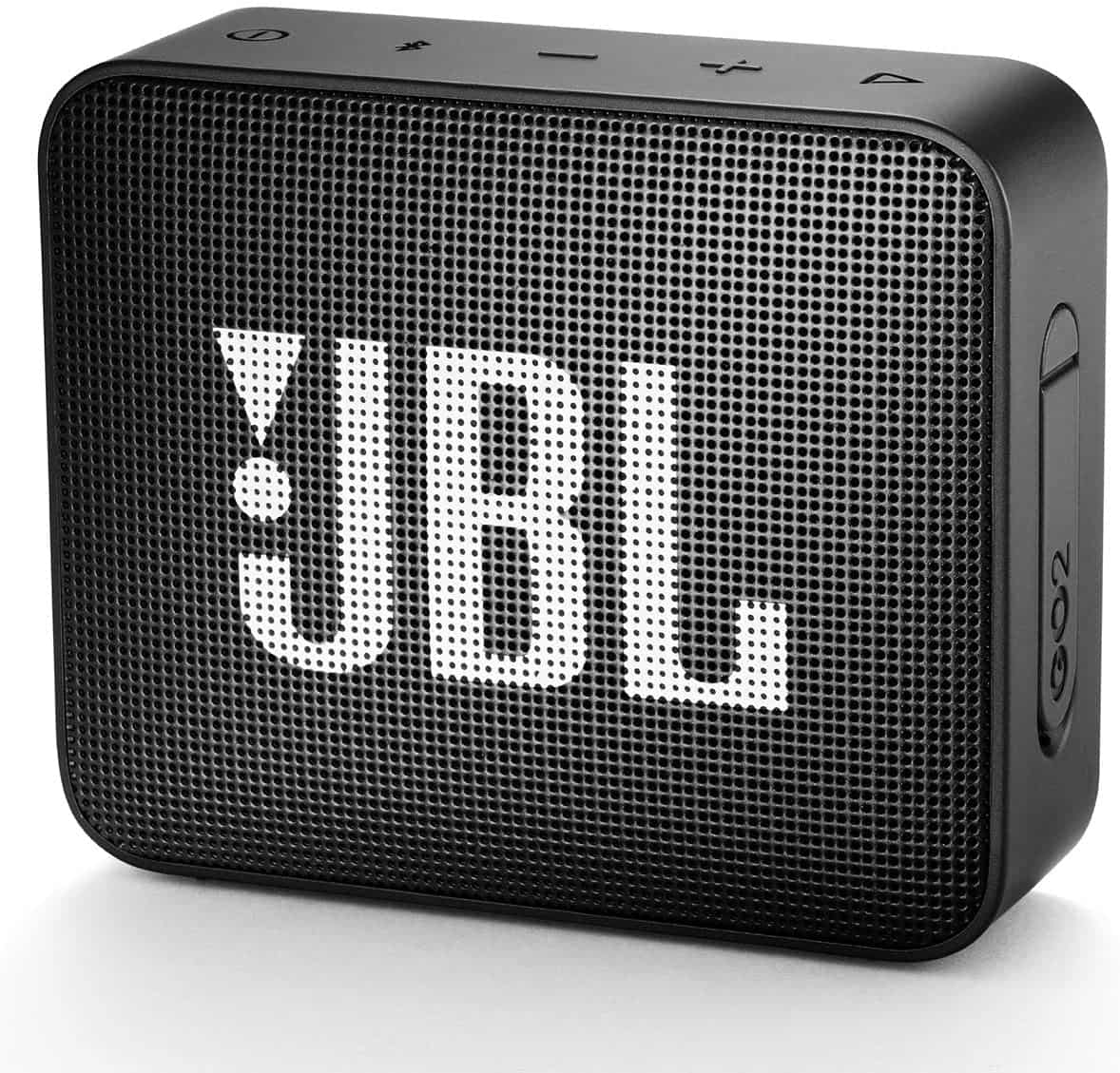 JBL is one of the most popular companies in the world that provides a number of best audio equipment. JBL GO2 is a portable speaker that comes as a box-shaped one that fits into our hands easily. It has IPX7 waterproof which makes your speaker submersible. This can be connected through Wireless Bluetooth Streaming. You can also connect this with an audio cable input when your system doesn't support Bluetooth. This speaker provides crystal clear calls with the noise-free speakerphone. It serves users with 5 hours of playback time in a single charge. This has an in-built 1000 mAh rechargeable li-ion battery. This product is amazingly available in 12 different colors.
Pros:
Amazing Sound quality
Compact size Speaker
Waterproof body
Speakerphone
Easily pairable
Cons:
It can be distorted at higher volumes.
Less playback time.
Rating: 4.7
Price: $39.95
---
COMISO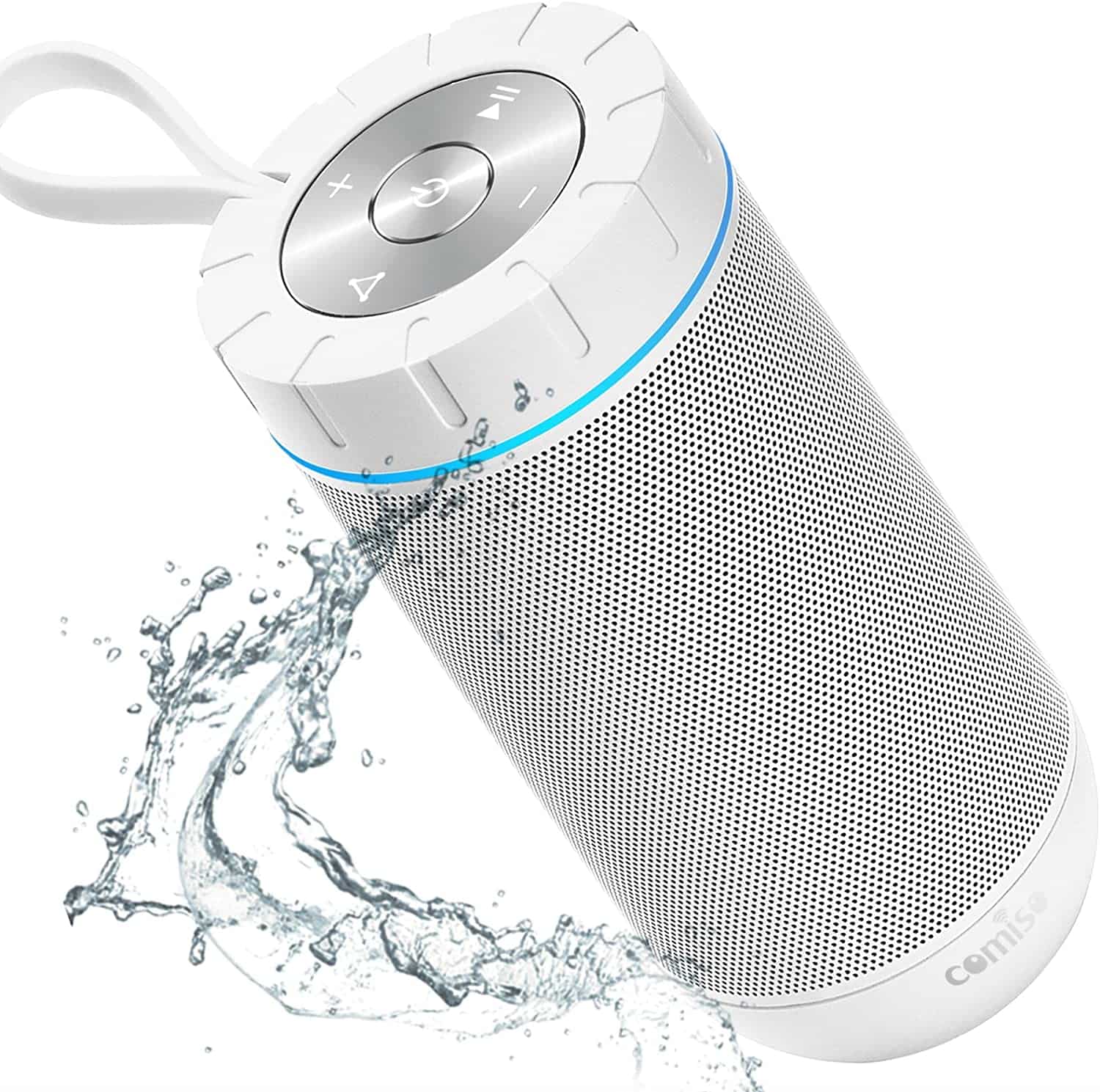 COMISO Bluetooth speaker comes with a high-quality crystal clear sound that delivers excellent stereo and an enhanced base to entertain the audience. It's louder volume more bass feature distorts maximum volume for room-filling sound. Users can enjoy streaming music or internet radio services. This speaker comes with IPX5 waterproof protection which can resist only gentle water spray and splash but cannot be submerged partially or fully into the water. It serves users continuously for 36 hours of playtime and can play the left and right channels separately.
Pros:
Waterproof resistive
Easily pairable
Extended Bluetooth range
Long playback time
Cons:
A decrease in playtime in the highest volume.
Ratings:4.5
Price:$41.99
---
Sbode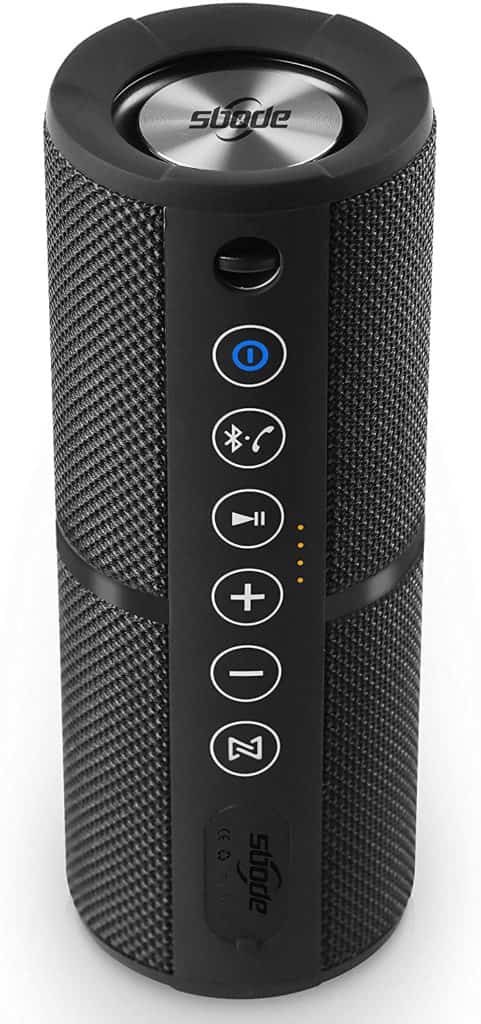 This is a Bluetooth portable speaker with advanced digital sound and noise reduction technology. It has bass radiators on each end which delivers a premium acoustic sound and crystal clear bass balance. This has a connectivity range of approximately 100 feet. It also has TWS control where users can connect two Sbode speakers easily and enjoy a rich quality of sound. It also has a Micro TF/SD card slot and supports audio jack connectivity. This is a splash-proof and sand proof speaker covered in a woven mesh-like material.
Pros:
High connectivity range
Advanced noise technology
water and dustproof
Handsfree calling
Cons:
Ratings:4.2
Price:$43.99
---
JBL CLIP3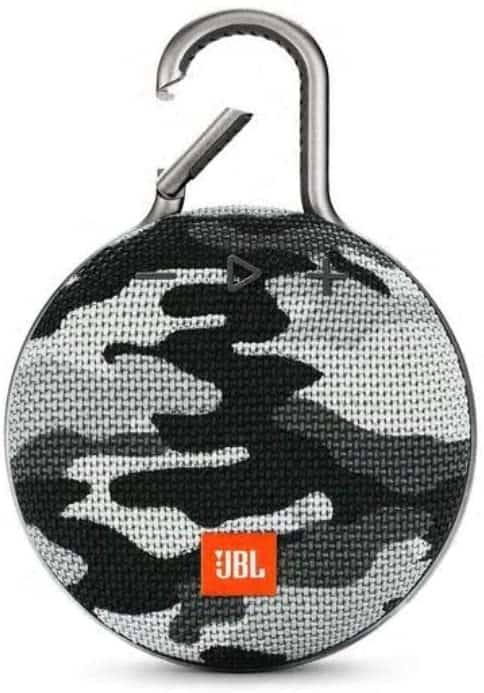 JBL CLIP3 is a very small size ultra-portable Bluetooth Speaker with IPX7 waterproof system which protects it from water and dust to enter into it. This is the best speaker that is small in size but with a big sound. This has a built-in, rechargeable Lithium-ion battery which supports up to 10hrs of playtime. This has integrated and durable Carabiner clips to your clothes and bags easily. Clip and Play feature enables users to switch calls with a single press of a button. A built-in noise and echo-canceling speakerphone give crystal clear sounds.
Pros:
Solid Connectivity strength.
Strong and durable carabiner.
Ultra-portable
Best vocal quality
Cons:
Low bass quality
Cannot stream high-quality codecs
 No battery level indicator
Rating:  4.7
Price: $49.95
---
Conclusion
These portable Bluetooth speakers are making our lives easy to carry with us and also arranging music parties, trips. It is tough to pick a perfect Bluetooth speaker, we think we have suggested you some of the best portable speakers. You can select any speaker you like.
There can be more best portable speakers under $50 but these which i have shared are best for all types of work. You can use them to listen light or loud music.
Was this article helpful?