Hello friends, Today I will share 15 best video sharing sites. You can even earn money by uploading videos to these websites. These sites are like YouTube and Dailymotion. You can upload your video on these websites. Users can host their website for free on these sites. You are free to upload any video and keep it private from the world. We have shared video promotion sites list.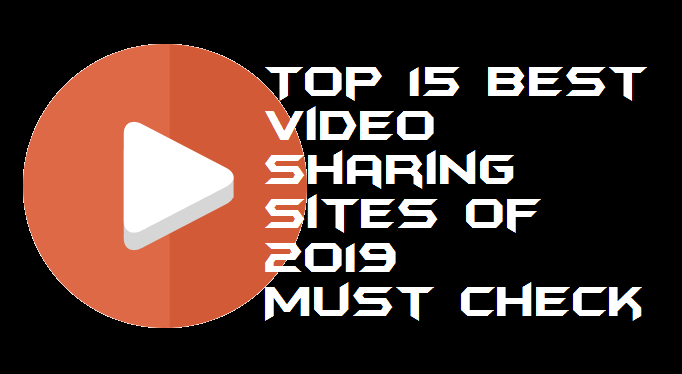 Video has become the most popular media that we share on the internet with peoples. The applications that we use in our daily life such as WhatsApp, Facebook, Instagram, etc. also offers to let us post video status or send video to our friends. But, that are not the video sharing sites, instead of it they are apps. If you are saying that I can upload my video to Dropbox or Google Drive to share the link of it, then, let me tell you that this is not a way that you can call Dropbox or Google Drive as video sharing sites. I will share the best video sharing sites, which allow users to share any video online.
What are Video Sharing Sites?
Video sharing sites are the websites which allow a person to upload a video and share it with his friends or relatives. Some websites enable monetizing on your uploaded video where some do not. However, video sharing sites also let you earn money along with sharing our videos to the public. Some video sharing sites only serve video to the uploader. Though, these video sharing sites do not let you monetize the videos which you have uploaded. But, they will provide security for your precious video. Along with it, they might also charge some fee. You can even send large video files on WhatsApp.
Top 15 Best Video Sharing Sites of 2019
In this section, you will be introduced to the top 15 best video sharing sites of the year 2019. There are some websites which you may know already, but some of them are unknown. However, some video sharing sites are by famous social media companies. These websites are very amazing to watch videos and to share your video with other peoples. I have explained the description of every video sharing sites which are listed below. Not only you can share your video with the public but can also earn money from it. Where most of the peoples are currently doing on those websites. So, let's start our top 15 best video sharing sites list of 2019.
Top 15 Video Upload Sites
YouTube
DailyMotion
Vevo
Vimeo
Facebook Watch
IGTV by Instagram
Twitch
Metacafe
TikTok
LBRY
Periscope
Veoh
Viewster
Vine
PeerTube
---
YouTube
YouTube is a world's famous video sharing sites as well as earning website where you can make money by posting videos. It is the best video sharing site ever which is entirely free of cost and provides money-making formula as well. To share a video, you need a Google account for that. As you might be introduced with YouTube before reading this paragraph. Though, you might be known that Google Inc owns YouTube. So, for that, you need a Google account. You can even use GIF Maker from YouTube to convert videos to GIFs.
However, if you are using YouTube as a YouTuber to make a profit by uploading your videos that you have to follow up some criteria to get eligible for monetization. You need at least 1K subscribers, 4K of watch time, and yeah that's it. You can visit the website also or can download the app as well. The supported video file formats are MOV, MPEG4, MP4, AVI, WMV, MPEGPS, FLV, 3GPP, WebM, DNxHR, ProRes, CineForm, HEVC (h265).
---
DailyMotion
DailyMotion is another video sharing site that allows users to view, upload and share videos using the internet. Where user should keep in mind that he or she can upload a video of 2 GB and a video length limit of 100 minutes only. However, DailyMotion is also a top-rated video sharing website. The supported video formats are .3gp, .avi, .divx, m4v, .mkv, .mov, .mp4, .mpeg, .mpg,. ogg, .wmv. You can not only use it in a web browser but can also download its app too. Also, if you would like to upload video and earn money from them then yes you can do so. The monetization option is available on DailyMotion. You can even rotate a video in Windows PC/Laptops.
---
Vevo
Vevo is the best video sharing website if you are an artist or singer. It allows a singer or an artist to upload videos on the site by creating a channel to be viewed by the viewers. Where Vevo is available only in the United States, the United Kingdom, and Canada. However, viewers can see any video worldwide. It has made a partnership with YouTube as well. To be able to upload at Vevo you need to pay $20/yr for an active Vevo account. It does not give you revenue instead of your videos besides of it; you will get 100% royalty.
---
Vimeo
Where some video sharing sites are entirely based on advertisements such as YouTube. There a name comes up, and that is Vimeo. Vimeo is the best video sharing website if you want to upload video only. However, it also provides the monetization option and gives 90% of the revenue to the uploaders. But, the thing is that Vimeo also has many plans that a user can buy if he or she do not want to get ads while watching videos on Vimeo. Supported video formats are MOV, MPEG4, MP4, AVI, WMV, MPEGPS, FLV, 3GPP, WebM. Plans for paid customers are as Vimeo Plus, Vimeo Pro, Vimeo Business, and Vimeo Premium.
---
Facebook Watch
Facebook Watch is a video sharing site which is offered by Facebook that is a famous social media website. This website is entirely free of cost to upload videos. Supported video formats are 3G2, 3GP, 3GPP, ASF, AVI, DAT, DIVX, DV, F4V, FLV, GIF, M2TS, M4V, MKV, MOD, MOV, MP4, MPE, MPEG, MPEG4, MPG, MTS, NSV, OGM, OGV, QT, TOD, TS, VOB, WMV. To upload a video, you need to have a Facebook account for it. Not only you can upload or share your videos with your friends but can also earn money from it. To be able to get ads on your videos you have to be with 10K followers and 30K total views. You will be provided with a dashboard to maintain your entire account or to view the growth of every video.
---
IGTV by Instagram
IGTV is a video sharing website that is offered by Instagram. We all know that how big Instagram name is. The previous year, Instagram announced that they would launch a video-sharing site and yes they did so. Anyone can upload and share the video from IGTV where the requirement is an Instagram account only. However, the supported video file format is MP4 only, and the limit is up to 10 minutes only. Also, the sad thing is that there is no monetization option is available right now. But, they have said that it will come soon. The thing which you may notice is that it is entirely free of cost. Not even that, but a single account can upload as much video as they can. Users can also download private Instagram videos.
---
Twitch
Twitch is a video game streaming service on the internet. If you are a gamer and love to stream your gameplay on the internet with other peoples, then this website is best for you. You will get a speed of 3500 bits per seconds while streaming through Twitch. There is a service offered by Twitch which you can use at just $8.99 per month. There is a monetization option also available for those users who want to earn money by showcasing their gameplay on the internet through Twitch TV. However, Twitch has not claimed any revenue sharing information with us.
---
Metacafe
Metacafe is a video sharing website that is developed for short-form video entertainment such as movies, video games, sports, music, and TV categories. It is similar to other video watching websites such as YouTube or Dailymotion. Metacafe was founded in July 2003 in San Francisco, California. It provides video on demand kind of hype that will show short videos according to the latest publishers. There is no need to signup over it to view a video. Also, the user interface os this website is very simple. Users can find an option very fastly.
Know more: Top 10 Best Free Video Editing Software for Windows PC/Laptop – 2018 Updated
---
9Gag TV
In the list of top 15 best video sharing sites, 9Gag TV is at the 9th position where it delivers a vast variety of content for the entertainment of users in various forms. A user can find a large collection of Gifs, memes, and more entertainment stuff. Not only this, even you share your videos with your friends and family members. So, technically you can watch videos of others and can share your videos with public or close friends both. It has a primary user interface to make the user feel friendly to their website.
---
LBRY
LBRY is a video sharing website where the creator can set a price for the video and will get full control over a video. A creator can get free tips from the viewers if the video is available for free of cost. In this website, videos are shared as a blockchain where a publisher can only delete or modify the video. It has a user-friendly interface which makes convenient surfing in the website. However, the interface is not much different as youtube. LBRY is available on the desktop platforms and Android both. It is said that the creators will get $2 per every thousand views.
---
Flickr
Flickr is the another most popular video sharing site like YouTube, Dailymotion, etc. There is no need to have the introduction to Flickr because we all know it very well. At Flickr, a user can upload a vast collection of content like video, gif or more. Besides it, it also allows you to create a free account to use the Flickr services. The thing which you must remember before using Flickr is that there is a limitation of uploading video to Flickr. And that is a constraint on uploading videos hardly 90 seconds to the website. It has simple to use interface, easy to upload a video and copious option on the website.
---
Veoh
Veoh is another excellent video sharing website that is having a great user interface and millions of users. There are lots of perks involved in The Veoh website. You can upload a video of any file format, of any length, and at anytime means there are no restrictions for a video. The most important thing is that there are most of the feature available that will help you in sharing your video with friends and viewers over there. It is going to help you to make you famous, and the tools will help you so that popularity will exponentially increase.
---
Viewster
Viewster is a video sharing and streaming websites where you can find a variety of videos such as comedy, anime show, gaming series, sci-fi movies and geek documentaries. You can also see a decent collection of movies that are categorized very well. A user can earn money as well from this website if he/she wants to upload and earn. This websites or apps are compatible by watching videos through Apple TV, Google Chromecast, Amazon Fire TV, Android TV, etc. Also, a user is not required to signup for watching a video using Viewster. It is simple, faster, and light weighted.
---
DTube
DTube is a beginner form of YouTube which has a similar user interface as like YouTube is having. At the website, you will find various option to explore the website along with the option of upload videos. You can find a video by searching on the site, trending video, hot videos, even live videos as well. Once you have uploaded the video, you get full authority of your uploaded video about whom to let it show or not. As well as, your friends or relatives can watch it later using watch later option. It has ads-free content on the website.
Read more: How to Use Hotstar Outside India
---
PeerTube
PeerTube is a video sharing website that is entirely free to use, peer to peer service available, no censoring, no ads, host your videos. It is a kind of peer to peer video streaming and sharing website that has made a wave. Anyone who wishes to upload a video on this website can easily upload a video where the interface is neatly designed and maintained. The best part is that viewers are going to watch your videos because there will be no ads to them.
---
We have seen top 15 best video sharing sites of the year 2019. As I said earlier that there are various video sharing sites which can be used to share a video with other persons. If you were searching websites to earn money by sharing knowledge videos, then you can choose any of them from this list of top 15 best video sharing sites. I hope this list of 15 best video sharing sites 2019 has helped you a lot. Make sure that you share this list with your friends and family members also so that they can also discover 15 best video sharing sites of the year 2019 like you and me.
Was this article helpful?