Hello friends, Today I will tell you tricks to Unlock Android phone without Google Account. You can easily unlock the Android phone even without the internet. I will tell you several ways to Bypass Google account lock on Android. You can also unlock the Android Pattern lock after too many attempts.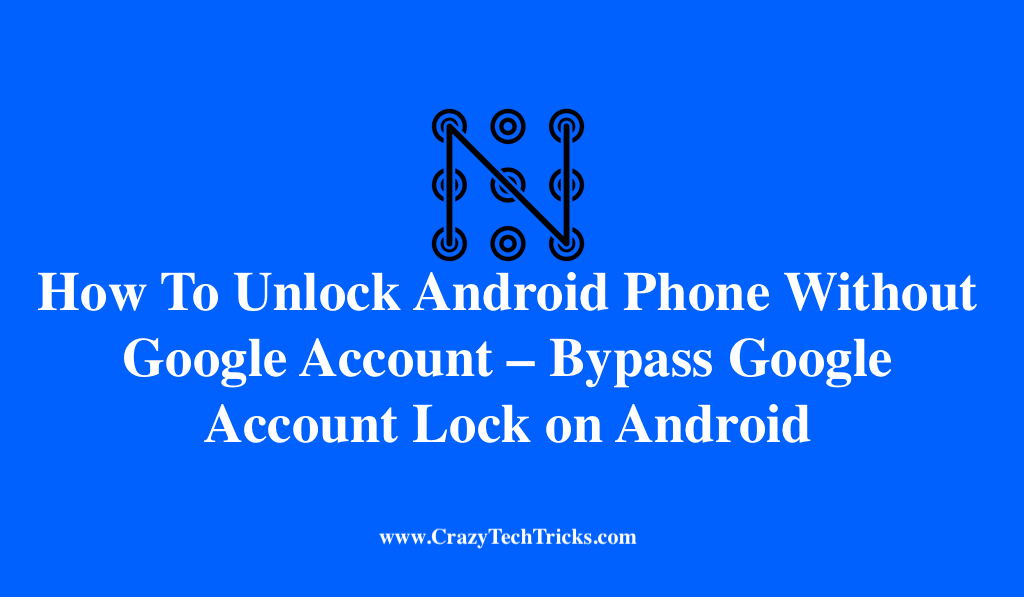 What is Android Pattern Lock?
Android Pattern Lock is very popular security offered for Android users. This Pattern Lock security is used to secure Android phones by cracking, hacking, spying, etc. In this security, nine patterned dots are available from which the user can choose its own pattern. The minimum requirement for the pattern lock is that the user must choose at least four dots and maximum whatever it wants.
This security also gives your Android phone a cool look while unlocking your Android phone. This is also good security as it does not contains any number or name so it can be hacked in a lighter amount. I will also tell you a trick to Unlock Android Phone Without Google Account.
Read more: How To Unblock Someone on Facebook from Mobile
How To Unlock Android Phone Without Google Account – Bypass Google Account Lock on Android
Sometimes, we forgot our Android lock pattern or password. Now, what to do in this case? Don't worry, I am going to tell you the steps by which you can easily unlock your Android mobile phone without any trouble and without having Google account or Gmail account. But guys remember, this trick will reset your factory settings.
Switch off your Android phone.
Press "Power" button and "Volume down" button both gently.
Now, click on "Factory Reset" option.
Then, click on "yes" to confirm.
That's it. Pattern Lock removed.
How To Unlock Android Phone After Too Many Pattern Attempts
In some cases, we slightly forgot our Android phone's password or pattern. In this method, you can attempts as many times as you want to unlock your Android phone. Although, in this trick, your phone's data will not be lost. This trick is very simple to attempts too many times your password or pattern lock.
Hold the power button.
Click on "Reboot" option.
Let the device will reboot itself.
That's it. Now, enter your pattern.
How To Unlock Android Pattern Lock Without Internet Connection
Yes! it is possible to unlock your Android phone without having an internet connection. I am presenting the step by step guide to unlock your Android phone without an internet connection. Let me also tell you guys. That if you will use this trick then your phone will be restored from the starting stage. Even though you want to use this method then you can try.
Turn your Android phone switch off.
Then, press "Power" button and "Volume up" button gently and simultaneously.
Now, click on "Choose recovery mode".
Then, choose "wipe data/factory reset".
Now, choose "yes-delete user data".
Lastly, reboot the device. That's it.
Read more: How to Protect Android Apps from Unauthorized Access
How To Unlock Android Phone With Gmail Account
In this trick, we will see how we can unlock our Android phone by using Google account. This is a very simple trick and very easy to follow. If you are having a Gmail account then must try to unlock your Android phone password. Make sure you already add a Gmail account to your device before following below given trick.
Try too much of pattern unlocking until you do not get the option of "Forgot pattern".
Now, click on "Forgot pattern" option.
Enter your Gmail id and password which you have already added in your device.
Now, click on "Reset" and reset your pattern lock.
Conclusion
These are the best and top 5 methods to Unlock Android Phone in any case. Users can unlock Android Phones even when they don't know Gmail Account or without the internet. These methods are very helpful to unlock Android Phone. If you know any other trick. Then, do share with us in comments, and don't forget to share this article with your friends.
Was this article helpful?