I will share the complete details about what is Google Assistant Snapshot feature. Users can use the Snapshot feature in their Google Assistant on Android Phones. You can use the recommendation cards, set up reminders, and do many things using your Google Assistant.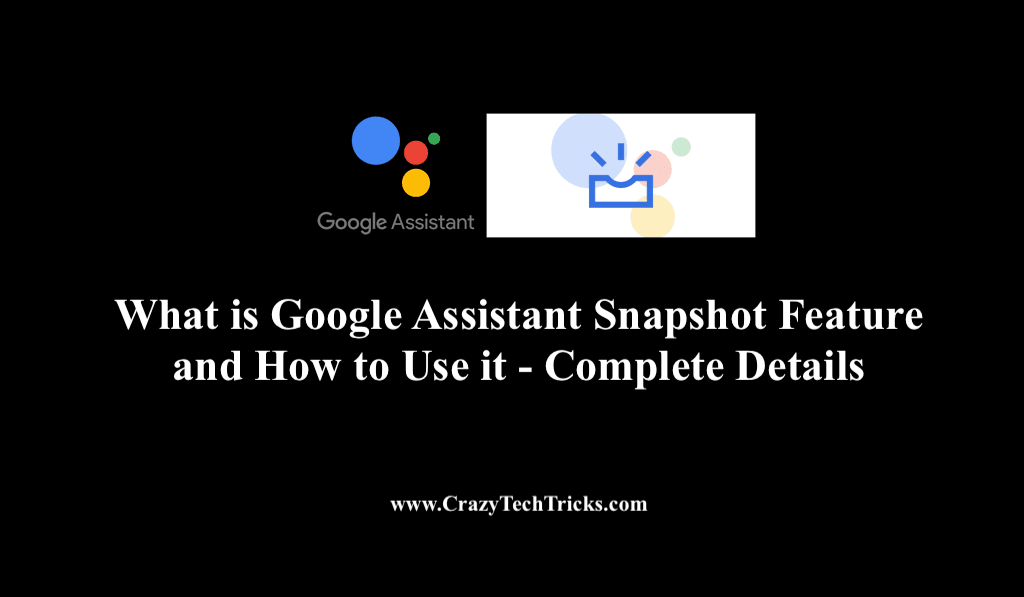 Google Assistant Snapshot feature is a more personalized solution to manage and schedule your daily routine, thus maximizing your productivity than before. Let us head into how Google has reframed the Snapshot feature and the friendly ways to set up the Google Assistant Snapshot feature.
Though Google has brought the snapshot feature earlier with "Google Now." But it got ruled out with the introduction of Google Assistant. Since then, Google has made several changes and improvements to increase user satisfaction and ease of use. Finally, Google has upgraded and brought a whole new experience of the snapshot feature with Google Assistant. Let us take a look at what the Google Assistant Snapshot feature is.
What is the Google Assistant Snapshot Feature?
Before Google Assistant, "Google Now" was introduced as Google's Assistant with the Snapshot feature. Google Now was ideally designed to offer cards that include almost all necessary information useful for you in the whole day without the input given by you. However, when Google Assistant replaced Google Now, the Snapshot feature was discontinued for a while. But, it has finally been re-introduced by Google as Google Assistant Snapshot.
Read more: Delete Google Assistant Recordings Permanently
The Google Assistant Snapshot feature is a proactive feature added in the Google Assistant. The main objective behind the snapshot feature remains the same, which is showing users relevant information and reminders on cards at a single accessible place. Google Assistant Snapshot feature is attached to improve and enhance user productivity.
It also keeps them reminded of the tasks to be finish and reminders to attempt. In Snapshot, some attributes are made different from before as the new feature is now more focused on tasks, recommendations, and reminders.
Read more:How to Delete Voice Recordings from Google Home
The Google Assistant is an Artificial Intelligence-powered virtual assistant. So, the data and the information displayed in your Snapshot will be highly customized to your preferred content. This will lead you to see recommendations in your Snapshot based on whatever content you interact with. The proactiveness of the feature tries to keep relevant and necessary information on the user's daily Snapshot.
Read more: How to Get Google Assistant on Chromebook
What information would be on the Assistant Snapshot Feature?
As discussed in the last section, the Snapshot feature is a proactive feature that keeps track of the content you are mainly involved in. However, instead of showing users a cluttered mess, Google has separate categories of cards that this type of information falls into. These categories are listed below.
Recommendation: Cards coming up with the recommendations of new movies, videos, recipes, articles, and many more based on content that you enjoy.
Reminders: The Snapshot feature keeps track of your to-do list and the calendars to remind you of upcoming meetings, tasks, birthdays, holidays, etc.

Interests:

Cards highlighting your interests based upon your preferences for a more personalized experience such as upcoming games and scores for your favorite teams, interests around travelling and its subsequent tasks, etc.
These are some of the main categories that the Snapshot feature focuses on. In addition to this, it might also show you information that is interlinked with other services of Google like tasks related to Google Maps, Gmail, etc.
Read more: How to Turn Off Google Assistant Permanently
How to use the Google Assistant Snapshot Feature
To use the Google Assistant Snapshot feature is very much convenient by following the below-mentioned friendly steps. Furthermore, the Google Assistant Snapshot feature can be accessed on Android, iPhone, or iPad.
Open Google Assistant > Android, open Google Assistant either by "OK Google" or "Hey Google" wake words or tap and hold the bottom center of your screen. If you're using iPhone or iPad, open Google Assistant from the home screen or App Library.
Tap on the Snapshot icon, which is located in the bottom-left corner.
The Snapshot feature is synced with your Gmail Account.
If you're using Android, you can customize the cards of the Google Assistant Snapshot feature by tapping on the gear icon, which is located at the top of Snapshot.
Toggle to on or off the cards as per your preference in the list.
For customizing a card of your preference, click on the three-dot icon which is in the corner from the Snapshot view.
Here, there are options to remove cards from Google Assistant Snapshot. For that, head to the Settings of that particular card. You can also pin that particular card to the top after selecting the "Add to Favourites" option.
Read more: How to Turn on Google Assistant on Android
Conclusion
The all-new Google Assistant Snapshot feature has already proven its worth with its upgraded and latest attributes. Google Assistant Snapshot feature could make your daily life much more efficient than before if you follow the methods for setting it up and customizing it as per your interests.
However, the experience on the Google Assistant Snapshot feature depends on the user to user based on what content they are indulged in more. The often you use Google Assistant, the more personalized the Snapshot feature will become for you to provide you the best possible experience.
Was this article helpful?