You can change your name on Tinder and age. Users can completely change their Tinder personal details without affecting the information on Facebook. You can even fix the problem of Tinder not updating personal information instantly without losing any purchase.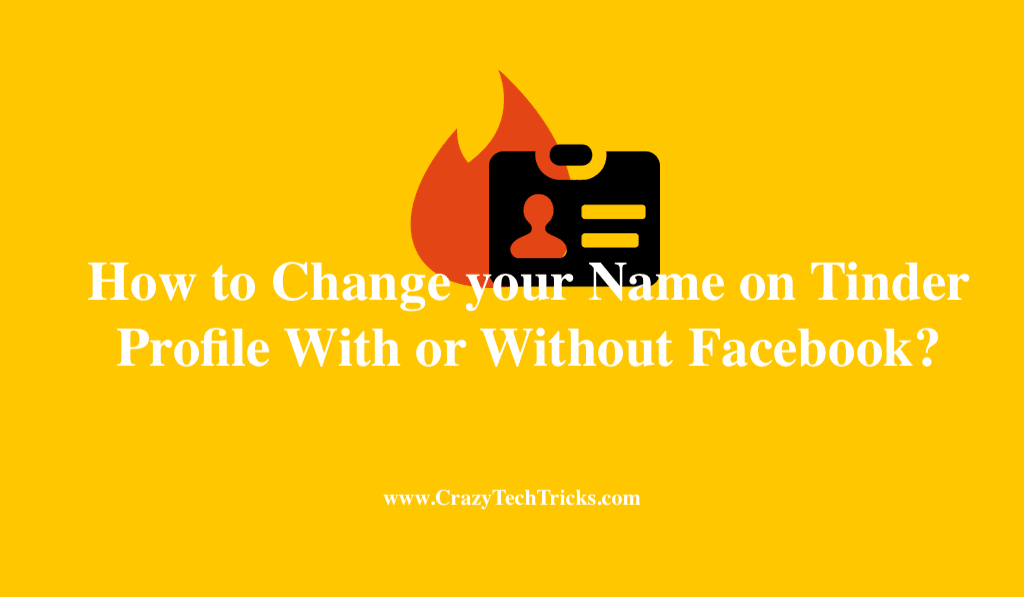 Tinder is a dating app that collects your personal information from Facebook. It is connected with Facebook and automatically synchronizes all your personal data like your name on Tinder or age, etc. Tinder says it is the best way to verify your personal details as none upload wrong on Facebook.
---
How to Change your Name on Tinder using Facebook
Now the question is how to change your name on Tinder? Is there any option on Tinder? Well, I will share two ways by which you can change the name on Tinder using Facebook or Without Facebook. First, we will change your name on Tinder by using a Facebook account.
To change your name on Tinder, we need to change the personal details on Facebook. It means we have to change your name from Facebook. So let's proceed.
Open your Facebook app or if you don't have an app you can open in chrome or browser.
Go to settings by clicking on three doubts.
Now open Settings & Privacy > Settings > Account Setting.
Now click on the first option of personal information.
Edit your name and change it.
The moment you edit your name or change to any new name. It will take from 24 hours to a few days to get updated on Tinder.
Read more: How to Cancel Tinder Gold Subscription
---
How to change your Tinder name without using Facebook?
Well if you want to change your Tinder name without using Facebook. Then there is no way. But you can use a method to change your Tinder name. You can use another Facebook profile and connect it with new Tinder. This is the only way to change your name on Tinder without Facebook.
I will suggest you all looking on the internet about this trick to change Tinder's name without Facebook is a waste of time. There is no official way and if someone is saying they have some apps or software. Then trust me its all fake and scam. The only way you can do is create another Facebook account.
Read more: Best Tinder Alternatives
---
How to change your age on Tinder
This method will also go similar to change your name on Tinder. Users need to use their Facebook profile to change the age. However, in this method it is possible to change your age without affecting Facebook profile. You can change your age on Facebook to private or to me. So none can see your age and you can do the changes.
Open your browser or chrome.
If you use mobile go to chrome and select desktop mode, you can even use a smartphone app.
Login to your Facebook account.
Go to your profile.
Click on About Tab.
Click on contact on basic info.
Go to birth yeat selection on click on Edit.
You can edit and update your Age.
Click on save changes.
Once you update your age then log out.
Read more: Best Apps to Make Your Own Emoji
---
How to Fix Tinder not changing Name or Age
Sometimes even after 24 hours or more Tinder is not changing your personal details. In that case, users need to delete their Tinder account and re-install it back. Don't uninstall the app directly else you will lose all your data. So first delete your Tinder account and later download it from the app store.
If you have any Tinder Plus or other types of subscriptions. Then you can restore back all your purchase by opening Tinder > Profile > Settings > Restore Purchases.
Read more: Best Tektek Alternatives 
---
Conclusion
You can't update or change your age or name without Facebook on the Tinder. If you don't have a Facebook, the only way is to delete your Tinder account permanently. Well, currently this is the only way to change your name on Tinder. Maybe in future, Tinder will come with some internal settings to change the name or age.
Was this article helpful?