Every so often a normal Windows 20 update ends up breaking more than it fixes on users' devices. Windows 10 customers are very familiar with the company's sketchy updates and are often wary of an update especially if it's one of those that installs silently without warning.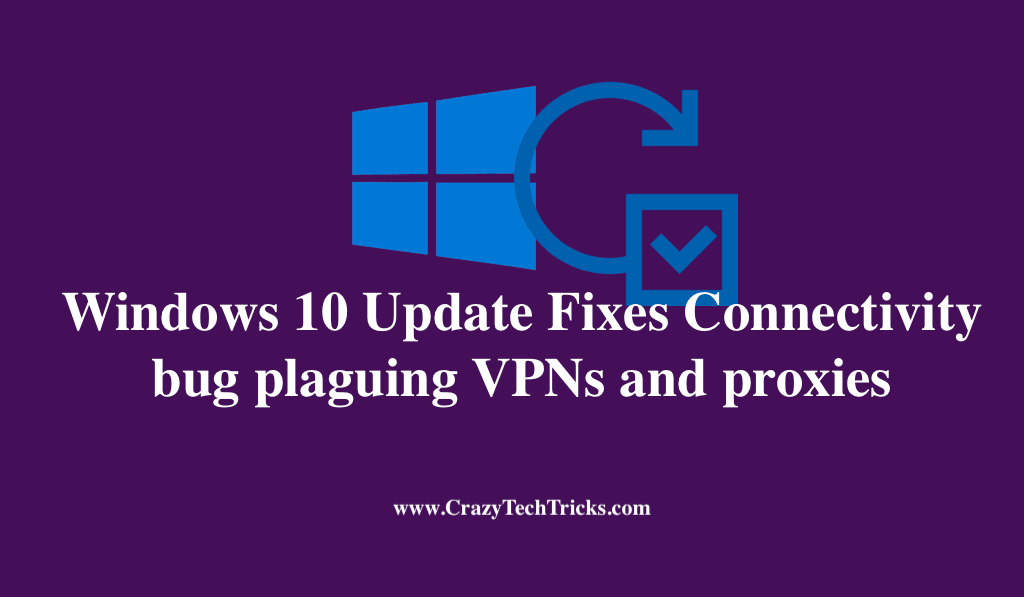 However, there is every reason to apply a particular update especially if you are using proxies and VPNs and have been experiencing connectivity problems in the recent past. Early this year, several users complained that they were having problems accessing remote services behind a proxy or VPN.
Turns out a bug, most likely introduced by February's KB4535996 update, was blocking some applications in the operating system for users behind a VPN or using a proxy. You may experience connectivity problems if you use the following apps and services and are behind a VPN or proxy:
Microsoft Teams
Office 365
Microsoft Outlook
Edge
Internet Explorer
Any VPN or Proxy service
According to a document released by Microsoft regarding the bug, users with an auto-configured or manual proxy, those using any virtual private network will experience internet connectivity problems. Consequently, you might see a limited connectivity indicator on your status bar. All applications that use specific communication protocols (listed above) will not be able to access the internet.
At this point, users who were able to disconnect their VPN services or remove the proxy configuration on their devices were able to get back online with a simple restart. However, a majority of users couldn't apply this fix as remote access services and company network policies require the use of a virtual private network. This couldn't have come a worse time, especially now that people are having to work from home and need to access remote resources on more regular.
A new windows 10 update fixes the bug
As with any bug that affects many users, the folks at Microsoft were quick to roll out a new update to eliminate the bug. If you have experienced connection problems when on a VPN on Windows 10, you might want to apply the now available- out of bound update on the official Microsoft Update Catalog.
You only need to install the optional update and nothing else if you are running Windows 10. Of course, you can also choose to do a full update from recent official releases using the windows update center on your device and you will be good to go.
More about VPNs and proxies
How do you know if you are using a VPN or proxy to access the internet if you are using a company-issued device?
A proxy server is usually a device or computer (mostly servers) on your company network that acts as a hub to control access to resources on a company network. Most companies use proxy servers to intercept any traffic coming from company devices for management and security purposes. You don't need to mess with your proxy server setting if you are using a company-issued computer but they can be changed on your browser's settings or Windows 10 internet settings.
A VPN service sits between your computer and the internet. It's used to secure your information from third-parties as it comes to or leaves your devices. By doing this you'll be assured that anything you receive or send to the internet when you access remote services or your company network and other things will be encrypted and secured from third-parties.
How to install a VPN service
Anyone with an internet device can install a VPN service. A VPN can come as a browser extension, standalone software or mobile application. Install the VPN in any of these formats and in the end, test the VPN for free. Most VPN services offer a generous free trial that you can use to test before you make the purchase.
Standalone VPN vs browser extension
As mentioned, you can choose to install the VPN as a browser extension or a standalone application on your devices. How do you know which to use and are they the same thing?
A VPN that comes as a browser extension is good but it only protects the data on your web browser. The VPN will protect your browsing data, web-based emails and any other information coming through your web browser. On the other hand, a standalone VPN application will ensure that everything coming to and leaving your device is protected. This is why most companies prefer to install standalone VPN apps on their devices.
Was this article helpful?