Hello friends, Today I will share 10 best 3d games Android 2018. You can download these 3D games on your Android device. All these games are free, and you can download them on your Android Phone. It has an updated list of best 3d games 2015, 2016 and 2017. This new list of best 3D Games for Android devices is extraordinary. It has several unique and exiting Android 3D Games.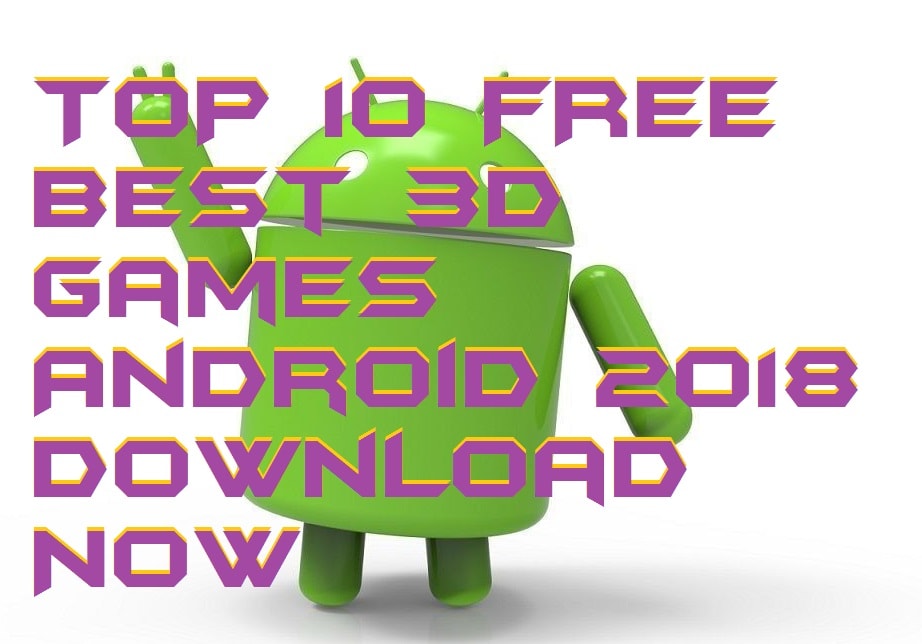 TOP 10 Best 3D Games Android
All these are free best 3d games Android device. You can download these 3D Android games on your device. These games have interesting 3 animation which makes your game look real. You can enjoy the great graphics with 3D experience on your Android device. Since the advent of mobile gaming in the early 2000s, it has undergone a vast improvement over the years. While once our options were limited to angry birds, solitaire, and bouncing balls. Now we have a whole plethora of 3D games. A significant number of 3D games are being released every year into the market, but only a few of them are entirely worth your time. And today, let me list you out the 10 best 3D android games.
Best 3D Games for Android
O.V.A. Legacy

Game of Thrones

Dungeon Hunter 5

Dead Trigger 2

Batman: The Enemy Within

Blitz Brigade

Real Racing 3

Bullet Force

Marvel Contest of Champions

3D Pool Ball
---
O.V.A. Legacy
N.O.V.A. Legacy is one of the most popular FPS 3D games based on the spectacular first episode of the N.O.V.A. Saga. This game combines FPS with Sci-Fi elements and provides you an epic adventure of a game. You play as Kal Wardin, an N.O.V.A. marine veteran out on a mission to take out the enemies of the Colonel Administration Forces. You receive help on your mission by Yelena, your own AI secretary cum agent.
Read more: How to Play Android Games on PC Windows 7, 8, 8.1 & 10
---
Game of Thrones
Now, this is a name that needs no introduction. Of course, when I say the name "Game of Thrones," I mean about the uber-popular TV series with dragons, warriors, magic and all that. But, take it from Telltale on how to make an epic TV series and convert it into a similarly epic android game. Game of Thrones is a story-based offering from the marvelous Telltale Games, and they don't disappoint. You play with real GoT characters in this 6 episode game and find your way out of the fiery situation this game throws you to and win.
---
Dungeon Hunter 5
Dungeon Hunter 5 is the fifth installment in the popular Dungeon Hunter franchise by Gameloft. You play as a bounty hunter in an age of darkness and fight epic combats against bandits, monsters, and much more terrifying creatures. You can both be a hero and battle for good, or you can be a mercenary and fight for gold; the choice is yours! If you love fantasy elements and epic feel in a game, Dungeon Hunter 5 is the best 3d Games Android.
---
Dead Trigger 2
Here is something for you if you love or just want to shoot zombies. Dead Trigger 2 is the spectacularly gory sequel to the Dead Trigger and is an FPS shooting game where you shoot Zombies; an endless horde of them. The game lets you choose from a terrifying range of arsenals you can use to shoot the undead mercilessly. The game keeps on updating regularly bringing in new features and scenarios every time enhancing your in-game experience and the fun factor.
---
Batman: The Enemy Within
Last year, Telltale launched its own Batman game saga and provided us with its unique take on Batman story. This year, they went one step further and out-did themselves with the spectacular Batman: The Enemy Within, the second part in the series. The best part of this game is that you play as both Bruce Wayne and the Batman and your choices define how the story is going to go forward. It's like writing your own Batman movie script. To all the comic fans out there, play it immediately.
Download Batman: The Enemy Within
Read more: Top 10 Best 3d Games for Android 2017 – Download Now for FREE
---
Blitz Brigade
A Gameloft offering, Blitz Brigade is another outstanding FPS shooting game with a cartoonish and funny touch. This game sends you to an alternate history where the sensible military leaders were the warring parties of Axis and Allies. To avoid a world war and instead decide to just pick up the most significant and most trigger-happy soldiers from both sides. To have a team shootout in arenas full of guns, tanks, bombs and everything which sounds BOOM!
---
Real Racing 3
From the masters behind all the legendary EA games (Cricket 2007, FIFA series and lots more), Real Racing is another ultra-popular and award-winning sports 3D game franchise. And its latest offering Real Racing 3 does complete justice in honoring the name of its predecessors. The game contains over 39 licensed circuits across 17 locations with a 43-car grid and over 140 meticulously detailed cars\. If you love adrenaline-pumping races, Real Racing 3 is a must-have on your list.
---
Bullet Force
Taking the next spot on our list is another FPS 3D game this time in a traditional setup and background. In Bullet Force, you play along with your friends in a spectacular and blood gushing 20-player battles with an array of real iconic weapons. The game contains over 20 weapons with 30 gun camouflages and multiple optics, laser sights, barrel attachments and what not.
Read more: How to Refund Games on Steam
---
Marvel Contest of Champions
This one is for the comic buffs out there. If you like Marvel and its superheroes, you'll love this game. After all, it pits all your famous Marvel heroes and villains against each other in a showdown with only one coming out victorious. All you have to do is gather a team of your favorite Marvel characters like Spiderman, Wolverine, and Ironman and battle it out to become the ultimate Marvel champion.
Download Marvel Contest of Champions
---
3D Pool Ball
3D Pool Ball is another excellent and authentic feeling 3D sports game for your Android device and provides you with an exhilaration real pool playing experience. It provides you with a 3D view of an actual pool game unlike other games like this available out there. The game runs in a story mode where you start from scratch to build your legacy as a master pool player while you compete with other (real) pool pros from around the world. You can also compete in tournaments and earn trophies for your showcase.
---
Last Words on TOP 10 Best 3D Games Android 2018 Get Now for Free
These are the best 3D games Android devices. You can play these games on all kind of Android devices like Phone or Tablet. We have shared the best and most trending Android 3D games. You can also share your best 3D games Android in the comment section below and don't forget to share this article with your friends.
Was this article helpful?