Hello, friends! Today I will tell you best methods to fix Windows 10 Crashes issue. Users can follow these methods to fix Windows Crashes problems. You can even fix blue screen issue from your Windows PC/Laptop. Windows 10's Blue Screen of Death is the most common crashing it undergoes. These problems are quite common in Windows 10 and are not that harmful as they are in the older versions. These problems occur due to software incompatibilities and hardware drivers.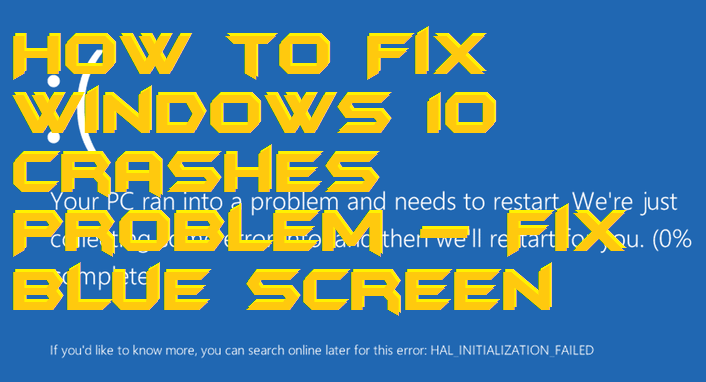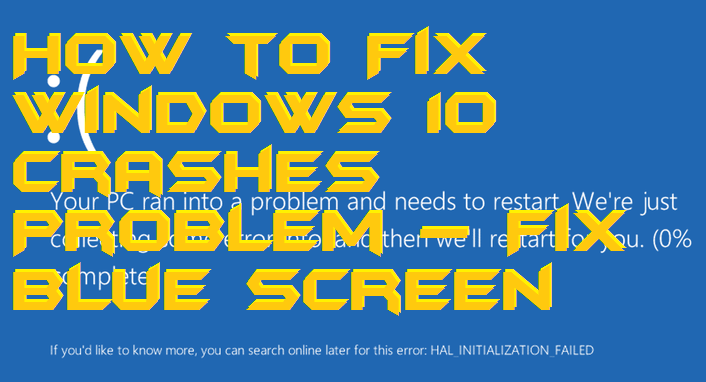 Windows 10 Constantly Crashing
To know more, as to why your Windows 10 crashes or any applications crashed you can check Reliability history. Just type View reliability history in Cortana. The window shows recent application crashes with proper time and dates. This maybe one of the many reasons why your Windows froze. The circled red X shows some critical events that may have been the culprits behind the Blue Screen of Death. Select the application you think might have caused the crash and view details by double clicking it. If you don't find an appropriate issue click Check for solutions to all problems present at the bottom of the screen. It is not totally reliable but provides information about some critical issues the user needs to know.
Read more: How to Force Windows 10 Updates to latest Version – 100% Working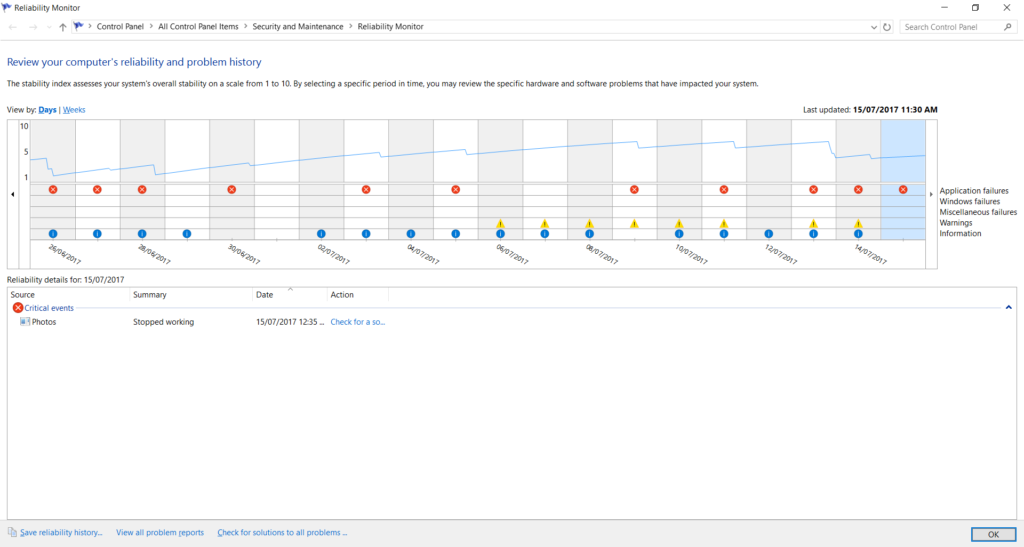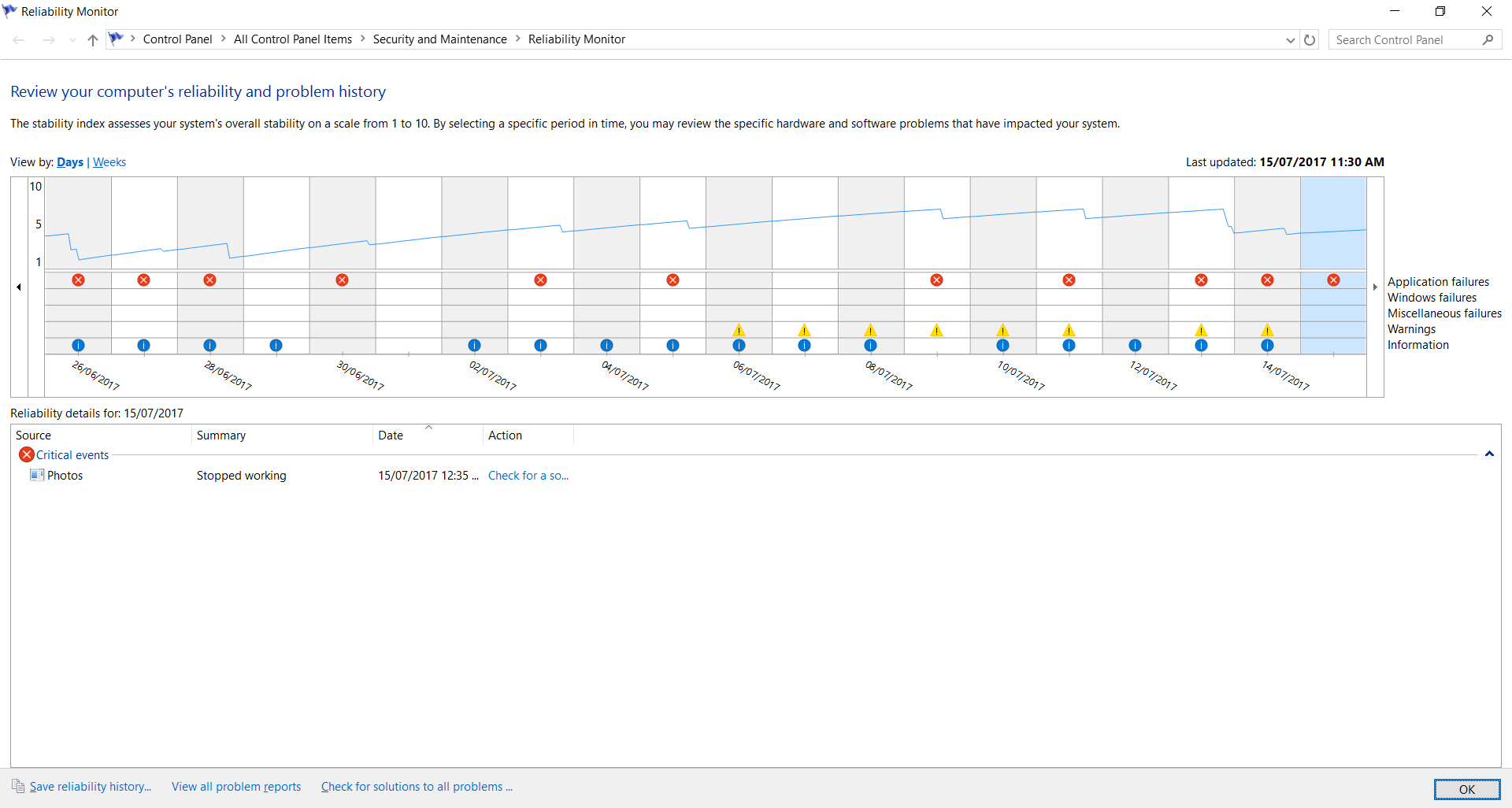 Windows 10 Crash Blue Screen
You can even download a software that checks the dump files when Windows 10 crashes like the NirSoft's BlueScreenView utility. When the blue screen appears, Windows dumps files into a particular file that contains useful information for troubleshooting. The utility helps to view those files and see what info it contains. Sometimes a list of drivers is seen that imply a particular file related to some damaged hardware like the graphics card.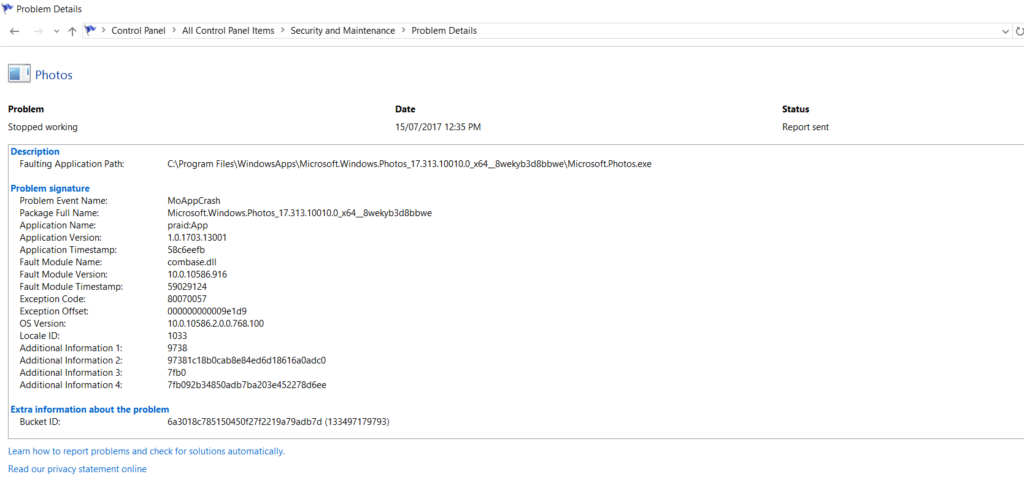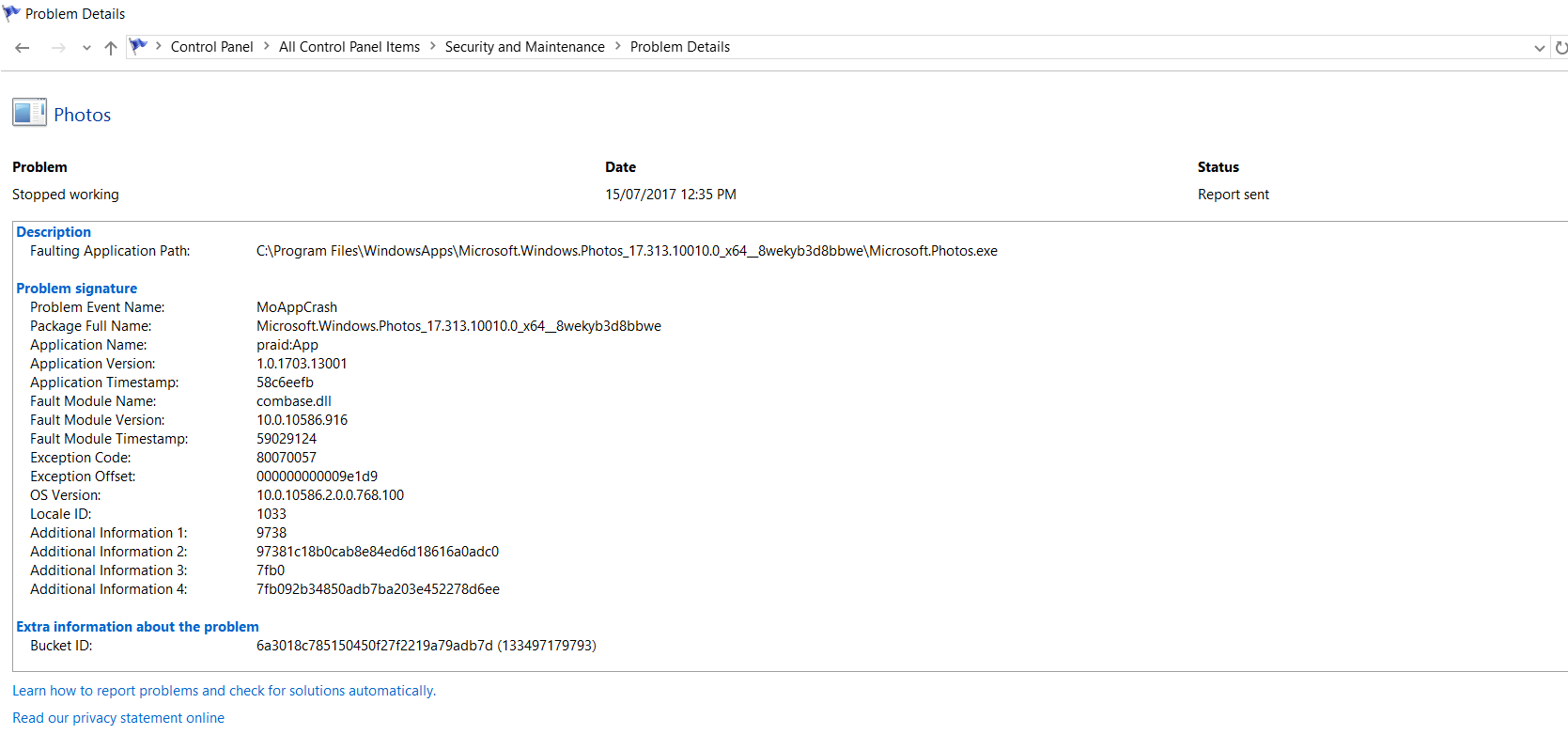 How to Fix Windows 10 Crashes – Fix Blue Screen
Firstly, don't be a part of Windows Insider programs as your PC may get automatically updated to their Preview Builds. Go to the Settings => Update&Security => Windows update => Advanced options to check if you are part of it.

Update Windows
If you have a good internet connection, then update your Windows immediately. This helps to fix issues related to application crashes. Your PC gets automatically updated under the WiFi. But don't depend on it and update it manually. To do so, open Settings => Update&Security => Windows update => tap on Check for Updates.
Read more: Top 3 methods to Download Windows 10 Creators Update and Upgrade Assistant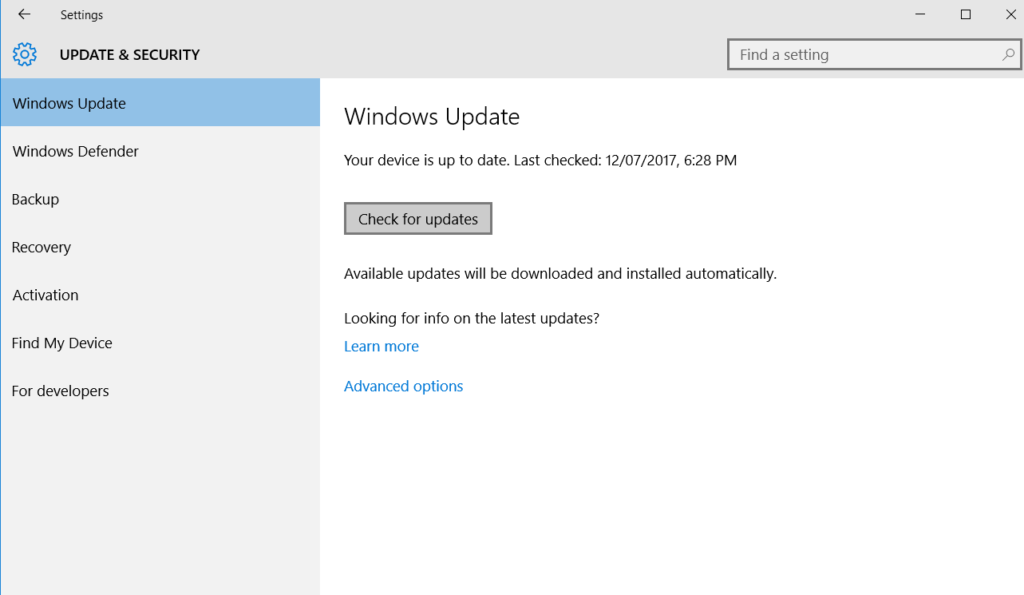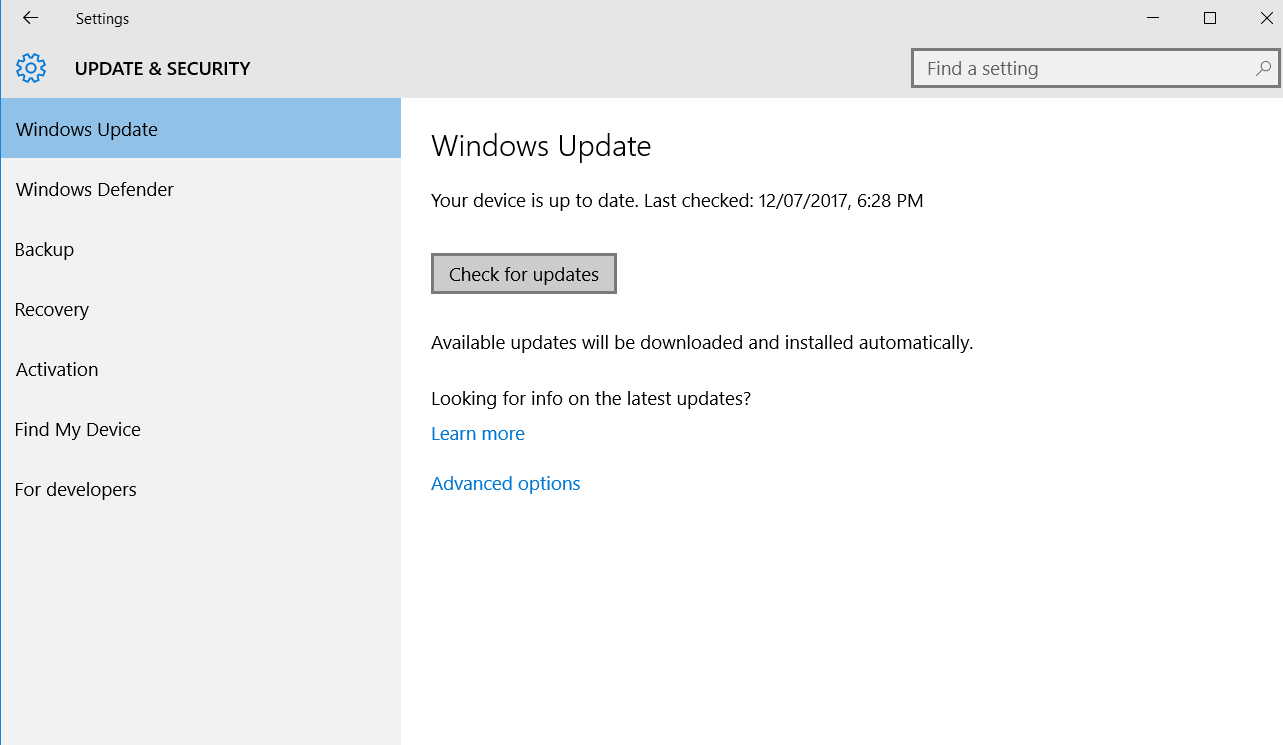 Roll back to older version
You can always go back to the older version where there are fewer bugs. New updates may create issues with compatibility. To roll back to older version follow the following steps.
Open Settings => Tap on Update&Security => Click Recovery => You will see a caption saying Go back to an earlier build => Click on Get started => Click Next if you don't want to check any updates and want to turn back to the older version.
The files made in the updated version might get deleted, so it is better to have a backup of all the files.
Read more: How to Reset PC Windows 10 – Top 5 Best Methods to Fix Problem of Resetting Your PC/Laptops
Last Words on How to Fix Windows 10 Crashes – Fix Blue Screen
You can re-install the version of Windows you have. But the main problem that you might face is the formatting of files. You might be given the option to "Keep my files" and delete all the other applications and settings. This will keep your personal files save. Some problems may not be solved from troubleshooting. Your computer may have hardware issues that need to be looked into. If Windows crashing is not on a regular basis, then you need not worry about it. But if in case, every time crashing is frustrating you, then you need to make some changes to your computer. I hope you found this article helpful. Please comment and don't forget to share.
Was this article helpful?