I have shared the 5 best ways to update blog content. You can update any type of content from any niche. These tips will help you to rank content on Google very easily.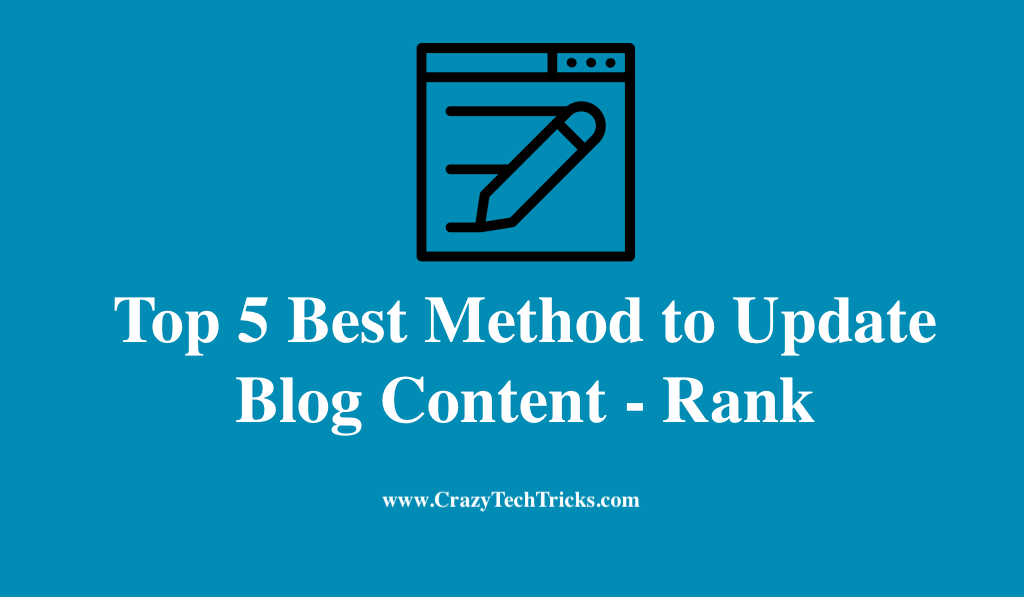 There are tons of articles that are being published on the internet. In fact, there are more than two million articles that are being put on the internet every day. Since there are so many articles now, it's more important than ever to maintain your articles in compliance with the latest algorithm updates and SEO guidelines. To keep up with the ever-changing industry, we must constantly update blog content in order to achieve the highest level of engagement.
Read more: How to Fix CMOS Checksum Error
Method to update blog content
The best methods to update blog content are listed below. You can follow any of them or all of them to update the content.
Include Publishing year along with heading
In order to avoid being penalized by search engines for posting duplicate content, you may simply edit and upload blog content. When you need to make changes to a published post, you normally copy and paste the text into a new document. Then paste the HTML back into the original when you're ready to republish since it is currently available on the internet. However tempting it may be to change your post's URL, it's crucial that you maintain it, even if it automatically redirects.
Ensure Content Accuracy
It is possible for good content to become stale and out of date after some time. Assess the post's accuracy and make any necessary edits or additions to update blog content. Make sure all sections that are no longer relevant have been removed and all headers for new sections need to be added or replaced before editing begins. The following objects should be considered when you update blog content on your website:
In the event of a change in circumstances, take new screenshots.
Inspect and update relevant keywords.
Eliminate the content that is no longer useful.
It is important to add more recent stats and examples and remove older ones that are obsolete.
Read more: How to Delete a Venmo Account on Windows
Modify Headline, Retain keyword
The headline of the blog should not be dramatically altered. If you need to change the title, make sure you keep the keywords in it. The URL has more importance than the headline, but the headline is still important.
Meta Descriptions Should be Improved
Identify the relevant keywords for the content. The meta descriptions for your content don't affect your search engine ranking, but they can impact how many people see your material when they look for it on the web. Meta descriptions should accurately reflect your post's content and encourage search engines to follow the link to your site.
Read more: How to Update BIOS
Add an Editor's Note for Total Transparency
Putting an editor's comment at the bottom of your amended article is an excellent idea if only for the sake of openness. If your post has a lot of comments, make sure that the data is accurate. Your post can be recent, but your readers will think so if there are comments from months or years ago.
Read more: How To Calculate Square Root in Microsoft Excel
After following the above method, you can reissue the updated blog content.
Conclusion
If you wish to make your blog appear professional, you need to edit or update blog content. It is the quickest and most efficient approach to accomplish this goal if you create an exhaustive editing checklist for every article and go through it for everyone. Additionally, the content in your archives could benefit from a thorough editing process, which would improve clarity and quality as well as increase SEO.
If you want to update your blog's content, however, you can use the methods listed above. We hope you find this article useful; if so, please let us know in the comments box below.
Was this article helpful?