You can read Sony Xperia Z5 Specifications with Price. I have shared complete details about the Sony Xperia Z5 with all hardware and software info.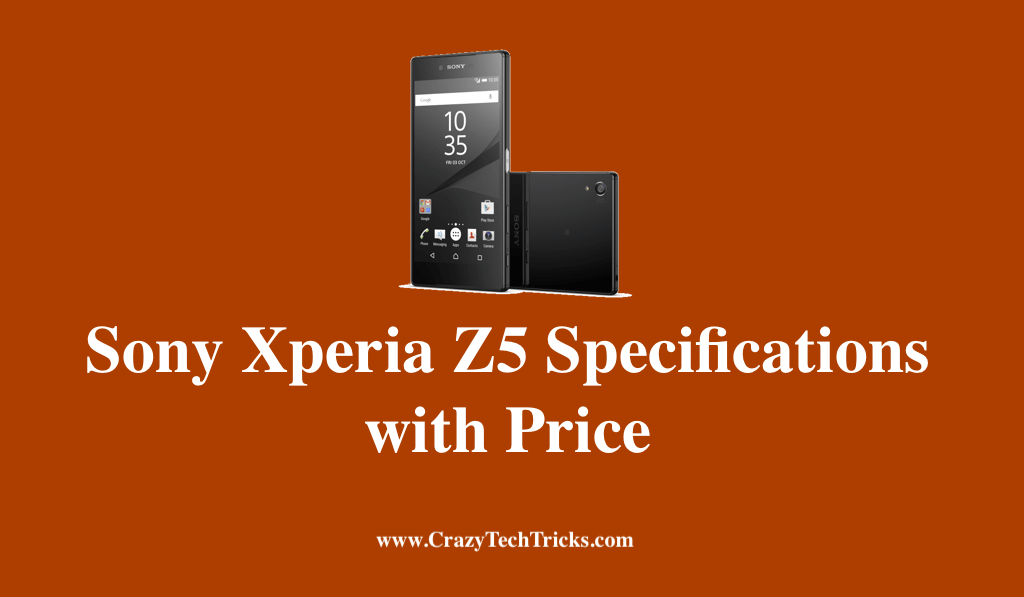 Sony's Xperia Z5 is an Android-powered mobile. It first came out with the project code name "Sumire." The Xperia Z5 Compact and Xperia Z5 Premium were shown off at a press conference at the IFA 2015 show in September 2015. Unquestionably, Xperia Z5 is among the top of the best Sony phones list. Because it's quite expensive, not everyone can afford it, but many alternatives are less expensive.
Moreover, Sony Xperia Z5 Dual carries on the tradition of being one of the best smartphones of all time, despite not having the superb craftsmanship of its predecessors. Additionally, This phone has been updated to include a fingerprint sensor while also maintaining its IP68 weatherproof rating. On the other hand, it is deactivated in the US edition.
Read more: Samsung Galaxy S9
Sony Xperia Z5 Specifications with Price
Sony's Xperia Z5 Dual maintains the tradition of craftsmanship and attention to detail established by its predecessors. The phone has been updated to include a fingerprint sensor while also maintaining its IP68 weatherproof rating. However, Here are some general sony Xperia Z5 specifications with price while we go into the particulars of the system's hardware and software.
Sony Xperia Z5's other common monicker is E6683. 
In terms of form factor, it has a touchscreen, while its dimensions (in millimetres) are 146.50 x 72.00 x 7.30 and its weight (in grams) is 144.50.
When it comes to the battery, it has a capacity of 2900mAh and is non-removable.
It is available in white with a Graphite Black finish, gold with a gold finish, and green with a green finish.
Prices for the Sony Xperia Z5 in India begin at Rs 22,499, although the device's pricing in the United States is approximately $778. Well, the price varies depending on the colour.
Read more: Samsung Galaxy S8 Full Specifications
Hardware Efficiency
For the first time, Sony's new Xperia Z5 has an aluminum frame with a frosted glass back to prevent fingerprints from appearing on the back of the device. Additionally, some more of its hardware efficiencies are:
It has a Qualcomm Snapdragon 810 system-on-chip with 3 GB of RAM that runs at a speed of 2.0 GHz on a 64-bit architecture on this smartphone.
This gadget has an IP rating of IP65 and IP68, indicating that it is resistant to dust and moisture.
This gadget also has a 5.15-inch (13.1-cm) (1080p display with a density of 424 pixels per inch) and Sony's "Triluminos" technology, which is billed as a 5.2-inch display.
In terms of its rear-facing camera, the Xperia Z5 has a sensor size of 1/2.3 inches and an aperture of f/2.0.
Moreover, it has an Exmor RS image sensor which is superior to Sony's older Exmor RS image sensor used in all of its predecessors, beginning with the Xperia Z1.
Using a microSD card, the 32 GB internal storage can be expanded to 200 GB.
Read more: Best Android Phones Under Rs 10000
Software efficiency
Sony Xperia Z5 comes pre-installed with Android 5.1 Lollipop, as well as Sony's proprietary interface and apps. Moreover, list of some more of its software efficiencies are:
On the Z5, you can access many Google services. You can go to Google Play on the Z5. Using it, you can download and buy apps, music, movies, and ebooks.
After the January 2017 update was released, there were some problems with audio playback on third-party apps and read performance of SD card encrypted data. The update was later halted.
Its supported Wi-Fi technologies include 802.11 b/g/n/ac.
Also, it has Bluetooth version 4.10. 
Furthermore, it is compatible with the nano sim slot type.
Read more: iPhone SE Full specifications
Conclusion
Sony never released the Xperia Z4 in the United States and instead marketed it as the Xperia Z3+ because it was so marginally better than the Xperia Z3. However, with the Xperia Z5, Sony has introduced a new number, implying a more significant upgrade. With a metal frame and a glass back, the Sony Xperia Z5 appears to be just as high-end as competitors such as the Samsung Galaxy S6. Although it's not the best display on the market, it's better than the Samsung Galaxy S6 and Sony Xperia Z5 Premium screens.
Was this article helpful?