You can delete a Venmo account online in Windows and Mac PC/Laptop. I have also shared separate methods for Android and iPhone. Users can even delete a frozen Venmo account.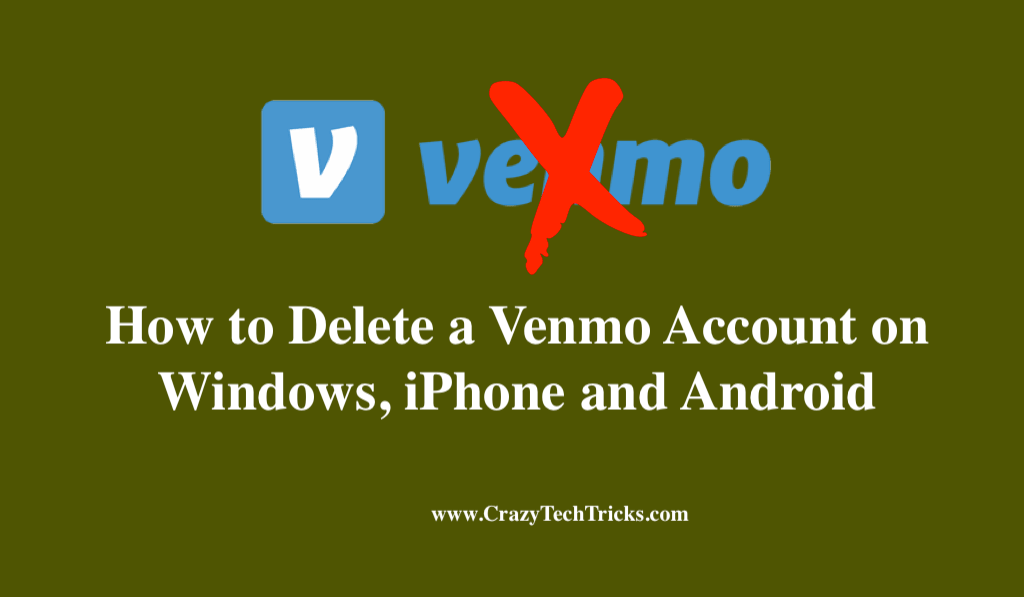 Venmo is a well-known virtual wallet that enables you to send and receive payments amongst pals. In 2009, it began offering mobile payment services with the goal of providing our customers with convenience. When you officially opened a Venmo account, a lot of your personal and financial information was disclosed.
How to Delete a Venmo Account
In the meantime, you may be concerned about the possibility of identity theft or other cybercrimes because of your open, unused account. Well, you can cancel your digital wallet account at any moment. You have the option to close your profile and erase your personal data. If you don't want to keep an active Venmo account on your PC, follow the procedures below.
Visit the Venmo home page and log in using your favorite online browser.
Select Setting from the Venmo main screen, which displays your most recent transactions.
Simply scroll down to the bottom of the page and click the link to close your Venmo account.
Click Next.
Upon closing your account, you will receive an email asking you to view and download your most recent statement before moving on.
Once you have received your Venmo statement, select Next.
You'll be prompted to confirm your decision to terminate your Venmo account in a pop-up window.
Click Close Account or Cancel if you decide to abandon the process.
You will be reached by mail once your account has been closed.
Read more: How to Delete LastPass Account
Delete a Venmo account on iPhone
Venmo's iPhone app allows you to send and receive money, however as of right now, you can't delete your account via the app. You can, however, plan on your account getting deleted from the mobile app before the event. To terminate any account on Venmo, you must have a balance of $0. See if there is money in your account by following these guidelines.
Login to Venmo account link.
Select "You." 
Click "Add or Transfer."
Enter the desired withdrawal amount here.
You can select "Instant" (pay a fee) or "1-3 Business Days" (wait a few days) (no cost).
Choose the bank account or debit card to which you wish to transfer funds.
Click the green "Transfer" button to confirm.
It will take a few days for the transaction to be fully completed once your account has been drained. Venmo will notify you when you withdraw money, but you shouldn't delete a Venmo account until your bank confirms it.
Read more: How to Delete a Google Review from Search
Remove a Venmo Account on Android
In Venmo's Android app, you may not deactivate your account. Although the majority of customers conduct their transactions through mobile devices. You can delete your Venmo account by logging into the Venmo website. For this, all you need is a laptop. However, Deleting a Venmo Account on Android is impossible, but you can utilize it in the beginning stages.
Read more: How to Delete a PayPal Account
How to Delete a Frozen Venmo Account
The process to delete a frozen Venmo account can only be done through PCs or Laptops. You just can't do that from your mobile. All you have to do is go to your Venmo account page on your computer or laptop and select "Close my Venmo account."
Read more: Delete Temporary Internet files on Windows 10
Conclusion
Handling an inactive Venmo or other money accounts that keep you awake at night is not impossible. The only way out is to delete a Venmo account completely. If there are any funds left in your Venmo account, you must transfer them to your bank account or request that they be returned. Therefore, we hope that this article might be helpful for you. Do let us know about it in the comment section below.
Was this article helpful?