A portfolio is an important thing for a successful career and lucky deals for photographers and designers. Therefore, it allows to see the level and quality of work by a professional and understand whether it is suitable for a client. Hence, nowadays, it is not as used as it was before – a huge book with pictures, photos or illustrations, which mirrors the. Currently, many successful professionals have their portfolios online, which helps even to build a business based on the website. As a result, for photographers and designers, it is crucial to have results of their work presented online.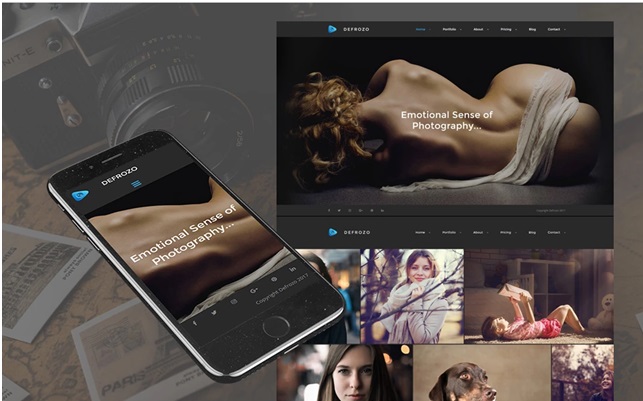 Furthermore, you do not need to have knowledge and skills as a programmer in order to create the website. Currently, there are a large number of various templates with an opportunity to create pleasant web design with just small amount of effort. Hence, even the best templates have their pros and cons.
Read more: Themify Vs Elegant Vs SKT Themes – Best Page Builder for WordPress
Best MotoCMS Templates for Photographer and Designers Overview
For example, such templates, as Photographer Portfolio, Landscape Design, Photographer Portfolio #2, and Design Studio by MotoCMS share the same characteristics. They are adjustable, responsive and easy for setup templates. All of this makes the process of website creating simple and allows creating a website, which will perfectly reflect its owner's personality and views. On the other hand, these templates are not flexible enough to change basic presets, which will unnoticeably shackle possibility to freely adjust it. All things considered, they are easy tools for creating an online portfolio for most users.
Read more: Google DNS vs OpenDNS vs Comodo DNS vs Norton DNS – Which is Best DNS Servers?
The other template, Defrozo Photographer Portfolio created by the same author offers more variants to choose from and has a large number of built-in presets. As a result, it is possible to find and adjust any theme accordingly to preferences and needs, which is an important feature. Additionally, it shares the same pros as previously mentioned templates – drag and drop editor, various widgets and blog feature, which makes it a powerful website builder for those who do not know even think about coding. Moreover, it also has built-in Aviary editor, which allows quick photo editing. Surely, it cannot be compared to professional programs, as Adobe Photoshop or Lightroom, but it is also a quick and powerful tool for these purposes. However, a big number of additional features does not mean that everybody needs them and will use. As a result, this template is perfect for those who want to stand out with an original and built a website that represents the personality of its creator.
To sum up, there are many various templates for website creating. They are made for different purposes and each one of them has its unique features, but it is possible to find the one, which will suit personal requirements of any creator. Hence, the website theme must be chosen individually in order to have the best experience of using and adjusting it.
Was this article helpful?