I have shared 3 ways to show battery percentage on iPhone 12. You can check the batter % with complete green indicator on iPhone 12. You can see the exact percentage of your battery on iPhone 12.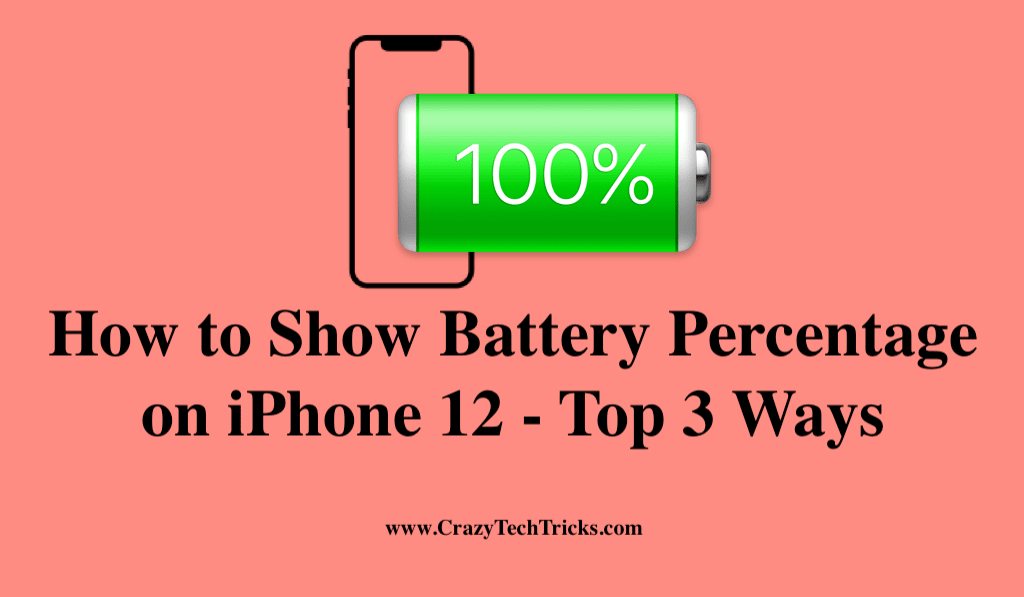 The iPhone battery status indicator does reflect how much juice is remaining. That's the most popular way to figure out how much battery life is left. However, knowing the true percentage of battery performance can help you more effectively in determining its charge left.
Recent iPhone models, like iPhone 12, don't show the precise battery percentage along with the icon for your phone's power source anymore, as you may have observed. However, it is now possible to determine its percentage using only three approaches.
Read more: How to Calibrate iPhone Battery
How to Show Battery Percentage on iPhone 12
Checking the battery % is the first thing we do in the morning before heading out for the day. And, as we all know, the iPhone does not display a percentage on the screen. Nevertheless, there are three ways to accomplish this. You have three options for making the indicator visible on the screen.
Default
Widget
Siri voice commands
To further understand it, let's look into it in more depth.
Read more: How to use your iPhone as a Webcam for Recording
Method 1. Default
The iPhone 12 has a built-in method for displaying battery percentage. As the notch conceals a section of the screen, you will not be able to see the battery percentage in the upper-right corner of the iPhone 12 family. However, activating Control Center allows you to instantly monitor your battery's remaining %. It will show battery percentage on iPhone 12.
You can access the iOS Control Center by swiping down from the top-right corner of your iPhone 12's screen. To do so, slide down from the battery icon on the top edge of the screen.
In the upper right corner of the screen, just next to the power button icon, you will find the battery percentage. This shows how much battery life your iPhone 12 has remaining.
To remove Control Center, slide it anywhere on the screen to the right or the left. By this method, you can monitor the current battery percentage at any given time.
Read more: How to Clear RAM on iPhone
Method 2. Widget
This feature is included in iOS 14, which is pre-installed on the iPhone 12. The iPhone 12 operating system includes a free "Batteries" widget that users can set on their home screens or the Today View screen. It will give you a brief indication of how much battery life you have left.
Wait until your icons start jiggling to add a widget.
Tap the addition sign ("+").
Click on the Battery option which can be found in the widgets drop-down menu.
Choose the widget design you would like to use. Simply swipe back and forth to see all the choices.
To add a widget, select it and then click Add Widget.
When you're finished, click on "Done" in the upper-right corner of the screen. Apple gadgets such as the Apple Watch and AirPods can now be seen in the Batteries widget.
Read more: Advantages of iPhone 11
Method 3. Using Siri Voice Commands
With the help of Siri, you can find out how much battery life you still have left on your iPhone 12. You can activate this feature simply by programming an Apple Voice Command to ask how much battery life remains on your iPhone. You can ask Siri a variety of queries, for example: What's the status of my battery? What percentage of my battery life am I still left with? etc. These commands will not show battery percentage on iPhone 12 and Siri will also speak the percentage.
Read more: How to Clean iPhone Charging Port
Conclusion
Nowadays, finding the battery percentage indicator may not be as straightforward as back in the iPhone's early years, but it is still quite simple. As we don't want our iPhone 12 to run out of battery life, knowing how much power is remaining in your phone is critical. We looked at several ways to display the percentage of battery left on your iPhone 12. Moreover, The battery of the iPhone 12 plays a crucial role in how the device works and this is a fantastic method to check its health.
Was this article helpful?