Hello friends, Today I will tell you a method to Downgrade from iOS 11 beta to iOS 10. Users can get back to older version of iOS on their iPhone, iMac or any iOS without losing any data. This trick will allow users to Rollback to iOS 10 from iOS 11. Users can restore the iOS 10 version on their iOS devices.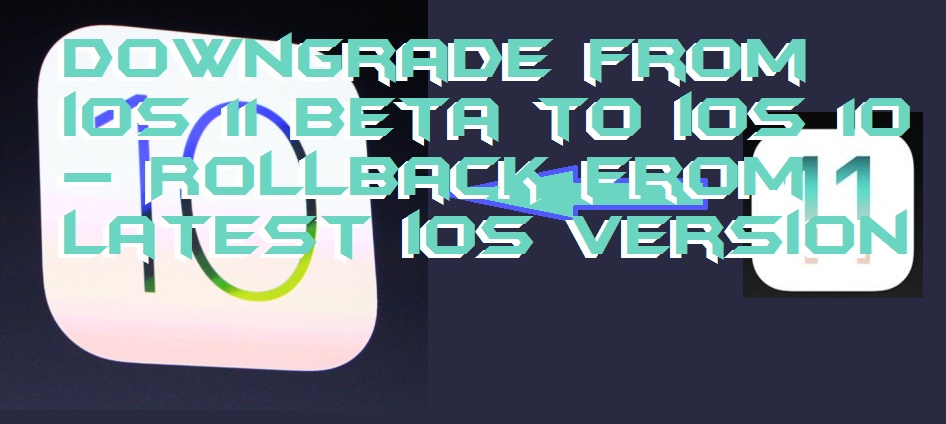 Switch back to iOS 10 from iOS 11 beta. You might not have liked the iOS 11 beta experience. It has been released with plenty of bugs that need to be fixed. You might have got tired of the app crashes and may want to switch to back to iOS 10. You might want to backup your data as this method of downgrading can erase all the data not stored on iCloud. Until the public release of iOS 11, you can use the iOS 10 as afterward Apple will stop the older iOS firmware versions and you won't be able to downgrade any further.
Read more: How to Record a Phone Call on iPhone Secretly – 100% Working
Requirements to downgrade from iOS 11 beta to iOS 10 
Be ready with your device, USB connector, copy of iTunes; you will have to download suitable iPSW file for your device. Using iPSW file is like using factory reset. You will need an iPSW file for your model. Download the file to your computer.
Read more: How to Make iOS 9 Faster on your iPhone, iPad or iPod Touch devices
Archive your backup
Start iTunes on your Mac.
Click Summary => Backup Now. Wait until it finishes.
Select iTunes => Preferences => Devices
Long press Ctrl key and click on backup
Select the option Archive.
Like this, you will have securely Archived your backup.
Read more: iOS 11 – Advantages and Disadvantages [iOS 11 vs iOS 10]
How to Downgrade from iOS 11 beta to iOS 10 – Rollback from latest iOS version
First turn off the "Find My iPhone" feature if enabled on your device. Go to Settings => (Your Name) => select iCloud => tap on Find my iPhone or Find my iPad
Connect your device to the computer using USB connector. Open iTunes.
Now you will find the device icon to the upper left corner. Click on it.
You will be led to a Summary page. On the Summary panel, you will find Restore (Device Name).
Long press Option Key on Mac or Shift key on Windows and click on the Restore (Device Name) button. This will send your device to recovery mode. When you do this, it helps to load the file browser to select a custom restore file. Otherwise, iTunes will allow you to choose only the local backups.
After you click the Restore, you won't be able to do any backups and also no warnings of formatting will be given.
Select the iPSW file from where you saved after the download in the file explorer.
Click open and the process begins.
Click Restore on the window that appears saying iTunes will erase and restore your iPad to iOS 10.3.3 and will verify the restore with Apple.
Your device will now be downgraded from iOS 11 beta to iOS 10.3.3.
The backup from your iTunes will be asked to be restored right after the process finishes. Select Backup and click Continue.
Last Words on How to Downgrade from iOS 11 beta to iOS 10 – Rollback from latest iOS version
There are some risks going back to the older version. Sometimes it may happen that your device may not turn on. The data loss is the ultimate result but other than that there might be other risks as mentioned earlier. Get an archived backup before you use iTunes to restore an older version. I have given down gradation to 10.3.3 version. You can downgrade to other versions of the iOS 10.3.2 which is also one of the stable versions.
Was this article helpful?