Hello friends, Today I will tell you a trick to Record a phone call on iPhone secretly. Users can record any Phone call on their iPhone secretly. It will record all your incoming and even outgoing calls on iPhone. Users can use both free and paid methods to record a call on iPhone.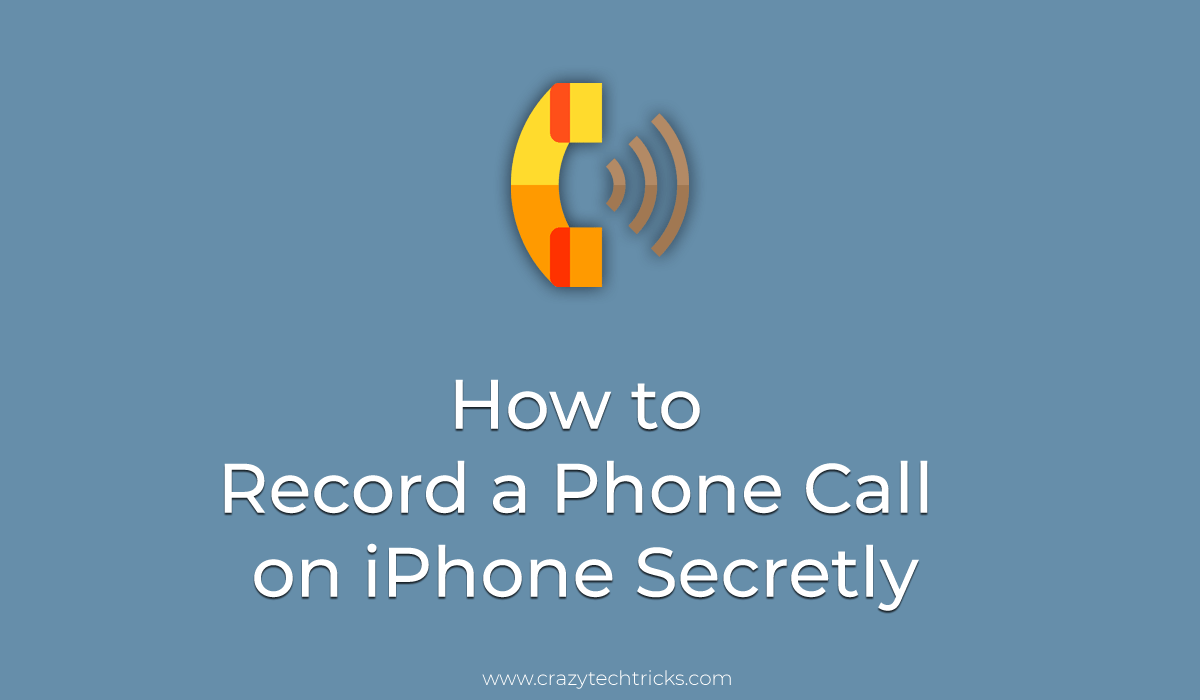 Note: This method is for education purpose only. Recording a call can be an offence in your country. So, make sure you obey all the laws of your country and then proceed.
How to Record a Phone Call on iPhone Secretly – 100% Working
Record a phone call on the iPhone secretly. Whatever your motive may be, it does not concern. After all, you must know all the tech hacks present in this world. It is mainly for your knowledge. I will recommend you not to misuse any of the methods presented here.
Read more: How to FIX iPhone Stuck on Apple Logo Without Restoring
iOS presents a lot of boundaries on phone call recording. Third-party apps need to take permissions to gain access to the recording media of your iPhone. Though there are specific apps that help with recording phone calls, they are not always fruitful and are tedious to operate. So here are some beneficial ways that may help you.
How to Record a Phone Call on iPhone Secretly By using TapeACall
TapeACall has two versions called the Lite and the Pro [Link]. The Lite version allows the user to record calls only for one minute. TapeACall Pro enable many facilities to the user.
In the Pro version, a feature called three-way calling is present. When on a call, you need to open the app and press record. The app has the controls now, and it puts the call on hold and dials on their line of recording. After pressing Merge Calls, you make a three-way call joining the person on the other side, yourself and the app's recording line. When on an outgoing call, the app doesn't take efforts to put the person on hold. You need to tap Add Call àCall the person àpress Merge Calls when the call is picked.
Read more: How to Block Text Messages on iPhone 6, 6S, 7, 5 and 5S
This app connects its line of recording with your calls. Therefore, it is not feasible to rely on the thought that the recorded call is saved with just you. The company has these calls saved on their lines though they assure us with the privacy concerns. The company pulls their profit by adding cost to the incoming and outgoing call recordings by their in-app purchases.
You can avoid cost and privacy concerns by using voicemail. Tap on Add Call à dial your number à press Merge Calls and this goes directly to voicemail. The recorded call thus gets saved in the Voicemail folder of your iPhone app. Though there are some carrier problems, this method is still feasible.
How to Record a Phone Call on iPhone Secretly By using External recorder
It may seem an outdated method, but if you want to record the call secretly without letting the other person getting any hint, this is the most versatile one. The Voice Memo app on iPad helps in doing so. When on a call, just switch on the voice recorder of the device nearby and the call from both the parties gets recorded without the need to put the call on hold or without the interference of any third party. This method does not bring any privacy issues either or any loopholes.
Read more: How to Download UC Browser for Android or iPhone
Last words on How to Record a Phone Call on iPhone Secretly
You might be thinking if this is even legal. In some parts of the world, it is not. Some states in the US have strict laws concerning this. You need to take and give permissions for the call to be recorded. As long as nobody knows about it, this is perfectly legal. I will remind you again not to misuse these methods. Do comment and share this article with people. Who knows who might need it.
Was this article helpful?