Microsoft is a famous name in the IT realm. Many organizations depend on its products for the day to day running of their businesses. Irrespective of the size of the business, large or small, Microsoft has found its way into practically every organization across the world. Since the company offers its products and services to numerous firms, it makes sense that it equips the professionals working on them with the skills and knowledge required to deliver optimally.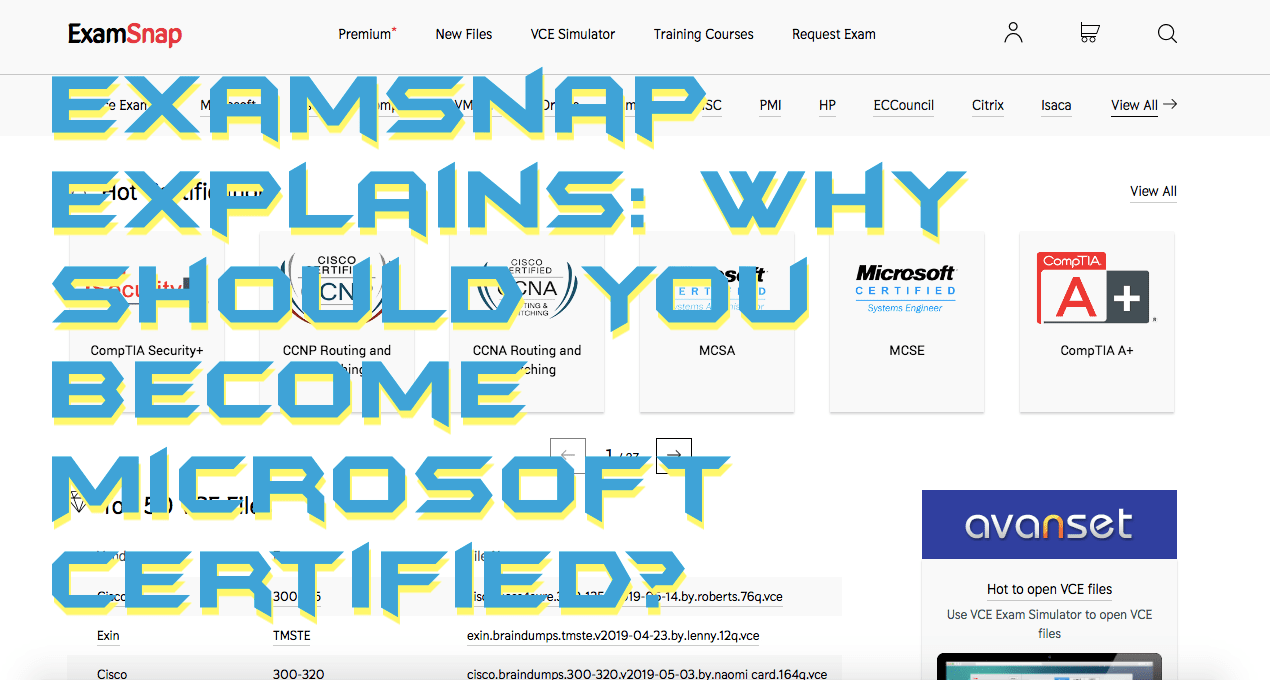 Microsoft offers a lot of credentials that the professionals in the field of IT can pursue to validate their mastery. The specialists can follow the paths of Microsoft software, networking skills, and service certification developing competence in a specific area. Although earning a certificate may not necessarily be needed to get a position in IT, pursuing it has a lot of benefits, and it can change your career prospects drastically. Let's explore some reasons why it is an excellent idea for your IT career to go through the Microsoft certification process.
Microsoft CertificationsSet Your Resume Apart
That's not news that the job market is highly competitive. There are so many professionals in the industry looking for new job roles daily. Unfortunately, the jobs available can't go round for everyone. This is where a certification makes all the difference. With your Microsoft credential on your resume, you show a potential employer that you are committed to studying and developing more on your skills. A certificate puts you on a higher level than your non-certified contemporary, and it gets you noticed.
Microsoft Certifications Provide an Opportunity to Earn More
According to research, professionals with certifications earn more than those without one. The recruiters understand and acknowledge the investment you have made into earning a certificate. The money and time put in preparing for your Microsoft credential are all recognized by employers. In addition to this, they also realize the high value associated with your skills through the exams you passed before earning your credential. With all these, they may want to pay more for your commitment to be a better professional. Besides, your certification equips you with the skills and knowledge required to take up a higher position. The reward of higher remuneration comes with this.
Now, when you consider the cost involved in earning a Microsoft certification, you might be a little reluctant to pursue a credential path. Of course, the price is not only the fee you pay for your exam. You also have to consider the cost associated with training for the exam. In some cases, the price of exercise can be higher than the cost associated with writing the test itself. Well, you don't have to worry about spending a fortune to train for your Microsoft exam. Examsnap offers affordable and up-to-date materials to help you prepare for your certification test. You can start with the free study tools available on the site and later progress to a premium package. No doubt, Examsnap.com has a lot to offer in terms of your Microsoft exam preparation.
One thing though, irrespective of how much you spend in earning your certification, the cost is worthwhile. You can rest assure that the credential will pay for itself in the long run. With your Microsoft certificate, you have access to a more rewarding career that will pay higher salaries. In addition to more job opportunities, you also have high potentials in advancing your professional life at a faster pace. Indisputably, the process of earning a certification is not easy, but the reward is worth it. To make the process easier and more effective, the Examsnap resources are your best option of training and preparation.
Microsoft Certifications Confer Respect on Its Holder
The specialists with the Microsoft certification are well-respected among their peers. The Microsoft credentials are globally recognized, which means wherever you present it, you will be respected. A professional with this certificate has a chance to lead teams and occupy supervisory roles in organizations. According to research, certified specialists are more productive in a team than their non-certified colleagues. The employers know and understand this. Therefore, they give certified professionals more duties and higher roles. If you really want to take up more responsibilities in your organization, it is advisable that you consider achieving one or two certificates.
Microsoft Certifications Give an Opportunity to Join a Community of Certified Professionals
The Microsoft credentials offer their holders the opportunity to become a part of an exclusive community that is solely designed for the Microsoft certified professionals. Becoming a member of this community has a lot of benefits. Firstly, you have exclusive access to benefits and resources on the platform. Secondly, you are also able to explore networking opportunities for your professional and career growth. Additionally, you have a voice in the community, and you can offer your opinions about how Microsoft can improve its credential processes. You can be sure that your voice and views are counted on this platform.
Microsoft Certifications Offer Flexibility of Opportunities
As earlier mentioned, Microsoft is a global organization and it has its products in every company across the world. Both large and small enterprises use Microsoft software to run their networks and servers. Having a Microsoft credential validates your skills and knowledge of the specific products, and with these skills, you can function in a wide range of IT jobs, including a network engineer, a network administrator, a computer support specialist, a Windows migration specialist, and a system engineer.
Microsoft Certifications Help One Upgrade a Certification Easily
With a Microsoft credential, you can upgrade easily to a higher certificate or move to another vendor's accreditation. Although the skills and knowledge gathered during your exam preparation may be particular to Microsoft, but you would have learnt a great deal about the functioning of servers and how you can administer networks. These skills can be replicated on other systems and products other than Microsoft. This means you can always diversify your credential based on your career goals.
Conclusion
The Microsoft certifications are very much in demand among professionals, and one of the primary reasons for this is because of the numerous opportunities associated with them. Are you ready to explore a Microsoft credential? Check out Examsnap for your preparation resources.
Was this article helpful?