Hello friends, Today I will tell you a method on how to record calls using Truecaller on Android. Users can record unlimited calls on their Smartphone using Truecaller. You can even share the recording of these audio files to someone else.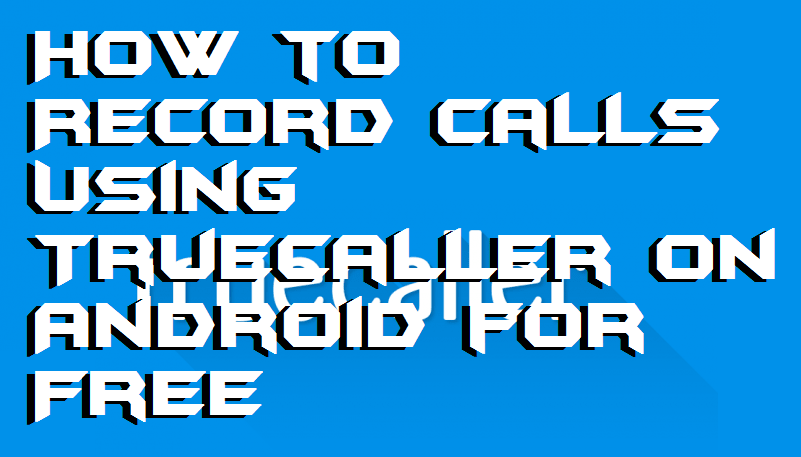 With the increase in the number of people using Android and enormous Android apps are being developed every day. Some of them reach the peak of success while some others taste the dust of failure. One of the most useful android apps is Truecaller. Truecaller is the first choice of the Android users when it is about to recognize an unknown number or even block the spams. Truecaller includes various features that you might not know. One of these features is that you can record calls using it. So, today's article is to explain how to record calls using Truecaller on android. Truecaller is also one of the top 10 must have android apps, Therefore having a feature to record calls makes it best one in its category. Because, before this feature, we had been using third-party software in order to record calls on Android.
Why Record calls on Android Phone
These days a lot of scams, fake calls are going on. Sometimes the situation becomes worse and recording a call becomes an important task in case of having an evidence against something. The situations could be anything from genuine talk to business talk. Therefore each and every user of the Android needs to record calls to be safe from further issues. For what Truecaller provides facility to record calls in its new version. Today, I'm going to explain How to Record Calls Using Truecaller on Android.
How to Record Calls Using Truecaller on Android
Complete the following steps in order to enable the Truecaller call recording feature.
Open the Truecaller app in your Android device.
From the top-left corner tap on the "Options" icons.
From the list select settings.
In the settings menu, tap on call recording.
Now, Truecaller call recording toggle will be ON and you can save calls directly from Truecaller.
Now you know How to Record Calls Using Truecaller. Go and update your Truecaller app and give it a try.
Things to remember while Recording a call on Truecaller
Before using this feature always remember that the version of Truecaller you are using must be latest. If it is not updated with the latest version then go to Google play store and update it.
This Truecaller call recording is only free for 14 days. To get a lifetime access to this feature you will have to buy the premium version of Truecaller. For which you will be asked to pay some bucks, but it will, certainly, be worth paying.
Call recording feature might take some 1 or 2 days to be enabled on your phone(As a free trial of 14 days).
You can listen to your call recording in file manager>Truecaller calls folder. All the recordings will be there.
You can not set the quality of the call.
Backup facility is not available at being neither is recovering deleted calls. In the future, it might be but no confirmation.
 Your Android OS must be 5.0 or above in order to save calls.
Truecaller call recording feature is not available in Nexus devices, Pixel devices, iPhones and in Motorola G4.
On rooted phones, this feature is not guaranteed to be working.
Other Automatic call Recorder apps
After reading this article now, you know how can you Record Calls Using Truecaller and list of devices on which this feature might not work. Still, some other third party apps are considered best in automatic call recorder apps, and you might want to use them because these apps allow you to record calls without paying any cost. Here is the list of some Well-known apps that let you record calls just like you Record Calls Using Truecaller.
Call recorder
Quick record
Automatic Call Recorder-
TapeA call pro
Call recording by NoNotes
We hope you liked our article and clearly understood the steps to Record Calls Using Truecaller. We tried our best to clear every doubt of yours that you might have in your mind before an after using this feature.
Was this article helpful?