Hello friends, Today I will tell you a method on how to add watermark in PDF online. Users can Edit/Add watermark picture or even text in Adobe PDF. I will also share a method to edit/add watermark in PDF without any online website. Users can add background image in PDF. You can even change the font color, size as a watermark in PDF.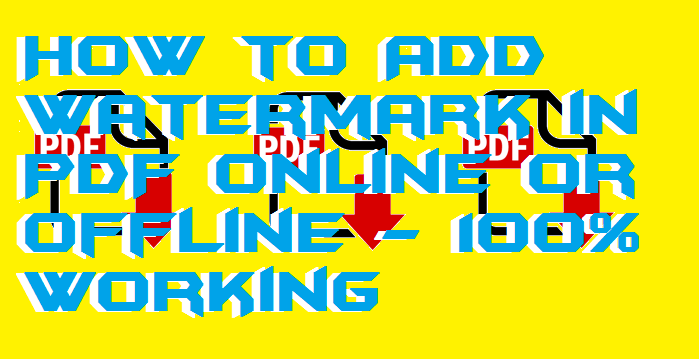 PDF is one of the most used formats to distribute. People are converting their documents and even images to PDF. PDF is the easiest way to share any document, and it also secures the file. It is almost impossible to edit a PDF or crack its password. Several important PDF is protected with the password these days. But what if you are creating a report and send someone. But later you found that person has forwarded the same PDF with his name. I know that's very hard. In that case, I am we are here to guide you to add watermark in PDF online and inbuilt method. Users can add Watermark to their desired PDF using this method.
Read more: How to Fix Chrome PDF Viewer Not Working 2018 – Top 5 Methods
Why Should I Add Watermark in PDF Online?
These days several people try to steal all your hard work and showcase to the world by their name. So to protect your work with copyright people add Watermark in PDF. It makes all most impossible for others to remove the watermark from PDF and add their own. This watermark will cover the whole PDF background with your desired picture. You can add your company logo or any image at the background of PDF to protect your document. I will also share the steps to increase or decrease the size of the text. Users can also change the color of the text.
Read more: How to Save a PDF as a JPEG on Windows/Mac/Online/PC/Laptop – Top 5 Best Methods
How to Add Watermark in PDF Online or Offline
We will share two methods first one will be online which require a website. And second will be offline which doesn't require a site. Let us first start with the online method. There are plenty of websites on the internet, but we are using this website. Because it is a free website to edit/add watermark in PDF online.  Make sure you read the complete method and then follow. Don't skip any step and also keep another copy of your PDF. You can add any watermark to the background of PDF. It can be a picture or logo.
You can visit this website and upload the PDF.
Directly upload your Watermark type.
You can upload a picture or Text.
Users can change even style of text in any format and change the size of the text.
Click on the apply watermark.
Read more: How to Make a Fillable Form in PDF – Top 3 Methods
How to Edit & Add Watermark in PDF without any website
For this method, you need Adobe Acrobat. You can also use the trial version to edit the PDF watermark or add your own. I am sharing the website link below, and you can visit and add watermark in Adobe PDF without any external software.
First, open the PDF where you want to add watermark.
Click on Edit PDF then Tool.
Now click on the Watermark Section.
Click on Add.
Now you can add any of your desired Watermark.
You can change the text style and size.
That's it! It is one of the easiest methods to add watermark in PDF without any online website. However, you will need Adobe software.
Read more: How to Search For a Word on a PDF Without any Software
Last Words on 
How to Add Watermark in PDF Online or Without online
There are several other websites to add watermark in PDF online or without. But all the sites I found were not free, and many software were not adding any watermark. Both these method shared here are free and working. You don't need to pay a single penny to add watermark to your Adobe PDF. Users can add as many watermarks in their PDF using these methods. Do share this article with your friends and help them to add watermark in PDF.
Trending: How to Remove Password From PDF – Top 4 Best Methods
Was this article helpful?